Kids go football camping with Bo, Tressel
Cardinal Mooney Football Camp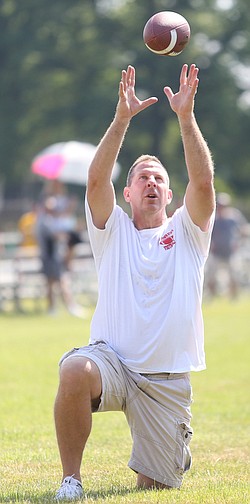 Gallery
Pelini, Tressel teach the game at Mooney's Camp of Champions
YOUNGSTOWN
More than 100 kids ages 4-13 participated in day one of this year's Cardinal Mooney Camp of Champions held at Cardinal Mooney High School.
Youngstown State head coach Bo Pelini and YSU President Jim Tressel were out coaching campers and running drills from positions with offensive linemen all the way to receivers.
"It's all about getting a ball in their hands, having a positive experience and hopefully having them learn a few things while they're here," Pelini said.
Photo Gallery: Cardinal Mooney Football Camp
The camp wraps up today.
"[This] is how you promote the sport and at the same time promote Cardinal Mooney and really all of Mahoning Valley football," Pelini said.
The current YSU coach said the main point he hopes the kids take away from their two days is to practice as much as they can.
"Hopefully they get the message of get out and get a ball in your hands," Pelini said. "When you're young, I don't care what sport you're playing, get out and work at it, practice at it and dedicate yourself to it. That's what it's all about."
Pelini said he was especially glad to see children out busy working on a craft like football outdoors, instead of sitting on the couch or getting into trouble.
"You get things like this and you can get kids going in the right direction instead of some of the things they would or could be doing," Pelini said. "Too many kids these days are spending too much time in front of the tv, on their phones or computers. Believe me, there's nothing wrong with that — they're young. But you've got to get out, associate with the right people, stay active and hopefully they understand that when they get out of here."
In addition to Pelini and Tressel, University of Kentucky head coach Mark Stoops will be coaching campers. Most of Pelini's staff at YSU and the Mooney staff are coaching. Former Boardman High, University of Miami and Cleveland Browns quarterback Bernie Kosar is expected to make an appearance today as well.
With NCAA regulations about practices, letters of intent and other slew of everything else under the sun, Pelini said he was happy to be out with the game in a more basic setting.
"To me this is more pure," Pelini said. "It should all be about promoting the sport and giving these kids the right message, getting them out here and practicing. Hopefully they're here for two days and yea, it'll be hot and they're running around but I want them to come out here and have a positive experience."
More like this from vindy.com