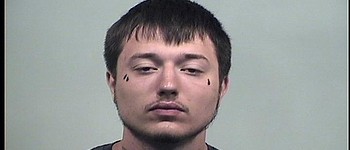 Police make quick arrest in Brandon Sample murder investigation
Published: 6/22/17 @ 12:05
By Ed Runyan
CORTLAND
Police made a quick arrest in the Brandon Sample murder investigation, charging Austin T. Burke, 18, of Bristolville on Tuesday in Newton Falls court with murder. He was arrested Tuesday in an apartment on West Main Street downtown.
Cortland police, however, "highly suspect" that Burke also robbed the Pizza Joe's restaurant across the street from the apartment at 10:12 p.m. Tuesday, a short time before he was arrested in the murder.
He's not charged in the robbery yet, but it's possible he will be after items seized at the apartment building are analyzed by the state crime lab, the Cortland Police Department said in a Facebook post Tuesday.
Burke will be arraigned today in Newton Falls Municipal Court on the murder charge. Newton Falls handles criminal cases from Bristol Township. Sample was from Warren.
Sheriff Paul Monroe said Wednesday that detectives with the Warren Police Department and the sheriff's office were in Cortland before Burke's arrest looking for him, after Warren police filed the murder charge.
Police had received information indicating that Burke might be in Cortland, Monroe said.
When the robbery occurred, Warren also sent an officer and police dog to the city, and they helped locate Burke.
Cortland police said a man wearing a stocking cap, mask and hooded sweatshirt demanded money while pointing a gun at employees of the pizza shop. The suspect fled on foot.
While searching for him, Trumbull County 911 advised officers that they had received tracking signals for Burke's phone indicating that he was in the 240 block of West Main, the location of the apartment building where he was found.
Cortland police said Burke was found inside the apartment with several other people. Burke, of Miller South Road, was taken to the Trumbull County jail early Wednesday.
He's charged with killing Sample, 22, of Garfield Drive Northeast, whose body was found in a remote area of Bristol early last Thursday. An autopsy revealed Tuesday that Sample's death was a homicide as a result of a gunshot to the head.
Warren police detectives received information that Sample's body might be found in Bristol and were looking for him when they and other officers found his body, Monroe said.
"Since the start of the investigation, several people have indicated that a crime had occurred," Monroe said of Sample's death. "My hat's off to the detectives," Monroe said of Warren police.
In addition to Warren and Cortland police and the sheriff's office, officers from the Ohio State Highway Patrol and Bazetta police were involved in Tuesday's night's search.
Sample's family reported him missing June 12 after he left home the night before, saying he was taking a friend to Akron. His car was found in a wooded area along the Niles Greenway bike trail early June 12.
When the Sample family reported him missing, they said he suffered from mental illness and drug addiction. His family said he was employed at Kraft Maid in Middlefield.
Don't Miss a Story
Sign up for our newsletter to receive daily news directly in your inbox.