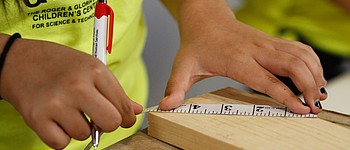 Summer Manufacturing Camp teaches the engineering of music
Manufacturing-camp students learn how to produce, record
Published: 6/22/17 @ 12:05
By Kalea Hall
YOUNGSTOWN
It's officially summer this week, but instead of basking in the sun, 25 fourth- through sixth-graders are basking in music.
OH WOW! The Roger & Gloria Jones Children's Center for Science & Technology turned its basement into a music studio Wednesday with producers showing youths at Session 1 of the Summer Manufacturing Institute how to produce and record.
"I really like music, and I love engineering and building," said Graecyn Pastore of New Castle, Pa., who is going into sixth grade. "I learned that it takes a lot to go into budgeting and building a musical instrument."
The Summer Manufacturing Institute put on by OH WOW! and the YWCA of Youngstown started Monday with the engineering of music session. Spots are still open for fourth- through sixth-graders to apply for two more sessions: Boat Building, taking place July 10-14, and Construction, taking place from July 24-28.
"It was really fun, so if you can try it, do it," Graecyn said.
The "fun" during music week included touring Akron-based The Summit radio station and building a guitar with a budget of $10. The goal is to teach students the manufacturing behind the music.
"The idea was to build a mechanism. ... It has transitioned into stringed instruments that make sounds," said Ralf Urbach, senior educator/edutainer for OH WOW! "Learning it and going through the steps ... there's a frustration. We are on board with that process and working through that."
The students also toured EarthQuaker Devices in Akron where workers make effects pedals for guitars.
"OH WOW! brings the curriculum specialists where they can really dive into the curriculum," said Jennie Andrews, youth program manager at the YWCA. "We make sure that we have diversity. It's affordable and accessible."
Today, students will prepare a presentation to show off what they learned at a luncheon Friday.
"It has gone well," Urbach said. "The neat thing about this, when you look at the [instruments], no two things are alike."
Don't Miss a Story
Sign up for our newsletter to receive daily news directly in your inbox.