School bus technology enhances safety and accountability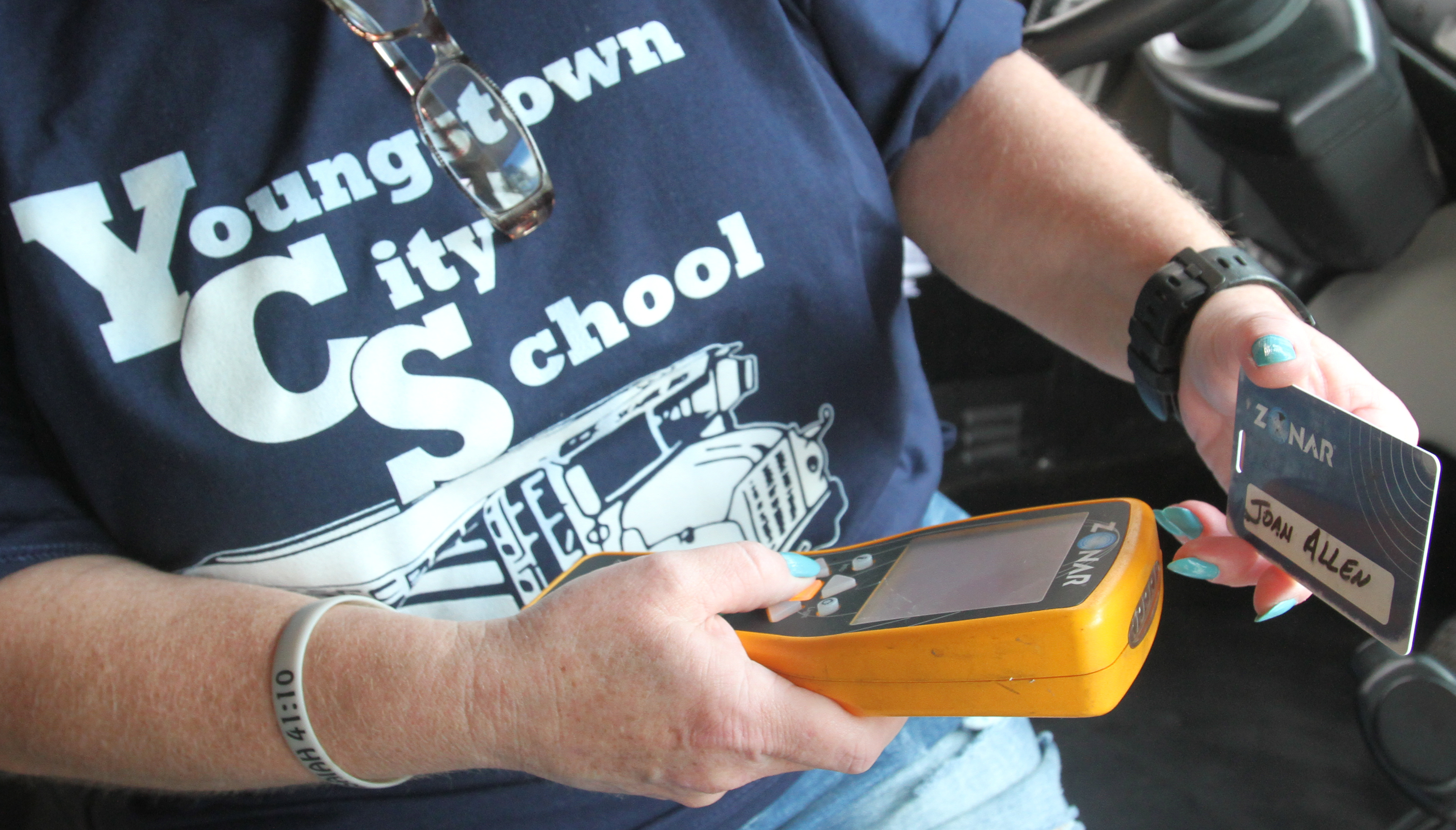 ---
YOUNGSTOWN
The Youngstown City School District is introducing a host of electronic technologies designed to enhance safety and accountability in its transportation system that daily serves some 7,000 public and parochial school students during the regular school year.
The changes are occurring under Colleen Murphy-Penk, who became the district's chief of transportation Sept. 21 after having the same position in the Austintown schools.
"We want to be able to account for every child, every day, on every bus at every bus stop, and to provide a safe bus," she said.
"Times have changed, and we need to be able to give parents the information as to where the bus is, where their child is, and whether they're getting on and getting off at their assigned stop," she added.
Transparency is a major feature of the technologies, said Jon Atherton, the transportation department's information technology coordinator.
"Everyone can see through their various [technological] tools where we stand" in terms of performance, he said.
The district recently acquired technology that shows dispatchers on a computer screen the location and speed of all school buses on a map of Youngstown and vicinity, using the district's global positioning system.
"It's a driver report card as far as their speed, their braking and their driving habits in general," Murphy-Penk said of that system, which cost $995.
Beginning with the current summer school session, parents can use a web browser or smartphone under the Versatrans My Stop App to get an up-to-date estimated arrival time of a bus at a particular stop by simply entering their child's name and date of birth.
Parents also can look up bus schedules on the school district's website. More than 2,000 students are attending this year's summer school.
The district also is phasing in a system known as Zonar, under which drivers swipe eight check points in and outside of each bus with a hand-held scanner to verify they have checked each point before and after each trip.
These scans verify the driver has determined no child has been left behind on the bus and has checked mechanical and safety items by making under-hood, under-bus and tire-tread depth and inflation inspections.
A permanent, time-stamped computer record of these checks will be maintained for the life of each bus.
"With the [pre- and post-trip] bus inspections, we'll have a complete record of the mechanical history of the bus," Atherton said.
"You want everything to be working perfectly. It gives us a list of what to check for," Joan Allen, a bus driver, said of the hand-held scanner.
The list includes the air compressor, alternator, belts and hoses, exhaust system and fluids.
"I just love technology," Allen said. "It's accurate."
"This bus is safe to pick up our children," she said upon completion of a pre-trip inspection of a bus before driving it away from the district's transportation headquarters for an afternoon run.
Beginning this fall, each student will be issued an electronic Z-Pass wallet card to swipe on a sensor when boarding and departing the bus to provide a daily computer record of these events and their location.
This fall, each driver will be issued an electronic tablet containing schedule and pickup locations for children on his or her route.
"There'll never be a question as to whether a child belongs on their bus or not," Murphy-Penk said. "They can even look kids up and tell them what bus they're supposed to be on if that's not their assigned bus," she added.
The 73 tablets collectively cost $40,000.
The district has 73 buses, including spares, 60 drivers and four bus mechanics.
Each bus has at least four security cameras with audio- and video-recording equipment, and newer buses have five cameras.
More like this from vindy.com