Zac Brown Band set for inaugural Y Live event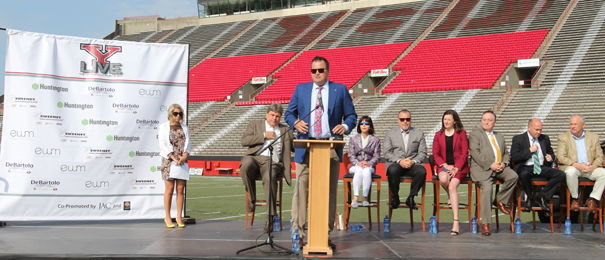 ---
By DAVID SKOLNICK
skolnick@vindy.com
YOUNGSTOWN
Zac Brown Band coming to Youngstown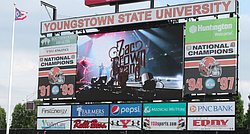 Video
JAC Live CEO Eric Ryan speaks on Zac Brown Band coming to Stambaugh Stadium on August 24.
Zac Brown Press Conference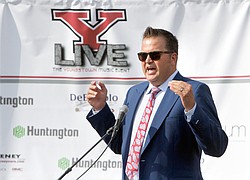 Gallery
Promoters of the announced Zac Brown Band concert Aug. 24 at Youngstown State University's Stambaugh Stadium expect the show to be the first of an annual major music series at the outdoor venue.
"We want it to be an annual event so we need the community to support it," said Eric Ryan, chief executive officer of JAC Live, which is co-promoting the Brown concert with the Muransky Companies. "It is our hope that [it] grows to a multi-day, must-see music festival."
The inaugural Y Live: The Youngstown Music Event is sponsored by Sweeney Chevrolet Buick GMC, DeBartolo Corp., Eastwood Mall and Huntington Bank.
Tickets for the Zac Brown Band show will go on sale at 10 a.m. June 24 at ticketmaster.com and the SouthWoods Health Box Office at the Covelli Centre. Tickets are $45.50, $55.50, $65.50, $81.50 and $95.50. YSU students will be able to purchase discounted tickets with information about that released next week.
Stambaugh will have 21,000 tickets for sale, including 5,000 on the field, Ryan said.
The band will face the west side of the stadium with the stage positioned between the 30-yard lines of the football field, he said. The east side seats will be closed off.
"We need to fill it or come darn close to filling it for it be a success," Ryan said.
The band recently played in the Cleveland and Pittsburgh markets – Blossom Music Center in Cuyahoga Falls on June 9 and KeyBank Pavilion in Burgettstown, Pa., two days later.
"It's not the greatest thing in the world, but this is an artist people are pretty fanatical about," Ryan said, adding Brown "has a dedicated fan base" so he's not worried about ticket sales.
The band, which has won three Grammys, has had a busy touring season and will perform at a couple of baseball stadiums – Coors Field in Denver on July 29 and Wrigley Field in Chicago on Aug. 26. The Wrigley show is two days after the Stambaugh concert.
"Zac Brown Band is playing some of the most sought-after stages in the country," said Ed Muransky, Muransky Companies CEO.
He added: "To add a stop in Youngstown at Stambaugh Stadium really speaks to the gravity of the event. What started as a pipe dream a few years ago is actually exceeding our expectations."
Muransky and Ryan said they've been working for three years to attract a major concert act to Stambaugh and had talks with management for Brown as well as Bruce Springsteen and Billy Joel for a possible show last year.
The difference this year?
Brown "said yes," Ryan quipped.
The band has had 11 No. 1 Billboard Hot Country Songs including "Chicken Fried," "Free," and "Keep Me in Mind." Their latest album, "Welcome Home," released last month, includes the hit single, "My Old Man." While best known as a country band, Brown also dabbles in rock and pop music.
An act as big as Brown couldn't play Covelli Centre, which can hold 6,000 to 7,000 for a show, because it's not financially feasible, Ryan said. Ryan's company manages the city-owned center.
"It would cost $300 a ticket to break even," he said. "If we filled the Covelli Centre up twice we couldn't do the show. There are artists we can't do at the Covelli Centre because of its size."
The show is Aug. 24, the second day of class at YSU's upcoming fall semester.
Alcoholic beverages will be sold at the concert, Ryan said.
"No alcohol, no show," he said.
More like this from vindy.com