Christman tops Terlesky in all-Boardman playoff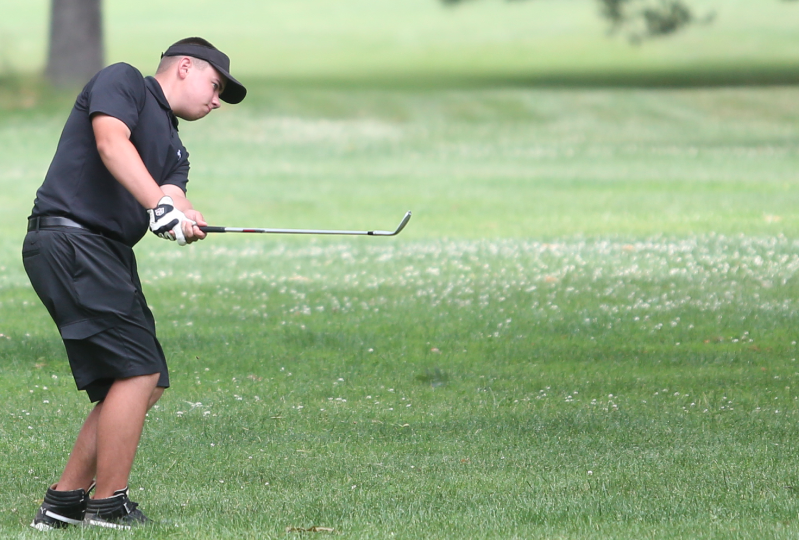 ---
By Greg Gulas
HERMITAGE, PA.
Cole Christman and Brian Terlesky are highly competitive teammates on the Boardman Spartans golf team.
Both boys also shot the best 17-U round of the day — each carded 72's — to force a playoff during Thursday's third Greatest Golfer of the Valley junior qualifying event at Tam O'Shanter Golf Course.
After both players bogeyed the first hole, Christman's par on the second hole was good enough to outdistance his Spartans' teammate by a stroke as he earned a spot in the championship for the third consecutive year.
It was the first qualifying event for both players while for Christman, it's the third consecutive year he has advanced to the finals.
He recorded two birdies and 14 pars during his round.
"I was driving my ball pretty straight today and actually put myself in position to birdie several holes before settling for par," Christman said. "In the playoff, I hit a good tee shot looking to make birdie, but hooked it and the ball went out of bounds. I hit a decent second shot and a great wedge to extend the playoff. During the actual round on the second hole I went left, so staying away from that area helped quite a bit."
Christman shot 37-35, Terlesky went 35-37 with Jimmy Graham (39-38) and Matthew Kinkela (38-39) tying for third-place with 77.
"I didn't feel like I hit the ball that well today, made a few putts and put myself in some good situations but couldn't get close enough to capitalize on any birdie opportunities," Terlesky said. "Cole is a great player, my Spartans' golf teammate and I am really happy for him. We rode over together, so it will definitely be a fun ride home."
In girls 17-U action, Erika Hoover of Wilmington Area High School, a member of the Greyhounds' boys team since they do not field a girls squad, shot 79 (42-37) to capture her second win in three tries — she qualified back on May 13 at Squaw Creek — while Boardman's Jenna Vivo finished second with an 81 (42-39) and qualify for this year's final.
"Of the three qualifying rounds that I've played, today was definitely my best overall round," Hoover said. "My chipping and putting were working best for me and I got up and down a lot. It's always an exciting feeling when you win."
Vivo, who is Terlesky's cousin, has had a very big week as she committed to play for Youngstown State on Tuesday.
"I'm excited to qualify, but wanted to play better today. I felt as if I could have made more putts," she said. "The course and greens were both challenging, but I did better on the back nine because I hit better drives. When Brian and I get together for a round of golf, it's always very competitive and fun."
Hickory's Cameron Colbert shot an 81 (39-42) to advance in boys 14-U action while Jayne Bernard, a freshman at Cardinal Mooney, qualified by capturing girls 14-U honors by shooting an 89 (46-43).
A freshman at Hickory High School, Colbert was playing in his first qualifying event yet is no stranger to the Tam O'Shanter layout, calling it his home course.
"Knowing the yardage on each hole really helped me out," Colbert said. "I felt like I had a good overall round in that my driving, chipping and putting were all working for me."
Bernard was also playing her first qualifying event, recording eight one-putts on the day.
"I was hitting my driver over 200 yards, but the key was definitely the one-putts," she said. "It's a great feeling to now qualify as I'll just continue to practice and get ready for the finals in July."
The next junior qualifying event is at 9 a.m. on June 28 at Mill Creek Golf Course.
More like this from vindy.com