STEM summer camp in Youngstown
YOUNGSTOWN
Camp Tech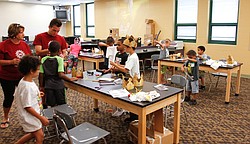 Gallery
Youngstown STEM summer camps are celebrating their fifth year of being up and running with free 8:30 a.m. to 2:30 p.m. programs, including Camp Invention and Techie Camp, open to students from any area.
Sharon Ragan, Youngstown City Schools STEM (science, technology, engineering and mathematics) teacher, said as a mother of two sons who are in the Youngstown State University Engineering program, she is a strong advocate for teaching STEM skills.
"The program engages kids to use problem-solving skills," she said simply. "Truthfully, I think STEM is helping keep some of our kids in school."
Zyquese Brown, a Camp Invention fifth-grade student, agreed.
"I feel like STEM Camp can help you figure out what you want to do for college," he said. "It's also fun just to get to invent and create stuff. We get to use our hands."
Camp Invention elementary school students are first steps to enter into the world of STEM. They get to learn and create using first their minds and then their hands.
"It's a great introduction into STEM," said Pam Lubich, STEM coordinator. "Our kids are learning how to work on teams, practice problem solving, building and engineering for the first time for some of them."
Another more intense project joined Camp Invention, sharing the Chaney Campus space. Techie Camp is made up of middle-school students who learned about the inner workings of coding and the hows and whys of computer programming.
"Coding is valuable for everybody," Lubich said. "It teaches you to think and to problem solve and gives students an idea of what it takes to make up their video games."
Nathan Austin, Techie Camp eighth-grader, said learning about coding can help better prepare students for their futures.
"It can help you with a career you want to go into especially if it's video game design or computer programming," he said. "You can basically make your own games."
Although Camp Invention and Techie Camp end this week, there are more lessons to come.
Biz3D for rising sophomores through seniors will run from 8:30 a.m. to 1:30 p.m. next week.
Biz3D provides an introduction to additive manufacturing with an emphasis on entrepreneurship and business approaches to 3-D printing.
To register, contact Lubich at 330-744-8827 or pamela.lubich@youngstown.k12.oh.us.
More like this from vindy.com