---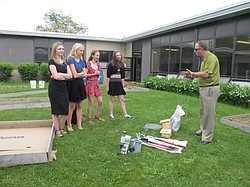 Photo
Neighbors | Alexis Bartolomucci.Tug Sanner, Boardman Subaru sales manager, spoke to the Glenwood Junior High students about the "Subaru Loves the Earth Campaign" on May 18.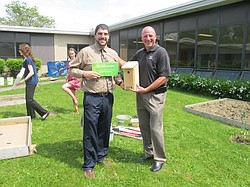 Photo
Neighbors | Alexis Bartolomucci.Scott Lenhart, Boardman Glenwood science teacher, stood with Boardman Subaru owner, Rob Fellman, at the Glenwood Junior High courtyard garden where the students will plant flowers and hang up food and homes for wildlife.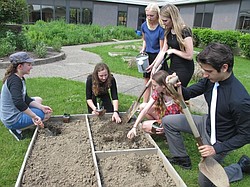 Photo
Neighbors| Alexis Bartolomucci.Glenwood Junior High students worked on planting flowers in the courtyard garden after receiving a grant from the national "Subaru Loves the Earth Campaign."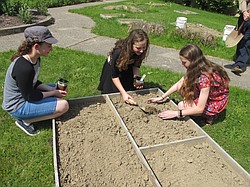 Photo
Neighbors | Alexis Bartolomucci.Helping Our Plant Earth (H.O.P.E.) club students at Glenwood Junior High helped plant flowers in their courtyard garden on May 18.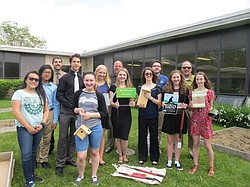 Photo
Neighbors | Alexis Bartolomucci.Glenwood Junior High students from H.O.P.E. (Helping Our Planet Earth) stood with science teacher Scott Lenhart, Boardman Subaru owner Rob Fellman, sales manager Tug Sanner and Subaru employee Robbie Fellman.
By ALEXIS BARTOLOMUCCI
Boardman Glenwood Junior High students spent an afternoon outside bringing their courtyard garden to life.
On May 28, students from the H.O.P.E. (Helping Our Planet Earth) Club helped plant flowers and set up homes and feeders for the wildlife. Gardening tools, homes and feeders were given to the school by Boardman Subaru as part of the "Subaru Loves the Earth Campaign." The school won a grant that gave them two boxes of plants from Bluestone Perennials, plant trays, garden stakes and a Visa Gift Card.
"Subaru is a very environmentally friendly company. They're one of the companies that has an actual designated backyard wildlife area at their plant in Indiana. It's a fully sustainable plant, there's not trash that leaves that plant. Everything is recycled," said Tug Sanner, sales manager of Boardman Subaru.
Representatives from Boardman Subaru attended the event to talk to the students and science teacher Scott Lenhart about the campaign and how they are glad to help create a bigger and better courtyard garden.
"Subaru supports a lot of social causes that are out there and it's a constant thing," said Rob Fellman, owner of Boardman Subaru.
Subaru has partnered with the National Wildlife Federation to promote the earth. They're promoting small habitats for homes, schools, churches and any other community area that allows wildlife, plants and animals to thrive. It gives them a habitat that is already made, but can be created as well.
"I liked having the opportunity to be out in nature," said eighth-grader Jill Dunleavy. "If people know kids our age are doing it, I feel like more kids our age will start doing it."
Lenhart and his science classes have spent some of their class time outside to prepare the courtyard garden to grow plants. The courtyard garden will be decorated with flowers, animal habitats and feeders to bring more life to the school and students. Tending to the garden will teach the students different things about the environment and give them the opportunity to see things they may have never seen before.
"Subaru's end in mind is to be eco-friendly and promote that to their communities, especially with young people because they're the future," said Sanner.