Calhoun, YSU staff tutor kids in camp
YSU BASKETBALL CAMP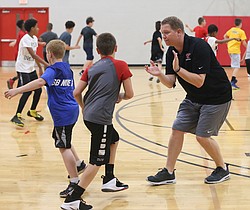 Gallery
Calhoun and his staff take the lead during youth camp
YOUNGSTOWN
This week isn't about hitting the recruiting trail or focusing on current player development. For Youngstown State head basketball coach Jerrod Calhoun, this week is about the kids.
YSU is hosting a skills camp for students this week ages 8-18 in the Stambaugh Stadium auxiliary gyms and about 80 campers have been working on their games every day from 9 a.m.-4 p.m.
Photo Gallery: YSU BASKETBALL CAMP
"We do a lot," Calhoun said. "There's not a lot of down time."
Mornings include instruction with players and coaches and then after lunch campers play two games in full 5-on-5 matchups.
"In the mornings we do a lot of stuff that we do as a team at YSU," Calhoun said. "We try to teach them our transition game so we do a lot of passing and do a lot of different station drills."
Some campers are annual participants. And Lorenzo Russo, an incoming sophomore at Austintown Fitch said this year's camp is the best of the four he's attended at YSU.
"It's a little bit different but I like this one a lot better," Russo said. "This one is a lot more fun. There's better drills, a lot more fundamental work and a lot more playing time with 5-on-5 games."
While some Division I coaches leave their annual summer camps to assistant coaches, Calhoun is front and center for nearly the whole camp, providing instruction to players on an individual level.
"I'm very involved," Calhoun said. "This is not a camp where I slap my name on it and don't show up. The only thing I don't do is coach games in the afternoon. I allow our players and managers to do that while I point out different things to campers along the way."
It's difficult to see drastic results with only four days of instruction but the goal of the camp is clear. Calhoun wants to see his campers carry over instruction from the morning to the afternoon games.
"We don't do a lot of competitions," Calhoun said. "I'm not big on that in our camp. It's more about the skill in the morning, getting a bite to eat and then trying to implement what they were taught in the morning sessions."
The popularity of the new style of play in the NBA, which includes lots of 3-pointers, is apparent even at a children's camp. Calhoun said he and his staff try to show campers how to make those shots effective.
"I think what we're finding with the NBA Finals is all these kids want to come out and launch 3s because they see it on TV," he said. "But they don't pay attention to the work before that jumper. So we try to teach them things like how to attack the basket and footwork. That's the name of the game nowadays.
"I think the kids like pushing the ball ahead, playing fast and getting easy baskets."
After just two days, Russo said he was already seeing results of his hard work.
"I'm seeing a lot of improvement," Russo said. "I want to improve my jump shot even more and there's a lot of jump shot drills here."
Those improvements come at a price, though.
"I'm very sore," Russo said. "I'm going to go home and get some good sleep."
More like this from vindy.com