Austintown Farmers Market offers more than just fresh food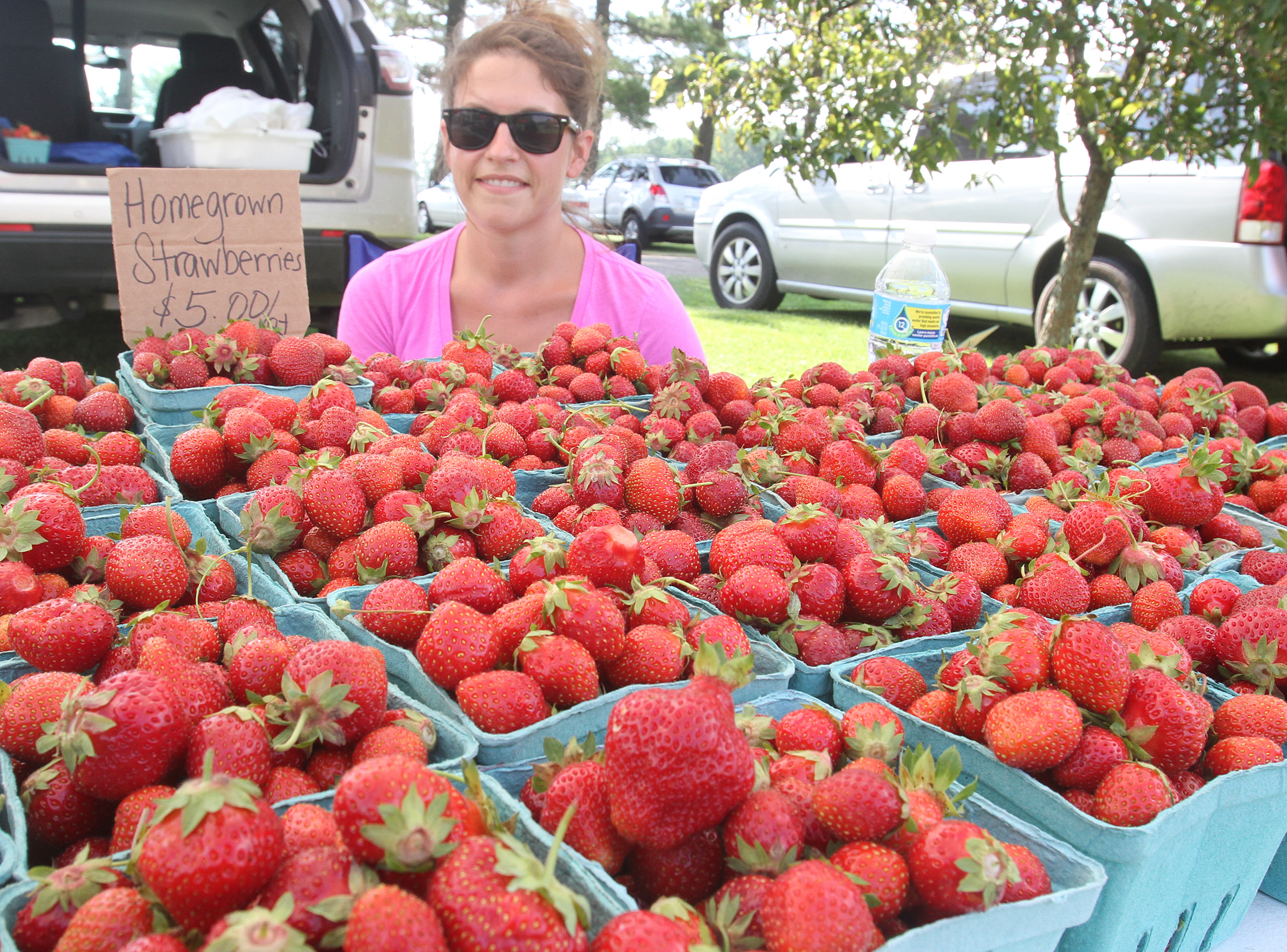 ---
By Justin Wier
AUSTINTOWN
People came to Austintown Township Park to purchase produce, do yoga and perhaps even adopt a pet Monday for the first night of this year's Austintown Farmers Market.
Shannon Lehn, a yoga instructor and the market's organizer, said the market grew out of yoga classes she taught at Austintown Township Park. Rather than just a place to buy fruits and vegetables, Lehn said the market is a community event that focuses on wellness with healthy cooking workshops, yoga classes and activities for children.
"We don't want people to just come and go shopping," Lehn said. "We do want you to shop. But also to come and have an experience that's healthy and wholesome with kids."
In addition to more than 20 vendors, the Mahoning County Public Library set up a mobile library and Ethan Milford provided music. It's All About the Paws had a tent where people could sign up to adopt an animal. Shana Zimmerman sat behind a table covered with cartons of strawberries grown at her family farm in Leetonia.
Later in the season there will be more produce including tomatoes, peppers and zucchini.
"Shannon [Lehn] brings a lot of people in, and it's a family-friendly environment," Zimmerman said.
She's been coming since the market started four years ago, and she's seen it continue to build over the years.
The market grew through grass-roots marketing, Lehn said, and the community support has been tremendous.
Lehn's stepdaughter, Erica Lehn, was at the market with her dog, Gena Jo Malkin. She was selling homemade, all-natural dog treats for the first time at the market. She's tested the treats on her six dogs, who seemed to approve of them. She's tested them, too.
"I did try them myself," she said. "And they're really good."
Star Vincent had people lining up at her tent to purchase cherries she and her husband, Jack, had picked earlier that day. They run Jack's Mountain Orchards in East Rochester, south of Salem.
"We like to bring what we grow for others to enjoy," Vincent said.
Later in the season she will have peaches. They also grow plums, nectarines and five varieties of pumpkins in the fall.
The markets will continue Monday nights through Sept. 29.
For more information, visit www.facebook.com/austintownfarmersmarket.
More like this from vindy.com