MARVELS OF MARRIAGE: 145 couples celebrate years together at Wedding Anniversary Mass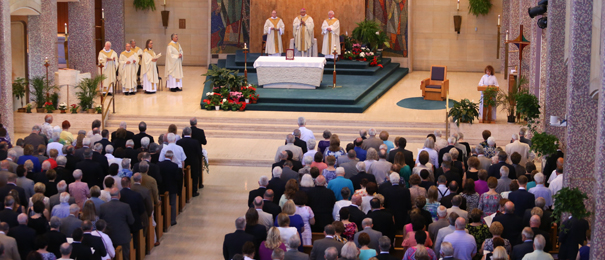 ---
YOUNGSTOWN
Sylvia and Chester Dimmerling of Sebring, who met when she was 14 and he was 17, celebrated 73 years of marriage on their anniversary June 7 and again Sunday at a Wedding Anniversary Mass at St. Columba Cathedral with 145 couples from several Northeast Ohio counties.
"Two girls came to see me and my brother. Sylvia was with them, and that was that. We started writing," said Chester, who at the time lived in Noble County, Ohio, and Sylvia lived in Wheeling, W.Va.
"I was madly in love with him, and my mom liked him, too. That helped. I'm still madly in love with him," Sylvia said.
Pulling her picture out of his wallet, Chester said he carried it with him all over Europe where he served in the Army during World War II.
The Dimmerlings, members of St. Ann Catholic Church in Sebring, had three sons: one died of cancer, one died in the Vietnam War and a third, James, lives in East Canton. They have four grandchildren, one of whom died, and three great-grandchildren.
When asked the secret to the longevity of their marriage, Chester said: "I just say, 'Yes dear.'"
Sylvia just smiled.
"You have given yourselves to each other in good times and in bad. I hope you delight in each other. May your love continue so God's plan for you can be complete," said the Most Rev. George V. Murry, Bishop of Youngstown, celebrant of the Mass.
"Join hands and renew your commitments," said the bishop to the couples celebrating their wedding anniversaries.
Among those celebrating their 50th and 25th anniversaries, respectively, were father and son, Carl J. Karafa and his wife, Gloria, and Carl A. Karafa and his wife, Lori, all of Champion.
Members of St. William Catholic Church in Champion, the elder Karafas were married May 6, 1967, and the younger Karafas on March 28, 1992.
"Fifty years sounds like a long time until you live through it. It's hard to believe how quickly it has gone. It's a blessing from God. Our faith and our family are very important to us. It's unique and really special to celebrate our anniversaries together," said Gloria.
"Our parents are examples of how to make a marriage work," said Carl A.
"A lot of trust and love and caring and faith in each other and in God is what makes a marriage last," said Diane Mechelini, who with her husband, James, celebrated 50 years of marriage Sunday at St. Columba Cathedral.
The Campbell couple, members of Christ The Good Shepherd Church, married Feb. 4, 1967, and have two children. The Michelinis' son, Steven, and his wife, Suzanne, have two children, Isabella and Rocco; and their daughter, Lisa Osiniak and her husband, Ron, have a daughter, Carli.
Mary Sierra of New Middletown, daughter of Francis and Barbara Wittenauer, watched her parents celebrate what will be 60 years of marriage June 15.
"We're here celebrating a happy marriage. We have five great children, eight grandchildren, and two great-grandchildren," Barbara said.
Mary said her parents provide wonderful examples to their children of what a marriage ought to be.
" We all model our families after our parents," Mary said.
More like this from vindy.com