Valley cops trace opiates to NY, Detroit, Mexico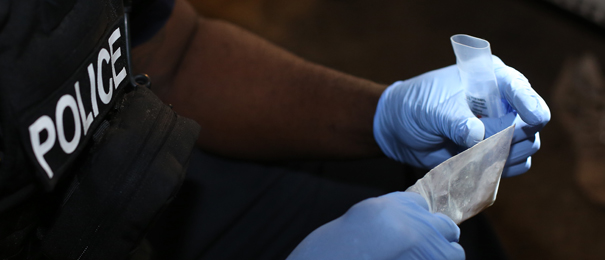 ---
SEE ALSO: Heroin diaries: Stories are stranger than fiction
By JOE GORMAN
jgorman@vindy.com
YOUNGSTOWN
Where Drugs Come From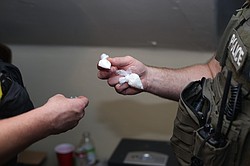 Video
Where Drugs Come From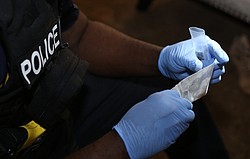 Gallery
If you're in the drug game and hail from Youngstown, you already have street credibility, a former drug investigator says.
Already known as a tough place to be from because of the decades-old "Crimetown USA" moniker associated with organized crime, the city's reputation was cemented in the 1990s when more than 500 homicides were recorded, said Bob Patton, a former city police officer who spent more than 20 years investigating narcotics crimes for various drug task forces.
"If you say you're from Youngstown, Ohio, you have instant credibility in the drug world," said Patton, who retired in 2015 after 34 years in law enforcement.
That reputation helps to ensure the flow of drugs into the city and Mahoning County from various places across the country, Patton said, although the majority of drugs that reach Youngstown come through New York City.
Patton said New York is convenient for drug traffickers, although he added that shipments also come through Atlanta, Columbus and sometimes Chicago.
"They can get up there and get back in a day," Patton said.
Almost all the heroin that is now flooding the local drug market comes from Mexico, makes its way through the West and Southwest until it gets to New York or another hub where it is then distributed in Youngstown, Patton said.
Patton has not just investigated cases in the Youngstown area, though. He said the task forces he has worked with have helped with cases that have been prosecuted in the Southern District of New York, which includes New York City, Louisiana, Texas, California and other places in the West.
"The task force has gone all over the U.S.," Patton said of New York.
Austintown police Lt. Jeff Solic, who heads the Mahoning Valley Law Enforcement Task Force, where Patton finished his career, said investigators try to get both ends of the chain when working a case, not just in Youngstown.
"We try to go as far as we can with these cases," Solic said.
CHECKING 'THE GAME'
Solic said the trendy drug over the last eight years has been heroin, although he has seen a slight uptick in cocaine trafficking recently. He attributes that to release of several cocaine traffickers from prison, some of whom have gotten back in "The Game," a name some have given to the drug-dealing culture.
Police lately also have seen more fentanyl – an opiate more powerful than heroin that is made in China.
Earlier this month, the city police vice squad and Community Police Unit served search warrants at homes on East Judson and South Portland avenues where fentanyl was purportedly being sold. The Vindicator was allowed access to observe the process.
Fentanyl was found at the East Judson Avenue home. Heroin, $3,000 worth of crack cocaine and six guns were found in the South Portland Avenue home.
Officers carefully handled the drugs, wearing gloves as they searched the homes, rifling through appliances, cabinets, furniture and refrigerators, breaking into prearranged teams to search and to secure the homes, almost like an assembly line.
Fentanyl can cause a reaction if it gets on someone's skin. An officer in East Liverpool recently had to be revived with the opiate antidote Narcan after he got fentanyl on his skin.
One reason fentanyl is popular is the potent high it gives.
Lt. Gerard Slattery, head of the vice squad, said fentanyl is attractive to drug dealers because they can sell a small dose of it for about the same price they sell a regular dose of heroin – anywhere from $20 to $40 a hit. Because users can get a greater high from a smaller amount of fentanyl than from a regular dose of heroin, dealers make more money, Slattery said.
Solic said fentanyl is a one-of-a-kind type of drug.
"Fentanyl is unique," Solic said. "Smaller amounts can have a huge impact on an area."
THE NETWORK
Patton said traffickers often
rely on family ties and people they networked with in prison when they do business.
Several of them move from Youngstown after their second or third arrest because they are well known to law enforcement. They want to go where they're less known.
They will move where family already is set up or with someone with whom they served time. Once they are ensconced in a new environment, they will start shipping drugs back to Youngstown.
Patton said prison is one of the best places for drug dealers to hone their craft and meet others in The Game.
"It's almost like a vocational school," Patton said. "The network that these guys develop, in a very simplistic way, is very sophisticated."
From there, the networking goes to meetings with other drug dealers. Sometimes, after only two or three transactions, partnerships are formed.
"They develop a business relationship and, ironically, they know hardly anything about each other," Patton said.
Solic said traffickers often use cars to smuggle drugs to Youngstown. The task force becomes involved in several ways, Solic said, such as a traffic stop that may uncover a large amount of drugs.
Sometimes investigators in another part of the country will tell them a shipment is coming in. Officers also listen to complaints from residents.
Patton said the simplicity of the drug trade is what keeps it going.
"Drug dealing is free enterprise at its best," Patton said. "It's supply and demand. It's old-school barter and trade."
Because of Youngstown's reputation, Patton said out-of-town drug dealers think twice before coming here. One reason why Detroit-based traffickers go to Warren is they want no part of Youngstown, he said.
Patton said people from Youngstown have a reputation of being tough; members of The Game who are not to be trifled with.
Why? Because people who have done that in the past usually wind up dead.
As an example, city police Chief Robin Lees, who has worked narcotics investigations the majority of his 30-plus years in law enforcement, pointed to the murder of Pedro Valencia in the 1990s.
Valencia, Lees said, came from New York City with designs on being Youngstown's new drug kingpin, and for a while he was successful, up until the day a group of men kidnapped him at the former McGuffey Mall, blowing by his bodyguard.
The men proceeded to torture Valencia until he revealed the location of his stash of drugs and cash. The locals asked for a ransom for Valencia, which was paid. When the ransom was received, Valencia was shot in the head, rolled up in a carpet and dumped in a remote area of the East Side.
DETROIT CONNECTION
Robert Massucci, in charge of the detective division of the Warren Police Department, says there's been a Detroit-Warren connection throughout his 25 years in the department, including a drug connection.
His guess is that drug dealers come to Warren when things get "too hot" in Detroit or other places, especially if they learn that Warren's police department is understaffed as it's been since 2009.
That's the year its staffing dropped to 64 officers after 20 were laid off because of budget cuts. Those layoffs also eliminated the department's drug-investigative unit for several years.
And despite passage of an income-tax increase last year to provide enough money to raise the number of officers to 70, the department still has only 56, Massucci said. Because of a high number of retirements, the department is having difficulty reaching the 70-officer level.
The last civil-service exam produced only three or four new officers out of 11 who passed the exam. It can take more than a year to background check, hire and train officers before they are fully ready, Massucci said.
Over the years, the department has had evidence that drug dealers have come to Warren from St. Louis or Youngstown, for instance, but he said he wasn't aware of dealers coming from Columbus. He believes the internet has caused more drugs to come into the city through the mail.
One example of the Detroit connection was a 2012 drug-related shootout in downtown Warren that killed Marco Dukes of Warren.
Both men convicted in the murder were Detroit natives. One man, Derrick D. Peete, 26, had an extensive drug-dealing record in Warren dating back to 2009 and at least one drug-dealing conviction in Detroit.
Tracy Plouck, director of Ohio Mental Health and Addiction Services, said the Mexican drug cartel established a "widespread distribution mechanism" in Ohio and other states about the time Ohio's addiction problems rose about a decade ago.
The Ohio State Highway Patrol also has indicated Ohio is a ripe target for drug dealing because of its network of interstate highways.
The agency has shown statistically that areas near such highways, such as Interstate 80, have higher incidences of drugs flowing in, Plouck said.
More like this from vindy.com