Published: Thu, June 8, 2017 @ 12:02 a.m.
By Kalea Hall
BOARDMAN
The Casual Pint Grand Opening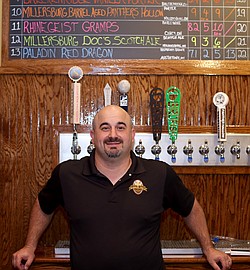 Video
Justin Homer's craft-beer shop has a lot of beer.
At The Casual Pint inside the Shops at Boardman Park, there's stouts and lagers, local brews and national brews. Thirty-five beers are on draft, and there are dozens more in the bottle or can to purchase.
"It's a beautiful thing; it really is," Homer said of the selection. "We encourage people to try different things."
The Casual Pint will have its grand opening at 4 p.m. Friday. The first 50 people in the door receive a free Casual Pint milk jug growler. The business also will have food options.
"I am excited for Youngstown, and I think we have hit a perfect time to get into this [craft-beer movement]," Homer said. "I think this time is the right time to be in Youngstown for beer. People are really expanding into the movement and embracing it."
Homer is a Pittsburgh native who lived in Nashville, Tenn., before settling in Poland with his family three years ago.
As a father of two young children, Homer wanted to create an atmosphere where parents could go and enjoy different beers with their children in tow. When he saw The Casual Pint in Knoxville, Tenn., he knew he had to open one of his own in the Youngstown area.
"Our name is 'casual,' and that's the whole idea behind it," he said. "We made this very kid friendly. We have root beers and cream sodas."
The first Casual Pint opened in 2011 in Knoxville. Homer's location is No. 20.
Patrons come in to see a draft list to the left and the bar to the right with a larger list of the beers on draft.
"If you notice, there's a lot of OHs there," he said. "We wanted to go after locality."
On the list are beers from both Paladin Brewing Austintown and Birdfish Brewing Co. in Columbiana. Wildly popular 3 Floyds Brewing Co. beer will be featured on draft during the grand opening.
There's shelves of six-pack seasonals, lagers, pilsners, wheat beers, Belgians, IPAs [India Pale Ales], pale ales, gluten-free options and stouts.
A refrigerated section has individual beers for customers to mix a six pack. Patrons can also purchase German-made growlers or milk jug growlers.
"I loved nothing but stouts and porters," Homer said. "I forced myself into the IPA thing. I forced myself out of the comfort zone. I love it now."
Homer hopes his shop provides an opportunity for customers to also get out of their comfort zones and relax with a beer. He created a comfortable atmosphere with a patio, a garage door that opens up to let in the air and a bar top that has an old English feel.
"This is a very open airy place where you can feel at ease," Homer said.