Seventh heaven: Golden Flashes seize seventh state title
Champion Softball State Championship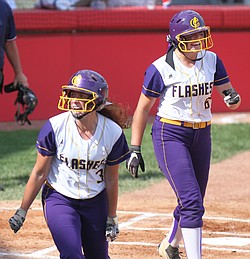 Gallery
Champion Softball State Championship
By Tom Williams
AKRON
About six hours after Megan Turner watched the Champion High School baseball team captured its first state crown in Columbus, the Golden Flashes' junior shortstop celebrated her softball program's seventh championship since 1978.
"Going there was really exciting and I'm glad Coach [Cheryl] Weaver let me go to support my brother [Michael]," said Turner on Saturday after the Flashes (32-2) defeated Wheelersburg, 5-2, at Firestone Stadium. "Coming back here and us winning is a great feeling.
"Columbus was fun," Turner said. "It's been a long day."
Photo Gallery: Champion Softball State Championship
It's only the second time in state history that one school's baseball and softball teams both won in the same season, an accomplishment about as rare as finding a face-value NBA Finals or Stanley Cup Final ticket.
Senior pitcher McKenzie Zigmont and third baseman Abbi White were difference makers against the Pirates (25-3), the defending state champs who were making their third straight appearance at state.
Zigmont limited the Pirates to four hits, striking out six and walking three. Her baffling changeup triggered four of them.
"It's a nice pitch, but it's all about discipline," said Taylor McQuay, one of her victims. "She's a very talented pitcher and we're talented hitters. "But she got us on the changeup today."
Call it karma, but Zigmont needed just seven pitches to retire the final three Pirates.
After Brittany Swim lined out to Turner, McQuay struck out missing a changeup. Christen Risner lined out to Turner to end the game.
"No way I was dropping that ball," Turner said. "I threw my glove in the air because I knew we were state champs.
"It was really awesome."
In her 18th season, Weaver has take the Golden Flashes to six state tournaments and won four titles since 2011.
"I don't think it's sunk in yet," Weaver said. "I'm happier for the girls. These are special ones and I think they showed it these last two games."
Before the game, the Pirates had outscored their opponents, 53-1. The Golden Flashes jumped on Pirates ace Faith Howard for two runs in the top of the first inning to seize control.
Allison Smith led off with a single up the middle and Molly Williams sacrificed her to second. With two outs, Zigmont smacked the ball of Howard's glove for an infield hit.
White singled to right field to score Smith and Zigmont for a 2-0 lead. In the bottom half of the inning, she made a snowcone catch after circling in foul territory near the fence to strand a runner at second base.
White was happier with her hit.
"It scored the first two runs and that started it off," she said.
Champion scored again in the second inning after Carly Swipas led off with a single and scored on Williams' sacrifice fly. In the seventh inning, Swipas had a two-run single to open up a four-run lead.
Howard said she did her best to shake off the unusual feeling of pitching without a lead.
"As a pitcher, you can't think about it," said Howard who will play for Northern Kentucky next season. "It's tough, but it's something that you have to play through."
In tournament play, the Flashes outscored their opponents 68-2.
Smith said there is a good reason why the scouting report on Howard did not intimidate.
"She was good, but hitting off of Kenzie in batting practice only made us better," the freshman said. "We had seen everything before.
"They said she had a screwball, [Kenzie] has a screwball. They said she had a riseball, Kenzie has a riseball. They said she went outside-inside, Kenz goes outside-inside.
"So really hitting off Kenzie all season really helped the team prepare," Smith said.
Defense played a strong role. In the second inning, the Pirates had two on when right fielder Alayna Fell caught a line drive to end the threat.
Two innings later, the Pirates' Breanna Kaliber tripled to right. Sarah Claxon tried to bunt her home but the ball popped up to White who then fired a no-look strike to Turner covering at third for a double play. White didn't look back as the call was made.
"I was already running because I knew I had her," White said.
Turner said, "It's kind of a natural thing — she knew I'd get it."
The Pirates threatened again in the sixth and scored. Kalle Coleman walked after an 11-pitch at-bat where she fouled off five two-strike pitches. Taylor Fannin blooped a single over Turner. Two outs later, Coleman raced home on a wild pitch, but the Pirates stranded two more runners when Zigmont whiffed Claxon.
Turner and Zigmont's courtesy runner Savannah Dodrill scored on Swipas' two-out hit in the seventh that put the game out of reach.
"Carly's hit, that put the last nail in," Weaver said. "We were very confident with Kenzie and none of these girls were going to let them score five runs."
More like this from vindy.com