Mother Nature visits residents and children for Arbor Day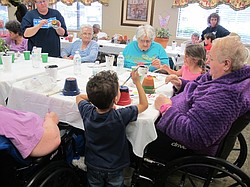 Photo
Neighbors | Alexis Bartolomucci.Residents from Beeghly Oaks painted flower pots during their Mother Nature Arbor Day celebration on April 28.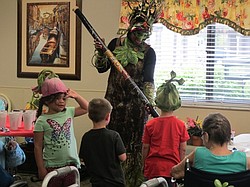 Photo
Neighbors | Alexis Bartolomucci.Adia Love performed the role of Mother Nature, or Gaia, and told a story to the Beeghly Oaks residents and Boardman United Methodist Preschool children on April 28.

Photo
Neighbors | Alexis Bartolomucci.Children from Boardman United Methodist Preschool worked with a Beeghly Oaks resident to plant their tree for Arbor Day on April 28.
By ALEXIS BARTOLOMUCCI
Residents from Beeghly Oaks Rehabilitation Center and children from Boardman United Methodist Preschool spent the afternoon together on April 28 at Beeghly Oaks.
The children and residents kicked off their Arbor Day celebrated by painting flower pots that they would put their Jade Plant in. Many people stuck with the nature theme and put flowers, grass and the sun on their pots; while others painted different decorations.
There was a special visit from Mother Nature, or Gaia, performed by Adia Love. Love dressed in her Mother Nature costume and walked around talking to the residents and children as they painted their pots. To pass the time while the pots dried, Mother Nature shared with the residents and children a performance of a "Story Alive." The story included the engagement of the children dressing up as different characters. The plot of the story was about the importance of planting a tree seed and growing trees for Arbor Day.
Love writes her own stories and songs that are inspired by the beauty of nature. She is an instructor at Forest Studioz in Cornersburg and enjoys teaching and entertaining children. Love takes pleasure in visiting different places putting on a performance for the guests.
When Love finished her performance, the children and residents began planting their Jade Plants. The residents and children helped out each other and had smiles on their faces the whole time.
Before it started raining, everyone took their plant outside and took a picture by the tree the residents planted in the garden last year for Arbor Day. Activities director, Maureen McCarty, is hoping the children and Mother Nature will join her and the residents again for the future Arbor Days to come.
More like this from vindy.com