YSL championships draw 4,000
Swim Meet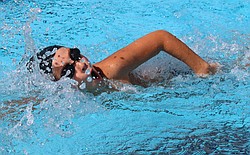 Gallery
By Greg Gulas
POLAND
The consensus among Youngstown Swim League head coaches is that Saturday's championship at the Poland Swim Club continues to nurture friendships, all the while preparing swimmers for their upcoming winter seasons.
The underlying theme, however, was to make sure that everyone had fun.
Firestone Area Swim Team (FAST) won the title (1,238 points) for the fifth straight year — it was their sixth win in the last seven years — with Applewood runners-up (1,157.50 points) and Boardman Tennis and Swim Club a distant third with 1,069 points.
Attracting more than 500 swimmers and more than 4,000 spectators ranging from parents to grandparents to friends, meet director Anthony Lattanzio never left the site since he arrived for Friday's final set-up, noting that lost sleep leading up to the event was well worth the end result.
"Nobody rested much all week, but it was totally worth the effort. All volunteers played such a big part in making sure that everything went off without a hitch," Lattanzio said. "This is a huge fundraiser for our club and a fun event for all YSL teams and their swimmers."
Krista White, program committee chair, had one daughter volunteering while another was a member of host Poland's squad.
"This is definitely a legacy event in which brothers and sisters, and even their parents have also taken part over the years," White said. "It's really great to see the competition year after year."
Lattanzio's brother Dominic, 18, is a legacy and recent Poland graduate who is headed to Youngstown State in the fall where he will study biology.
He's been a member of Poland's swim club since he was nine years-old, is a multiple winner in multiple events over the past decade and also has three younger brothers (Nicholas, 16, Christopher, 12 and Michael, 9) taking part in the championships.
"I have had excellent coaches and it's a great time just being with my teammates. I've made plenty of friends and forged friendships that will last a lifetime," Dominic Lattanzio said. "I have the YSL and Poland Swim Club to thank for that."
FAST, Applewood, Boardman and Poland comprised one division with Canfield, Country Clubs, Logan and Warren Olympic the other division.
Erin Parker is in her 20th season as head coach of FAST's juggernaut.
"These are hard-working, dedicated kids with plenty of team spirit," Parker said. "We're like one big family."
Tess Emerson, a 15-year veteran of the FAST program, has been swimming since age 3 and is one of 153 swimmers on Parker's squad.
Like Dominic Lattanzio, she is a multiple champion in multiple events and will attend YSU in the fall, though undecided about a major.
"Being a part of FAST for the past 15 years has taught me the importance to teamwork and to be dedicated to something very special," Emerson said.
"It has also helped me build lasting friendships while having a lot of fun in the process."
Carlo Cordon has been Applewood's head coach for 20 years and led his team to the Division II title several years ago.
"It's Saturday morning and over 500 swimmers are taking part," he said. "In the 15-18 boys freestyle alone there are four high school state qualifiers, so it's safe to say that this day is highly competitive and fun for everyone."
There are 120 swimmers on Chad DeAngelo's Boardman Tennis and Swim Club with 70 entered in Saturday's competition.
Currently in his fourth year as head coach, his 12th on staff and 25th overall with the program, he said that the competition keeps getting better.
"As a former swimmer I had the opportunity to work with some great coaches, now I get to pass on to my team what I learned. It's tradition," DeAngelo said.
YSL is about the competition, according to Poland head coach Kendra Paul.
"Everyone wants to win, but it's still about the kids and the competition," she said. "It's about having fun and the camaraderie."
Brian Stahl is in his fourth season and second overall as head coach of the Canfield Swim and Tennis Club.
"This is for YSL bragging rights," he stated. "Of the 106 swimmers on our team, 30 are newcomers and 15 of those newcomers were here today competing."
Warren Olympic head coach Steve Lukco has 100 swimmers with 50 entered in Saturday's championships.
"This is an exciting time because it prepares the swimmers for their school programs, plus they get to swim year round," Lukco said.
"This event definitely prepares them for the next level."
Kristin Szabo is in her fifth season as Country Clubs head coach while Shawn Chrystal is in her 10th year with the Logan Ducks.
"We're one of the smallest groups, but a really close-knit unit that has improved their times with personal bests over the course of the summer," Szabo said.
When she became head coach, Chrystal had just 10 swimmers.
"We've grown from 10 swimmers to over 70 now and it goes to show that we've fostered a nurturing, safe environment," she said. "Everyone has a lot of fun in the events of which that they have chosen to take part."
More like this from vindy.com