Despite following rules, asked to leave
By BILLY LUDT
bludt@vindy.com
AUSTINTOWN
Service Dogs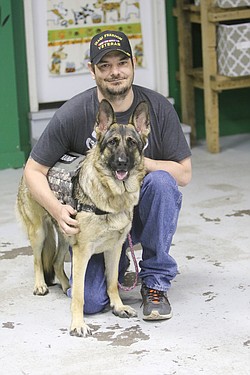 Video
Service dogs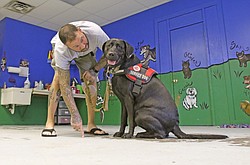 Gallery
"No Pets Allowed" is common signage found outside businesses, but not all domesticated animals are pets. Some are service animals.
Ann Gott, 67, Austintown, was diagnosed with post traumatic stress disorder after her husband died. Not long after, she received Barney, a Maltese service dog that helps detect and calm her symptoms.
Barney's presence helps Gott feel comfortable when she leaves her home, but she said her experience having a service animal in public spaces hasn't always been pleasant.
She had to leave a Walmart Supercenter after being told her service animal was not allowed inside the shopping cart she was using.
An employee from Walmart customer service told The Vindicator service animals 12 pounds or less are allowed in the shopping cart, as along as the dog is atop a cover in the cart.
Gott said Barney was atop a proper cover, and wearing the service animal vest.
Walmart corporate policy states the business must "welcome into our stores any animal that is individually trained to assist a person with a disability."
He isn't the heaviest dog, but Gott said carrying Barney through the store while shopping wasn't an option.
While Walmart offers curbside service and groceries can be purchased online, Gott said she still wants her independence.
"This is why I'm so upset," she said.
The U.S. Department of Justice requires any private business that serves the public to permit service animals anywhere customers are allowed. A physical or mental impairment that may limit a person's ability to function is considered a disability under the Americans with Disabilities Act. That includes PTSD.
Gott said Barney is like any other dog at home, but when he's out of the house he's working.
"Sometimes you don't know you're going to a panic attack," Gott said. "That's why I need him here."
Katie Costello is with The Canine Campus, 757 N. Main St., Hubbard, a dog-training service that also trains service animals. Their program, The Together Journey, trains about 20 service dogs a year.
Trained service animals run a regimen of exercises, with about a 40 percent national success rate, Costello said.
These animals assist with a range impairments – guiding people who are blind, alerting people who are deaf, pulling wheelchairs, alerting someone who is going to have seizures, calming panic attacks and reminding a person to take medication.
For some, the act of taking their service animals into the public isn't as stressful.
"Everybody in the [Mahoning] Valley has been great," said Robert Galloway, a veteran.
Galloway is training his service dog Luna in The Together Journey to help with his PTSD.
He said she was timid at first, but after a year of running the gamut at The Canine Campus, Luna has been everywhere from restaurants, to the bus with Galloway. She'll join Galloway for class at Youngstown State University next school year.
"This dog saved my life," he said. "I thought about ending my life, but if something ever happened to me, I thought about what would happen to my wife and this dog."

People are legally able to ask individuals with service animals what purpose their dog serves.
More like this from vindy.com