Presidential visits to Valley in odd-numbered years rare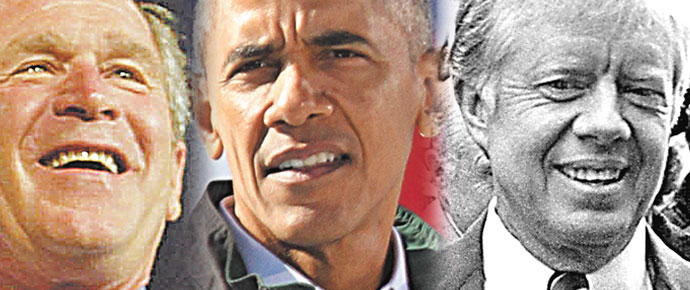 ---
By DAVID SKOLNICK
skolnick@vindy.com
YOUNGSTOWN
Even though Barack Obama did it in 2009 and Donald Trump will do it Tuesday, visits by sitting presidents to the Mahoning Valley in odd-numbered years – particularly after less than a year in office – are rare.
"They're very unusual," said Bill Binning, retired Youngstown State University political science department chairman and former Mahoning County Republican Party chairman. "It's not campaign time. It's not even a year after the election. To me, that's unique."
Bill Lawson, Mahoning Valley Historical Society executive director, said: "Any presidential visit is historic, but this one is extraordinary because President Trump is only six months into his term."
Trump, a Republican, will have a rally Tuesday at the Covelli Centre. The event is scheduled to start at 7 p.m. at the center, 229 E. Front St. The doors to the venue open at 4 p.m.
The center will probably be able to hold 6,000 people.
"He will draw a large crowd as he's got a lot of support here," Lawson said. "There will be thousands of people at the Covelli Centre and thousands more will be protesting."
The Mahoning County Democratic Party and other local Democratic and progressive groups will have a counter-rally from 5:30 to 7 p.m. Tuesday on Central Square to protest Trump's efforts to change the nation's health-care system and to call on the president to create jobs.
While this will be Trump's first visit to Youngstown as president, he campaigned in the area three times last year as a candidate: March 14, the day before the Republican primary at Winner Aviation in Vienna Township; Aug. 15 for a policy speech on immigration at Youngstown State University; and Sept. 5 for a brief stop at the Canfield Fair.
Obama, a Democrat, was the first sitting president in more than 100 years to visit the Mahoning Valley during an odd-numbered year when he delivered a speech Sept. 15, 2009, at the Lordstown General Motors complex.
Obama was touting the federal bailout of General Motors and the recall of workers to the facility.
The sitting president prior to Obama to visit the Valley during an odd-numbered year was Republican Theodore Roosevelt in 1907. But he was on a train passing through Youngstown and never stopped, according to an Oct. 10, 1940, Vindicator article about presidential visits in anticipation of a visit to the city the following day by another sitting president, Democrat Franklin Delano Roosevelt.
Obama would return to the Valley on May 18, 2010, to highlight the $1 billion expansion of Vallourec Star, a Youngstown steel facility then called V&M Star.
Obama came to the Valley a total of seven times – four times as a presidential candidate, the GM and Vallourec visits, and a re-election rally July 6, 2012, at Dobbins Elementary School in Poland.
That visit more than five years ago was the last time a sitting president came to the area.
Obama was supposed to campaign Oct. 29, 2012, with then-Vice President Joe Biden at the Covelli Centre, where Trump will be Tuesday. But Obama canceled because of a hurricane that caused extensive damage in New Jersey.
Instead, former President Bill Clinton took Obama's place at the rally with Biden.
Of all of the presidents of the past 100 years, none have visited the area more times – eight – than Clinton though only a 1996 visit to the B&O Station was while he was the sitting president.
The Democrat campaigned in 1992 at the Southern Park Mall parking lot seeking the presidency, and campaigned for Obama in 2008, the previously mentioned visit to Covelli in 2012, and made campaign stops in Boardman and Youngstown last year for his wife, Hillary, the failed Democratic presidential candidate.
He also went to the Canfield house of Bruce and Rori Zoldan three times for private fundraisers. Clinton was at the Zoldans in 2008 and 2015 for his wife's presidential bids and in 2010 for then-Gov. Ted Strickland.
George W. Bush campaigned in Youngstown in 2000 after capturing his party's presidential nomination at the Republican National Convention. Bush visited the Valley twice as president in 2004, once for a health-care talk at Youngstown State University and another time for a rally at Winner Aviation.
In 1980, incumbent Democrat Jimmy Carter and his Republican challenger Ronald Reagan both campaigned in the area.
Perhaps the largest turnout for a president – or a president-to-be in this case – in the region was for Democrat John F. Kennedy in October 1960, a month before he was elected though he lost the state of Ohio. He's the last president elected without winning the Buckeye State.
A Vindicator article states police estimated the crowd on Central Square for Kennedy at 60,000 people.
"He had huge support from Valley residents," Lawson said.
FDR's visit to Youngstown was in 1940, a month before he was re-elected to a third four-year term.
Also, Republican William McKinley – who was born in Niles and lived in Poland – visited the area a few times while president including an 1899 stop in Youngstown.
Other sitting presidents to visit the Valley, according to the 1940 Vindicator article, included Republican William Howard Taft in 1908, on his way to being elected president, and in 1912, when he was the sitting president but lost re-election; and Republican Herbert Hoover in 1932.
Republican James A. Garfield was elected, but not yet inaugurated, when he visited Youngstown in early 1881, according to the article.
More like this from vindy.com