Vivo, Christman, Sylak and Benson win Greatest Junior titles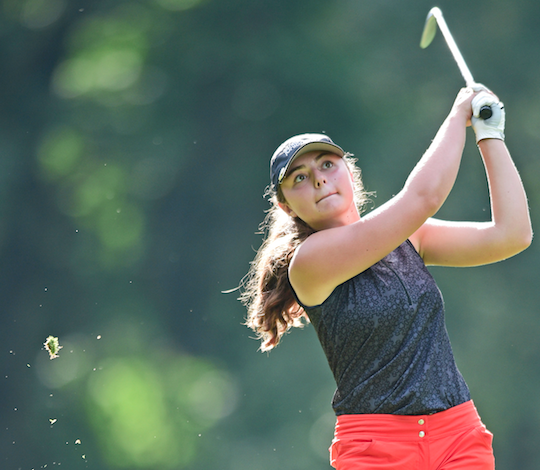 ---
By Brian Dzenis
HOWLAND
Cole Christman had a great start for the second day in the Greatest Golfer of the Valley junior finals presented by Farmers National Bank and this time, he followed through with a winner's finish.
The Boardman junior broke away from a crowded contenders group at Avalon Golf and Country Club to win the boys 17-U title.
He could have been in the driver's seat coming out of day one, but taking a seven on the No. 17 at Squaw Creek on Friday left him a stroke off the lead.
There were no such moments on Saturday.
"I putted way better — I actually made putts — I just didn't do stupid things like I did yesterday," Christman said. "Everything was all-around better."
Jenna Vivo's 10-stoke lead from Friday remained safe through Saturday as the Boardman senior won her fourth straight Greatest Golfer title. Her final lead was 19 strokes as she recorded a 147 two-day score.
"I just love playing with the local girls. I don't get to play them much unless it's [high school] golf season," the 17-U girls champ said. "It's fun competeting against girls you know."
In the 14-U divisions, Mineral Ridge's Jacob Sylak and Leah Benson of Hermitage, Pa. won the boys and girls titles, respectively.
Christman was an even 72 on Saturday. His two-day score of 148 was five strokes better than runner-ups Dean Austalosh of Campbell and Warren JFK's Jimmy Graham, who both shot 153. Some of the champion's toughest competitors were his high school teammates, Brian Terlesky and Bryan Kordupel.
Terlesky led Christman by a stroke after the first day as the overall leader and Kordupel was tied with Christman. Terlesky fell out of the race after going 6-over par on the front nine. Kordupel was 9-over par on day two.
The trophy should shield Christman from some smack talk on the fall.
"If Kordupel ever says anything, I can always say, 'Greatest Golfer,' " Christman said.
The girls 17-U field improved at Avalon — runner-up Hannah Keffler went from a 90 to a 76 on Saturday — but Vivo's lead was too large.
"It was great. I was able to relax with the lead I had," she said.
Canfield's Gillian Cerimele took third with a two-day score of 169.
Among the 14-U, Sylak and runner-up Cameron Colbert were separated by four strokes.
"[Colbert] was in my group. He was playing well on the front nine and so was I," Sylak said. "It's one of those things where you're coming down that last stretch where you think you're doing good enough, but you're not sure."
Sylak didn't learn how close Colbert really was to him until they returned to the clubhouse, but when Colbert double-bogeyed on No. 18 to his bogey, Sylak thought that was enough to win.
"After my last putt went in, it was like I lifted a huge weight off my shoulders," he said.
Benson shot a 91 to take the 14-U girls trophy back to the Keystone state, besting McKenzie Gustas by one stroke. Kyra Woods shot a 95 to take third place. Like her boys counterpart, she wasn't keeping track of her opponent's score, and was thrilled to see where she ended up.
"I had a better round than I thought I did," Benson said.
More like this from vindy.com