Spartan cousins Terlesky, Vivo hold Greatest Golfer leads
Round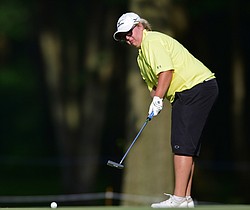 Gallery
Spartan cousins Terlesky, Vivo have Greatest Golfer leads
VIENNA
One leader hangs on after faltering late. Another has an iron grip.
That's where things stand for Boardman cousins Brian Terlesky and Jenna Vivo, who lead their 17-U competitors after the first day of the Greatest Golfer of the Valley Junior finals at Squaw Creek-Avalon Golf and Country Club.
The boys competition is far from decided, with Terlesky leading fellow Spartans Bryan Kordupel and Cole Christman by just one stroke. Warren JFK's Jimmy Graham and Brandon Cioffi of Hickory (Pa.) are two strokes off the lead. Vivo leads the pack by 10 strokes.
"I think the heat got to us a little bit. I was tired out there and I usually don't do that," Terlesky said. "I just think the back nine is harder in general, though I think I was just tired."
Terlesky and Christman started well on the front nine, shooting 1-under par and even, respectively. They remained neck-and-neck and held a minimum two-stroke lead on their playing partners until the final few holes.
The pair was two-over par heading into the 17th hole. Christman shanked his second shot out of bounds — necessitating a dropped ball — and then needed three putts to finish with a seven on a par 5.
"I was hitting the ball pretty well today. My driver was straight and my irons were good — I just couldn't putt," Christman said. "I three-putt way too many times."
To him, that wasn't his worst hole. It was No. 7, where he reached the green on a par-4 from the tee, but finished even for the hole.
"That one should have been a birdie," Christman said.
Terlesky bogeyed No. 17 and No. 18 to finish 3-over par at 75.
Vivo was 4-over par on the front nine, but turned things around in an impressive fashion. She came out of the turn with a birdie-par-birdie combo, then shot even on every hole save No. 17 the rest of the way. That was another birdie.
"I knew I had to do something on the back to make sure I was in this tournament," Vivo said.
As the only girls golfer to shoot under 80 with a 74, Vivo is not only alive in the tournament, but a heavy favorite to lift the trophy at Avalon Golf and Country Club. With Terlesky, Kordupel and Christman in the mix for a title, she likes the chances for Spartan sweep for Greatest Golfer.
"We have a pretty good golf team on both sides at Boardman," Vivo said. "We like playing together, practing together and we're always pushing eachother."
Boardman's Brittney Jonda and Poland's Jenna Jacobson were tied for the second best score at 84.
Kordupel was one stroke better than what he scored when he won the Sqauw Creek qualifier back in May.
"I think I hit the ball a little better then, but my putting is night and day compared to that day," Kordupel said. "The greens were definitely faster compared to last time, but I definitely thought today was better over all."
Graham put in what was maybe the best bogey of the tournament on No. 14. That hole featured a shot out of bounds and a ball being punched out from behind a tree. He got a six on the par 5, but for what he faced, it was a good salvage job.
He heads to his home course — Avalon Golf and Country Club in Howland — for the final day.
"I've played some really good practice rounds so I know I can get the job done," Graham said. "I just need to stay focused and keep my head in the game."
The finals tee off at 12:30 p.m. The 14-U finals are at 1:50 p.m., also at Avalon.
More like this from vindy.com