Trump to rally in Valley next week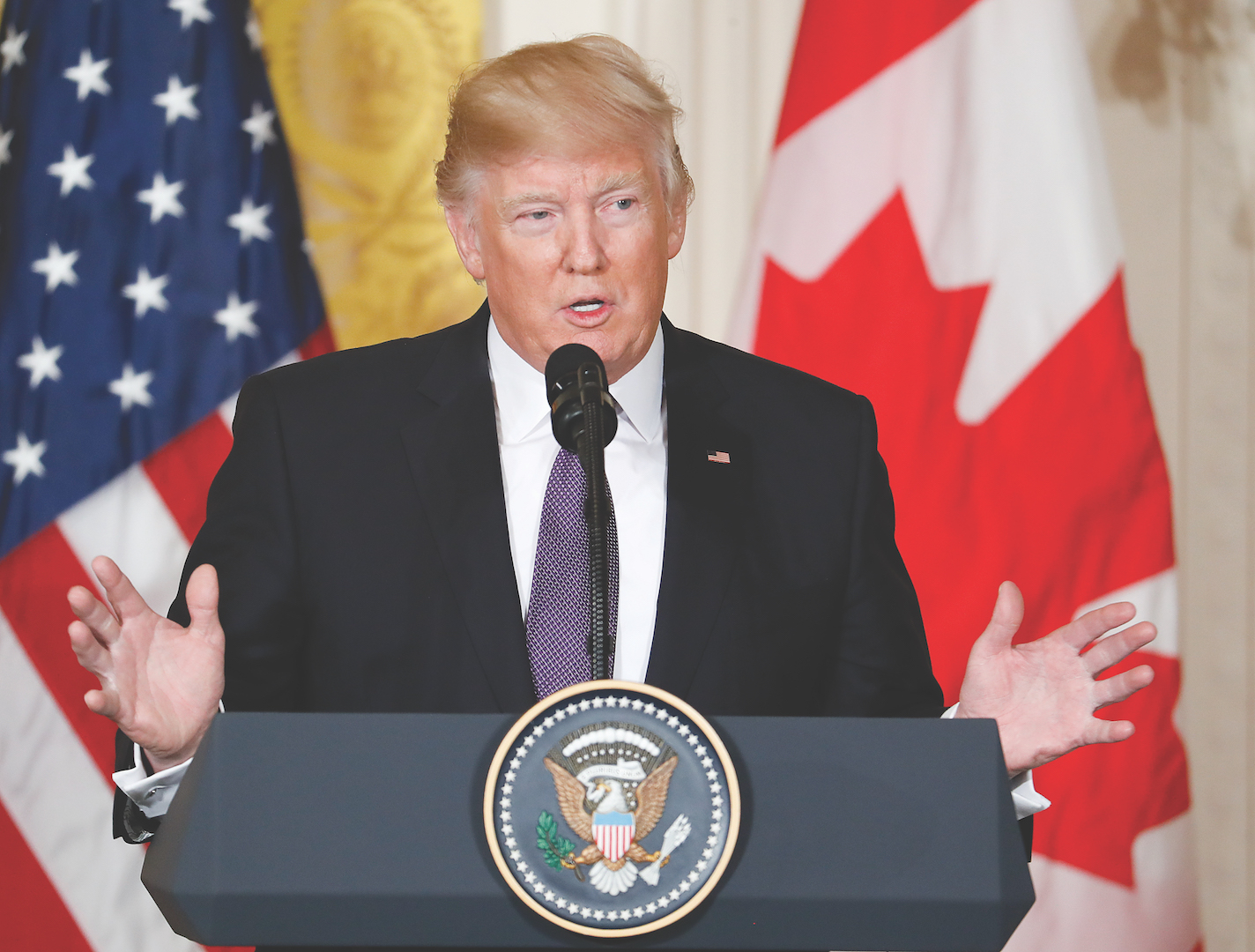 ---
By DAVID SKOLNICK
skolnick@vindy.com
YOUNGSTOWN
Donald Trump will make his first visit to Youngstown as president during a rally next Tuesday night at the Covelli Centre.
While the logistics are being worked out, the center probably will be able to hold 6,000 people for the president's event, said Eric Ryan, the facility's executive director.
To register to get up to two tickets for Trump's rally, fill out a form by clicking here.
The event is scheduled to start at 7 p.m. – though previous rallies haven't started on time – with the doors opening at 4 p.m. to the downtown event center at 229 E. Front St.
Center officials first spoke last Thursday with the Trump campaign about the possibility of the Republican president having an event at the facility, Ryan said. The details were finalized late Monday, he said.
The Trump campaign sent emails about the rally about 5:15 p.m. Tuesday.
Trump's campaign had considered an event at Covelli last year, Ryan said, but instead the then-candidate had a rally at Winner Aviation at Youngstown-Warren Regional Airport in Vienna.
"To have the president of the United States at the facility is an honor and we're very excited," Ryan said. "To have a sitting president in our facility and in our town is awesome."
Mahoning County Republican Party Chairman Mark Munroe said: "Washington Democrats hate him, the mainstream media despise him, inside-the-beltway Republicans aren't sure what to make of him, but middle America loves him. Tuesday, he's coming to the heart of America where thousands of Democrats crossed over to vote for him, and it's going to be great."
But U.S. Rep. Tim Ryan of Howland, D-13th, said: "Donald Trump made a lot of promises to Youngstown, and communities that look a lot like ours, and I am eager to hear if he has plans to implement any of them. As of now, I have only seen a long line of broken promises. We need good-paying jobs. We need an infrastructure package that brings us into the 21st century. We need to address the opioid epidemic that is ripping apart families here in Ohio and across the country. We need to increase coverage and strengthen the American health care system – not raise costs and kick 23 million Americans off their plans. The people of Youngstown expect results. I'm waiting."
County Democratic Party Chairman David Betras also criticized the president.
"I assume he's coming to cut the ribbon for the new steel mill he promised or perhaps it's to roll out his great new health care plan, or maybe he's going to announce that he's going to move production of all the Trump-branded goods that are made overseas by cheap and slave labor to the Valley," Betras said.
Youngstown Mayor John A. McNally, a Democrat, said: "We look forward to having President Trump at the Covelli Centre, and we know that his supporters will be thrilled to watch his visit and hear him speak."
Trump put Youngstown in the national spotlight June 1 when discussing his decision to pull the United States from the Paris climate agreement.
"It is time to put Youngstown, Ohio; Detroit, Mich.; and Pittsburgh, Pa., along with many, many other locations within our great country, before Paris, France," he said.
Trump campaigned in the area three times last year during the 2016 presidential campaign: March 14, the day before the Republican primary at Winner Aviation; Aug. 15 for a policy speech on immigration at Youngstown State University; and Sept. 5 for a brief stop at the Canfield Fair.
Trump lost Mahoning County in last year's election to Hillary Clinton 49.9 percent to 46.6 percent, the best showing for a Republican in the Democratic stronghold since Richard Nixon's victory in 1972. Trump became the first Republican to win Trumbull County since Nixon in 1972, capturing 50.7 percent of the vote to 44.5 percent for Clinton, a Democrat.
Trump was supposed to be at Youngstown-Warren Regional Airport on Feb. 16 to sign a bill coal supporters say would help the industry. Instead, the event was canceled and the ceremony took place in the Roosevelt Room of the White House. While there was never an official reason given for the cancellation, it was reported that some lawmakers who wanted to be at the event needed to be in Washington, D.C.
This will be the first time a sitting president has visited the Mahoning Valley since Democrat Barack Obama campaigned for re-election July 6, 2012, at Dobbins Elementary School in Poland.
Obama was supposed to campaign with then-Vice President Joe Biden on Oct. 29, 2012 – in a bit of irony – at the Covelli Centre, shortly before that year's presidential election. But Obama canceled because of a hurricane that caused devastation in New Jersey. Instead, Biden had a rally at the center with former President Bill Clinton.