West Side Cats and Pawz 2 Adopt Me team up for fund-raiser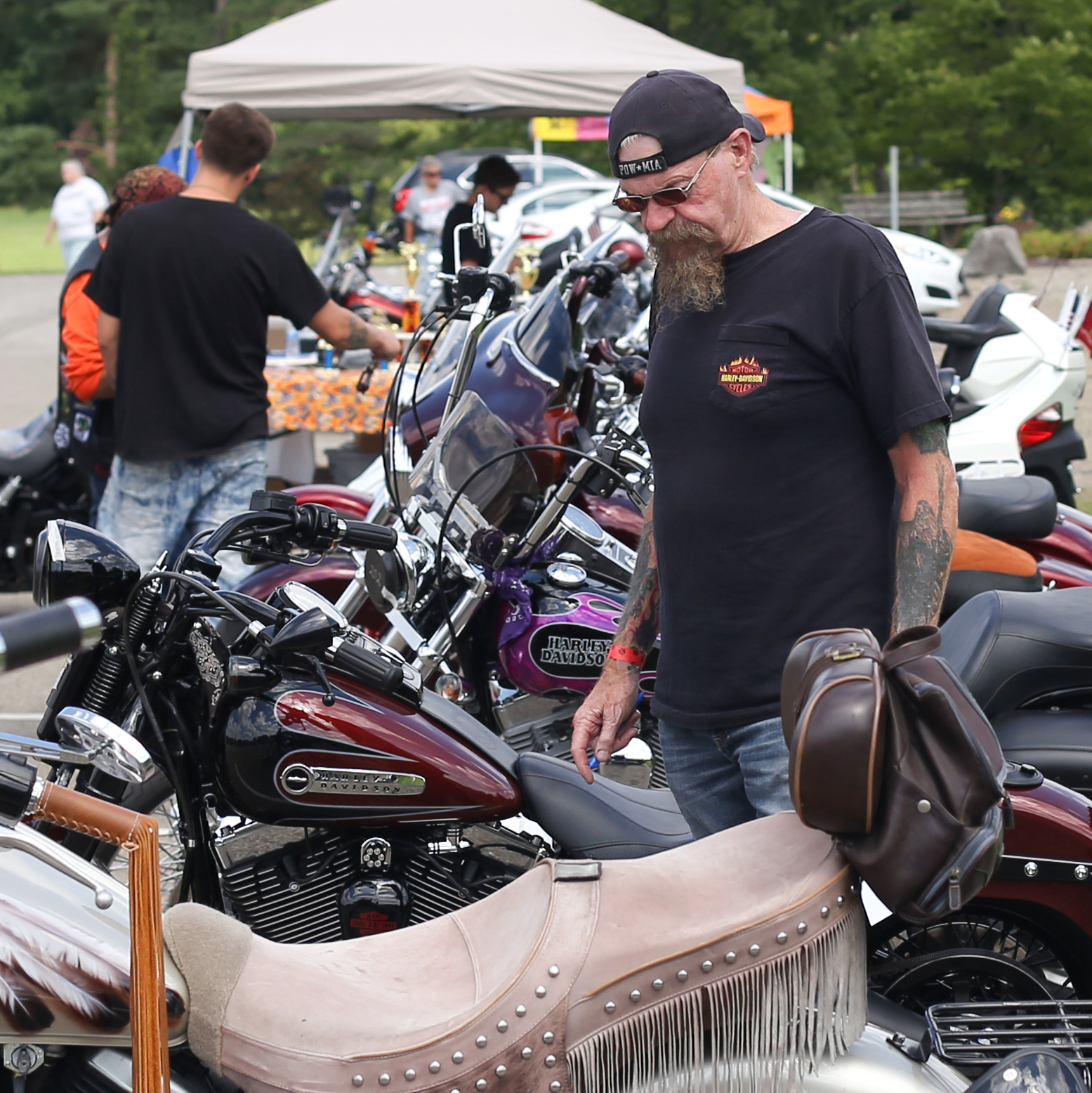 ---
AUSTINTOWN
There is a huge stray-cat problem in the Mahoning Valley, and the West Side Cats animal shelter and adoption center is trying to do something to alleviate it.
West Side Cats, founded in 2008 by Kimm Koocher of Canfield, takes care of cats that are sick, injured or have special needs such as blindness.
"There are several groups rescuing cats, but resources are finite. We take the last ones to get salvaged," said Koocher.
West Side Cats' shelter can "comfortably hold" 80 to 85 cats, she said.
"We pretty much empty out in January and February, then spring and summer comes and its rains kittens," said Koocher.
The need for money to run the shelter is why West Side Cats, this year in partnership with Pawz 2 Adopt Me in Austintown, hosted its sixth annual bike run and summer festival Sunday at Austintown Township Park on Kirk Road.
The event included a bike poker run, a bike show, musical entertainment, 50-50 and basket raffles, food and vendors.
Cats and kittens taken in by West Side Cats, a nonprofit rescue and adoption facility operated by volunteers, are nursed back to health with the help of Youngstown veterinarian Dr. Donald K. Allen.
All cats put up for adoption are spayed/neutered, are up-to-date on shots, flea-treated and de-wormed, and have tested negative for feline aids and leukemia, Koocher said.
West Side Cats also adopts out cats from PetSmart in Niles and Petco in Boardman and has adopted out between 300 and 900 cats per year since its inception.
"There are never enough volunteers. Volunteers are critical," said Jane Polish of North Jackson, president of West Side Cats.
"Our message to the public is spay and neuter and remember that cats are living creatures. They feel love and joy and pain just like we do," Koocher said.
Nancy Logero of Pawz 2 Adopt Me said her organization has much the same mission as West Side Cats, except for dogs.
"We pull about 85 percent of the dogs we put up for adoption from the Trumbull County pound and also shelter strays and dogs surrendered by their owners," said Logero, of Youngstown.
They are examined by a veterinarian, spayed/neutered and generally prepared for adoption, she said.
"Our goal is to find these dogs good homes. We bring the dog to the homes of potential owners to ensure they are legitimate and are who they say they are," Logero said.
"We are all volunteers, and more volunteers are always needed," Logero said.
More like this from vindy.com