Canfield law limits bees in city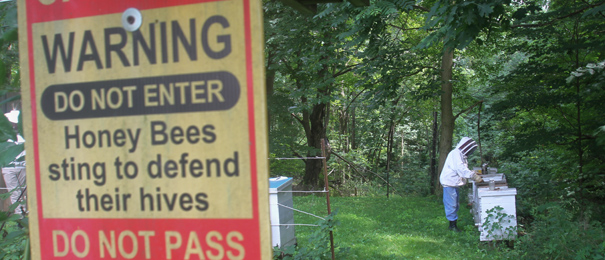 ---
By BILLY LUDT
bludt@vindy.com
CANFIELD
ABUZZ ABOUT BEES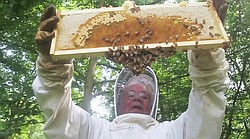 Video
A local beekeeper shares his love and knowledge about bees.
Bill DeHoff starts each day the same way: with a spoonful of peanut butter and a spoonful of honey.
DeHoff is the proprietor of Bill's Apiaries, where he sells unprocessed honey, provides a bee swarm removal service and mentors new beekeepers. He said his fascination with bees spans 30 years, and about 14 years ago, he finally decided to buy a single bee colony.
DeHoff said he can't attribute his morning dietary choices to his longevity, but at 81, he is still up and maintaining 30 bee colonies in the Mahoning Valley, 11 of which sit in his backyard.
"Who knows," DeHoff said. "Maybe next year I'll have 35."
Canfield City Council passed an ordinance July 5 that places regulations on how bees are kept in the city. The ordinance limits two bee colonies per property, but bees will still travel beyond property lines with a flight radius of about 2 miles.
"They're not looking to sting somebody," DeHoff said. "Only time they'll sting you is if you swat at them. They're not interested in you; they're interested in what's down there."
He points to a catnip plant growing by his side patio. On it, five or six bees quietly gather nectar from its blooms.
Bee pollination accounts for one-third of the world's food supply. Without bees, almonds, apples, blackberries, blueberries, cherries, squash and a number of other fruits and vegetables would not grow.
Each bee colony houses about 60,000 bees, and beekeepers maintain colonies in wooden beehives that are divided into three sections: the top for honey making, and the middle and bottom for breeding.
Bee colonies keep a yearly cycle starting in early spring, and usually ending at first frost.
While it's not ripe with fruits, DeHoff said the city will be full of flowers that bees will flock to.
DeHoff's home on Western Reserve Road in Beaver Township isn't set in the middle of Canfield, but he said maintaining bees is pretty much the same in the country as it is in the city.
Residents with apiaries, one or more bee colony, will need to register with the Ohio Department of Agriculture, pay routine permit fees (to be determined by city council) and acquire an apiary permit from the city. The city requires all hives be kept 10 feet from property lines, and any hive 25 feet from a neighboring property must have a 6-foot-high barrier surrounding it.

Apiaries with three or more colonies established in the city before the ordinance will be grandfathered in.
To deter bees from visiting neighboring yards for water, keepers are required by the ordinance to have a water source of their own. DeHoff recommended a dish atop each bee box, a bird bath or a fountain.
City attorney Mark Fortunato received bee ordinances from other municipalities, and the council consulted local beekeepers while drafting Canfield's ordinance.
"I thought all bees were aggressive, but these honeybees are not," said council member John Morvay.
The ordinance states bees kept in the city are bred from a European stock that is known for its docility.
Morvay said he doesn't expect to have any issues with bees in the city.
More like this from vindy.com