Heading to WaterFire? These youngsters will Rock U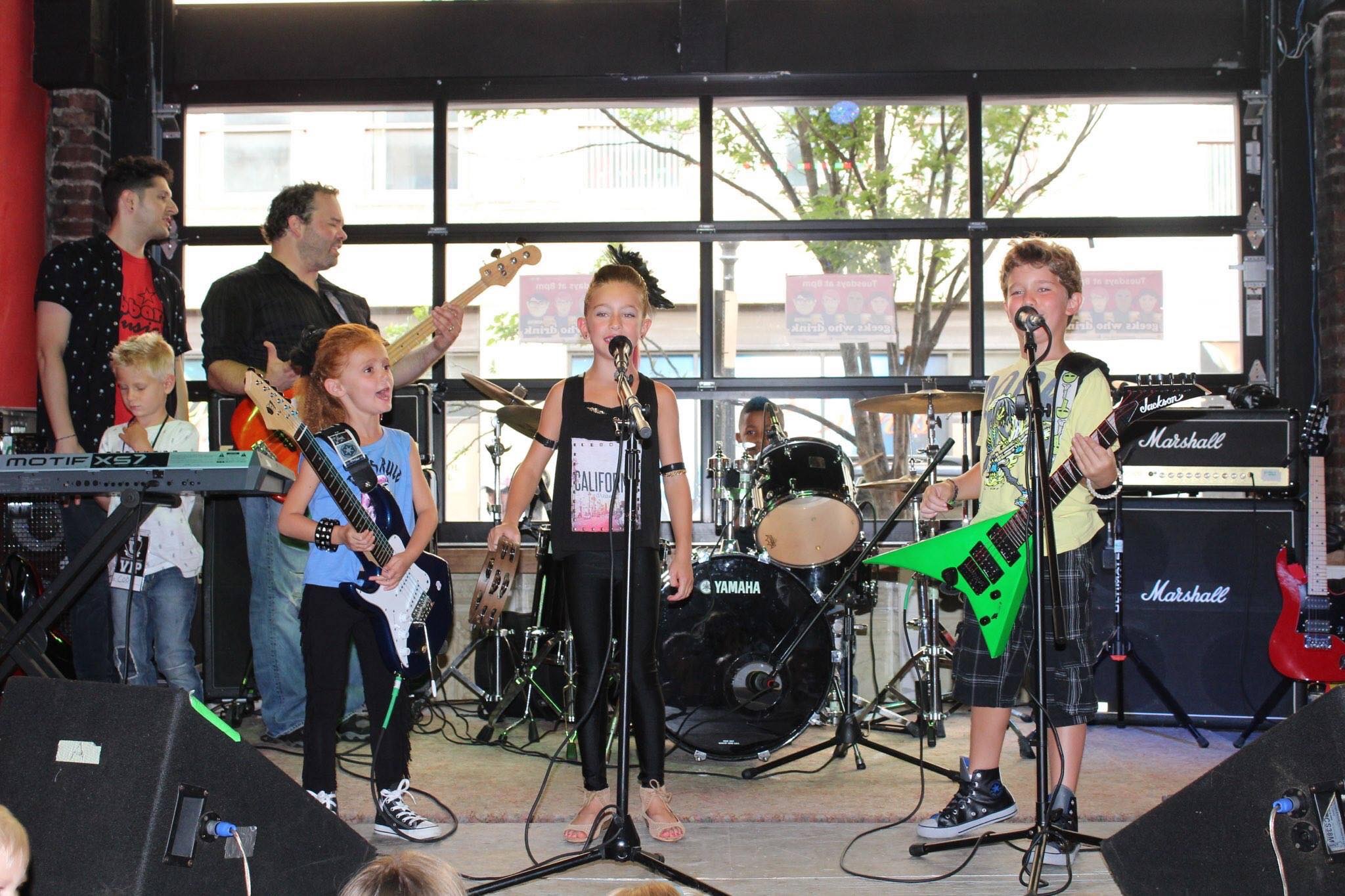 ---
"School of Rock" (2003) is in my top 10 list of all-time favorite movies.
It's about a ne'er do-well wannabe rocker, played by a manic Jack Black, who molds a group of grade-schoolers into an awesome rock band – with all the cool rock star moves.
A real-life version of the film has been taking place in the Mahoning Valley for a couple of years – but with professional instructors and minus the Jack Black bluster.
The Rock Star University program, directed by Jay Hinrichs, has already taught dozens of young pupils, with a growing measure of success.
Rock U is a program of Hubbard Music, where Hinrichs teaches guitar, and the weekly sessions take place at the store. It's similar to the School of Rock, which also teaches rock performance to youngsters, and has a franchise in Cleveland.
Hinrichs, who was in the Robbie Jay Band and currently is in the Hard Luck Kings, and Ralph Rich (Demos Papadimas and his Band), who is also an instructor at Hubbard Music, are the main instructors and founders. Fellow Hubbard Music instructor Zach Connelly also helps teach.
Currently, Rock U has about 40 students, divided up into seven bands. Each band meets weekly in the practice space in the basement of Hubbard Music to rehearse. Again, the emphasis is on working as a unit and performing as one.
"It's about being in a group, and dedicating themselves to it," said Hinrichs. "I give them music to work on at home and tell them, 'You practice at home. Here, we rehearse.'"
Each of the seven Rock U bands are comprised of students in the same age group, and the students range from 5 to 16 years old.
The program lasts eight weeks, during which each band will learn at least three songs and also develop some stage presence. Each session culminates in a performance with all bands; the last one, at Tiffany's Banquet Center in Brookfield, drew about 350 people.
Some of the bands have jelled and have begun playing their own gigs outside the program. Seeing the youngsters rocking out on stage is not something you see every day, and it's a blast.
The whole Rock U student body will perform Saturday at the WaterFire festival in downtown Sharon, Pa. The show will take place from 1 to 3:30 p.m. on the West Stage, which will be on East State Street, west of Water Avenue.
All seven current bands will have a turn on stage that will range from 15 to 30 minutes. Admission is free.
Rock U is helping to guide some talented youngsters into what could turn into a music career. But like any performance endeavor, it helps in every aspect of a young person's life.
The Rock U students learn how to work with others toward a common goal, and make friends in the process.
"Musicians are sometimes the odd kids, but when they get up on stage, they can't get enough of it," said Hinrichs. "When they go back to school, they are a different kid."
Each band in the program develops its own repertoire based on its strengths, and helped along by Hinrichs and Rich.
Hinrichs' son Vaughn, 7, plays guitar in Chicken Feet, which is one of the current Rock U bands. "They started with 'Wild Thing,' then added 'Hound Dog' and 'Jailhouse Rock,' and then 'Bad to the Bone,' Van Halen's 'You Really Got Me' and 'Seven Nation Army.'
"Another of our bands does better with more modern stuff. One has a girl singer, and she does 'Hit Me With Your Best Shot.' An older band does Neil Young, the Beatles, Tom Petty songs. We find out what works best for each band."
Rock U's performance calendar also includes the Aug. 19 and Sept. 23 WaterFire festivals; and the Mercer (Pa.) Arts Festival on Aug. 5.
Chicken Feet will open for the Huckin Fillbillies on Sept. 16 at Up A Creek in Howland.
Guy D'Astolfo covers entertainment for The Vindicator. Follow him on Twitter at @VindyVibe.
More like this from vindy.com