Youngstown mayoral candidates discuss racism at forum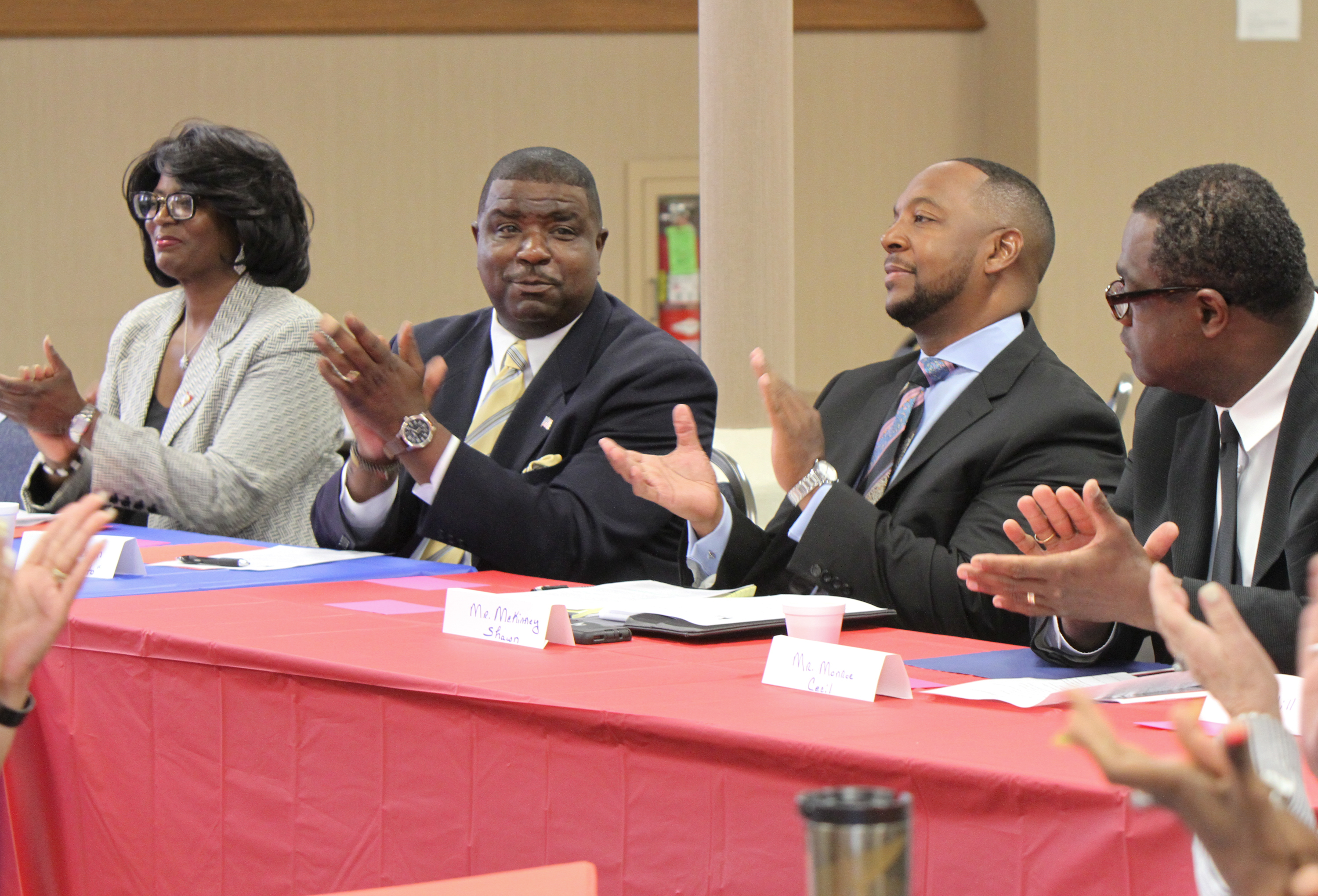 ---
YOUNGSTOWN
The four mayoral candidates say racism is a serious problem in the city and one that must be addressed if Youngstown is to move forward.
The candidates spoke Tuesday at a forum at St. Columba Cathedral sponsored by ACTION – a faith-based organization – on racism and what can be done to combat it.
About 50 people attended the event, which brought the candidates together for the first time.
The candidates for the Nov. 7 general election at the event were Democrat Jamael Tito Brown and three independents: Sean McKinney, Janet Tarpley and Cecil Monroe. It's the first time in the city's history that all the mayoral candidates are black.
Racism in Youngstown is "so entrenched that we don't even recognize it," said Tarpley, a former 6th Ward councilwoman.
Brown, a former city council president who defeated incumbent Mayor John A. McNally in the Democratic primary in May, said people don't talk enough about racism, allowing it to be considered acceptable throughout the country.
McKinney, a former city buildings and grounds commissioner, said racism is a huge issue and merely putting a bandage on it, as has been done, will not heal it.
Monroe, who's unsuccessfully run for public office a number of times, said, "Confronting racism every day is exhausting," but "we've got to keep trying."
The candidates agreed people don't want to talk about racism.
Examples of racism discussed at the forum included minorities being discriminated against when seeking housing and loans, as well as white people giving looks of consternation when walking past black people.
While racism is "pervasive" in Youngstown, black Americans don't want to talk about it, Tarpley said, because they will be called "a race baiter."
Brown said racism is akin to a "dirty family secret that no one wants to talk about" because it "puts a spotlight on it."
But, he added, it needs to be discussed in order to reduce racism.
People who deny racism do so because they're racist, McKinney said.
Munroe said black people "have come a long way, but we have a lot of work to do."
To help make racism less of an issue, job creation is needed, McKinney and Brown said.
"The top 100 companies in the nation should know where Youngstown, Ohio, is," Brown said. "I want to make sure we retain, we recruit, and we grow the businesses we have here."
McKinney said: "Government should provide the opportunity for employers to make investments and to provide jobs to citizens."
He added: "The city's economic development department needs to be compassionate and aggressive to go seek businesses across the United States and international. That has to be job focus No. 1."
Monroe said that having a conversation like Tuesday's is good, but in order to combat racism, the discussion must take place with several other people.
Tarpley said qualified black Americans must be hired for jobs in education and the banking industry.
"I want to make sure that everyone who wants to move forward has the opportunity to do so," he said.
Tarpley also suggested that community centers be included in a school on each of the four sides of the city.
After the forum, Brown said the event included "healthy dialogue. For me, it's letting people know I'm going to be a mayor for everyone."
Tarpley said, "Everyone needs to talk about it. This was really good. It's important to discuss the issues to move forward."
"Anytime you talk about an issue, there's always progress," Monroe said.
McKinney called it a "very productive discussion. The continued talk on racism is critical. It needs to be broadened now to the county, state and federal governments and through other sectors of the community."
More like this from vindy.com