Canfield v Poland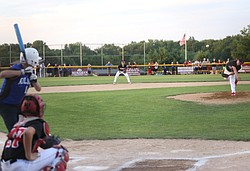 Gallery
By Greg Gulas
sports@vindy.com
BOARDMAN
Canfield's 11-12 Little League baseball team knows a little bit about state championships, having won titles in 2014 and in 2016.
"Clout King" Ben Slanker and pitcher Connor Miller are two very big reasons why back-to-back state titles are a realistic goal.
Slanker hit three home runs and added seven runs batted in while Miller tossed a two-hitter and struck out seven as Canfield stopped Poland, 11-0 in five innings on Sunday to capture the District 2 Major Division crown at Fields of Dreams.
Canfield will play the District 3 champion in the state tournament on Saturday at 1 p.m. in Maumee.
For Slanker, who blasted two home runs last year against Maumee in the state tournament at Fields of Dreams, it seems as if the bigger the stage the more confident he is at the plate.
"When we get the bat on the ball, good things tend to happen," said Slanker, adding that Canfield should do well "as long as we continue to work together as a team."
Slanker called the easy run through district play "amazing. We've worked really hard."
When asked if he thought the ball looked like a pumpkin, he smiled.
"Even the outside pitches looked good because I was still able to get my bat on the ball and drive it," Slanker said.
Drive it to all parts of the field is exactly Slanker did as his three-run homer to left field in the second inning gave Canfield a 4-0 lead.
His two-run shot to center field cleared the pine trees in the fourth inning to extend the lead to 9-0.
His two-run clout to right field ended the game in the fifth frame.
"Ben is an absolutely awesome baseball player," Canfield manager George Beck said. "He's just seems to come up big when we need it the most.
Beck's teams have won four state titles. He is the architect of the Canfield Baseball Club's last two Major Division state titles.
"Connor threw well the entire game and everyone played a part in this win," Beck said. "This group is focused and they feel like they can get to Williamsport [Little League World Series].
"It's a goal that we won't shy away from."
Miller walked just two batters as he picked up the complete-game win. He said his cutters and change-ups "were working well. I felt like I pitched my best in some time."
Luca Ricchiuti had a run-scoring single in the second inning that plated Canfield's first run, but it was his magical glove at second base that prevented any extra base runners.
"We're a pretty good team offensively, but we've also worked really hard on our defense," Ricchiuti said. "Connor was amazing on the mound, we hit the ball really well and have the momentum.
"We just need to get it done now in Maumee."
Jake Schneider hit a two-run blast in the fourth inning.
"I hit a fastball," he said. "Offensively we're there."
Cole Fulton and Jake Allsopp had Poland's hits.
More like this from vindy.com