07092017 Years Ago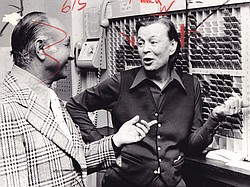 Gallery
Today is Sunday, July 9, the 190th day of 2017. There are 175 days left in the year.
ASSOCIATED PRESS
On this date in:
1540: England's King Henry VIII has his six-month-old marriage to his fourth wife, Anne of Cleves, annulled.
1776: The Declaration of Independence is read aloud to Gen. George Washington's troops in New York.
1816: Argentina declares independence from Spain.
1850: The 12th president of the United States, Zachary Taylor, dies after serving only 16 months of his term. (He was succeeded by Millard Fillmore.)
1896: William Jennings Bryan delivers his famous "cross of gold" speech at the Democratic national convention in Chicago.
1918: Some 101 people are killed in a train collision in Nashville, Tenn.
The Distinguished Service Cross is established by an Act of Congress.
1937: Fire at 20th Century Fox's film storage facility in Little Ferry, N.J., destroys most of the studio's silent films.
1945: Architect Frank Lloyd Wright unveils his design for the Solomon R. Guggenheim Museum, a spiral structure on Manhattan's Upper East Side that was completed in 1959.
1951: President Harry S. Truman asks Congress to formally end the state of war between the United States and Germany. (An official end to the state of war was declared in October 1951.)
1962: Pop artist Andy Warhol's exhibit of 32 paintings of Campbell's soup cans opens at the Ferus Gallery in Los Angeles.
1974: Former U.S. Chief Justice Earl Warren dies in Washington at age 83.
1982: Pan Am Flight 759, a Boeing 727, crashes in Kenner, La., shortly after takeoff from New Orleans International Airport, killing all 145 people aboard and eight people on the ground.
1995: Jerry Garcia performs for the final time as frontman of the Grateful Dead during a concert at Chicago's Soldier Field (Garcia died a month later).
A jury convicts four Muslim militants of plotting to bomb London's public transport system.
Character actor Charles Lane, 102, dies in Santa Monica, Calif.
2012: Facing sagging jobs numbers, President Barack Obama seeks to recast the November election as a fight over tax fairness.
VINDICATOR FILES
1992: After three months of painstaking restoration, a sleigh owned by President William McKinley that was discovered in a Salem barn is on display at the McKinley Memorial in Niles.
A Mahoning County Common Pleas Jury finds Michael Moore, 25, of Austintown not guilty of carrying a concealed weapon, accepting the defense contention that he was entitled to be armed because he was working as a repossession agent in the Kimmel Brooks Homes housing project in Youngstown.
The Health Care and Social Services Union of Columbus abandons efforts to unionize workers at the Austinwood Rehabilitation Health Care Center after a number of employees sign statements that they did not want union representation.
1977: Mrs. Alfred Clark donates to the Butler Institute of American Art an unsigned and undated painting of the Isaac Powers estate on the Mahoning River. The highly detailed painting captures life on the farm and at the A. & W. Powers coal mine.
The Ohio Supreme Court orders the state's new "instant" voter registration law into effect immediately, overruling Republican Secretary of State Ted Brown's efforts to delay implementation of the bill passed by the Democratic Legislature.
An early-morning one-car accident in state Route 267, a mile northwest of East Liverpool, claims the lives of five young people, all city residents, and seriously injures the 16-year-old driver. Dead are Leigh Ann Page, 13; Christopher Earich, 19; Robert Laughlin, 14, and his sister, Kathy, 15, and Roy F. Harvey, 20.
1967: Youngstown University adds two faculty members to its College of Arts and Sciences, Donald Degli, former Youngstowner and Hassan Ronaghy of Madison, Wisc.
The Rev. Homer J.R. Elford, minister of Trinity Methodist Church, eulogizes industrialist Leon A. Beeghly for his philanthropy. "Churches, playgrounds, libraries and other buildings on college campuses in this country and abroad; hospitals, community centers, along with organizations dedicated to educational and character-building endeavors share a debt of gratitude to Mr. Beeghly."
Stambaugh Thompson Co. has camping equipment on sale, featuring a 10-foot square outdoor dining house for $37.44, Big Horn sleeping bag for $17.87 and a camp stove toaster for 97 cents.
1942: Carl Cellurale, 17, is back home in Girard after a visit to Italy with his mother and sister in 1939 turned into a two-year stay after war broke out.
Ten U.S. Navy students enter Youngstown College to begin training, which is expected to lead some to the cockpits of naval flying transports, patrol boats or pursuit ships.
A final effort is on to push the Youngstown district scrap rubber drive over the mark of 1.5 million pounds before the close of the campaign, with only 150,000 pounds needed to make the goal.
More like this from vindy.com