CVMS students ACE impact projects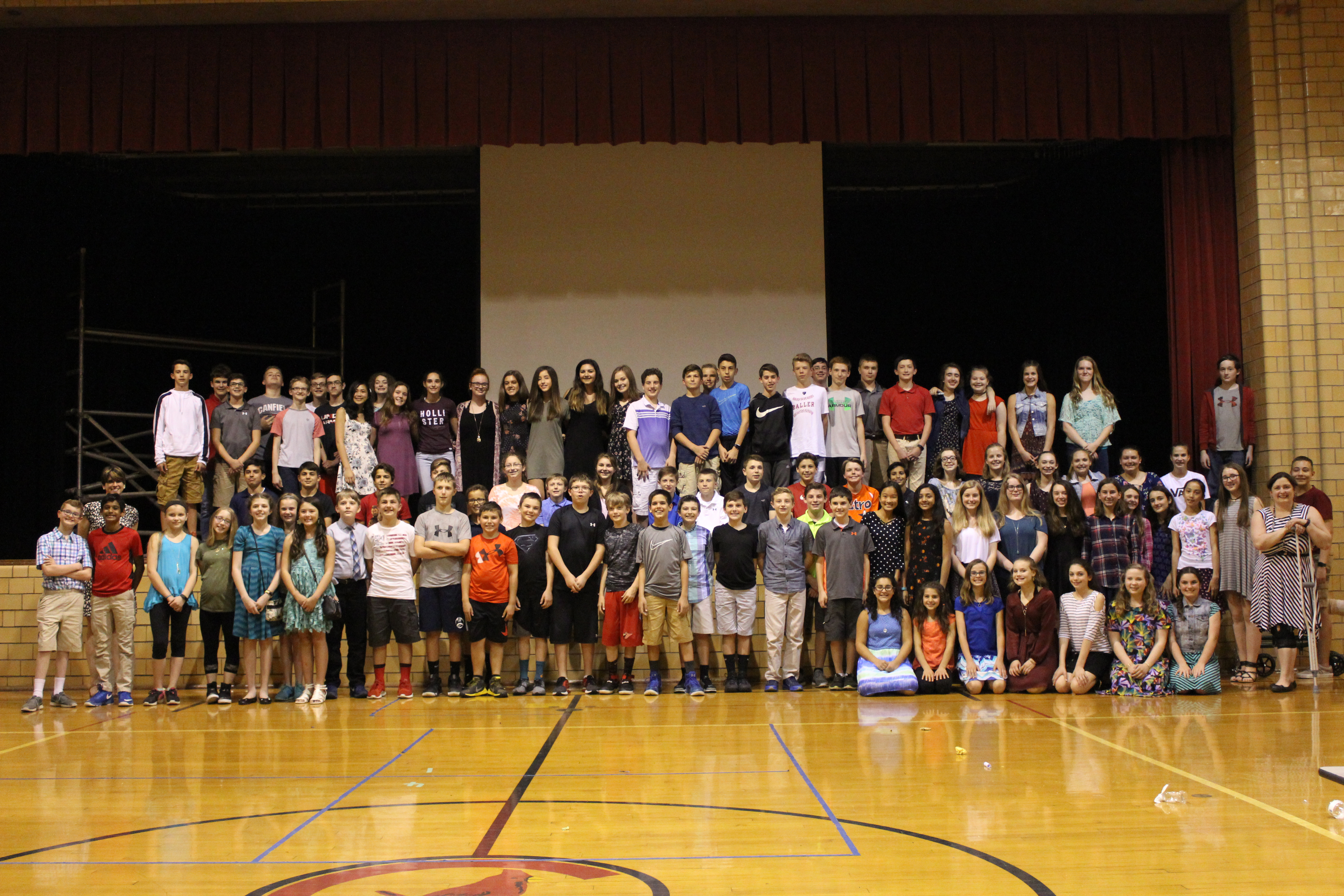 ---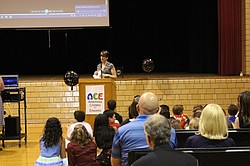 Photo
Neighbors | Abby Slanker.Canfield Village Middle School teacher and Ambitious Citizens for Empathy (ACE) Project co-developer Erica Putro spoke to students, families and friends at the school's ACE celebration on May 18.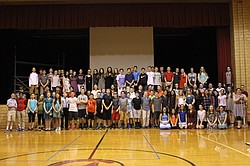 Photo
Neighbors | Abby Slanker.Canfield Village Middle School students who participated in the Ambitious Citizens for Empathy (ACE) Project were honored at a celebration to highlight their accomplishments.
By ABBY SLANKER
A semester focusing on helping others was celebrated at Canfield Village Middle School on May 18. Students who participated in the Ambitious Citizens for Empathy (ACE) Project, an extension of Gifted Services, spent the semester analyzing their strengths to create a personal profile which was used to design a method for contributing to some aspect of the community.
The 93 students who participated managed more than 45 projects. Students were asked to identify strengths which they possessed which could be used to do some good for others. Projects proposals were written, and projects were completed during March and April.
The projects included organizing a book drive, creating tutoring sessions and sports clinics for younger children, a bake sale to benefit The Rescue Mission, a run-a-thon to raise funds for a new a trophy case at the school, raising money and awareness for The Purple Cat, care packages for the Beautitude House, a STEM presentation for fourth graders, promoting cat adoption at Angels for Animals and a movie focusing on stopping bullying.
Several of the projects raised hundreds of dollars and impacted and helped in a variety of ways many people in the community and the surrounding area. The projects were on display during the celebration for parents and families.
CVMS teachers Erica Putro and Dominique Tozzi spearheaded the project. Putro welcomed family and friends to the celebration.
"Welcome and thank you for coming to our awesome ACE celebration event. Today we will start with a tour of the projects, which are posted around the gym. Please enjoy learning about what our students have accomplished. And to our students, be sure to thank our guests for coming to see and appreciate what you have done," Putro said.
After the guests had a chance to view the projects, Tozzi addressed the crowd.
"Our students raised $1,500 in four months and our seventh graders raised over $900 of that amount. But they didn't do it just to raise money, they did it to raise awareness, too. We had several service-based projects. Our students put in about 360-plus action hours, with some students putting in over 30 service hours by themselves. This is also so much more than money and time. Our students also contributed non-monetary donations and creations, such as a children's book, dog toy donations, stuffed animal donations, dozens of bags of clothes were donated, supplies for animal shelters, supplies for our servicemen and women and 179 pounds of food was donated," Tozzi said.
Tozzi also addressed the fact that many organizations and people were impacted by the students' projects.
"Many people and places were also helped by our students. Our students helped St. Christine's Parish, Greasel Park, Angles for Animals, Akron Children's Hospital, Second Harvest Food Bank, ASPCA and our own middle school students by offering tutoring," Tozzi said.
A video featuring the students post-project was played for the audience. In the video, students answered such question as, "What did you learn that u didn't expect to learn?," "What is one word you would use to describe this whole experience?" and "What obstacles did you encounter and how did you respond?"
Putro introduced Sam Shapiro, who spoke to the students at the beginning of their ACE projects.
"Being here today is humbling for me. It is overwhelming. These projects are great examples of core values, and you all clearly get it. Canfield students have a bright future. Your teachers are amazing and it is important what they have taught you here. You get it. You have a responsibility to help others. It is a privilege to help others. You can go out into the world and show your empathy and make the world a better place. I am very proud to be a part of this," Shapiro said.
Putro also praised the students.
"It's been a long process. I am so proud of all of you. In the beginning, it felt like a laboratory, with experiments and having a range of successes and failures. That was supposed to happen. That's how you learn," Putro said.
Putro also thanked the CVMS administration and the students' parents for their support.
"Thank you for letting us run with this. We are grateful for that. And to the parents, thank you for being so supportive. You humored the, took them places and helped them," Putro said.
CVMS Principal Judd Rubin addressed the crowd.
"There always seems to be the question of how will this generation of kids take care of us. They are more interested in their cell phones. But with these students, I feel strongly that we are in good hands for years to come," Rubin said.
Putro and Tozzi know the ACE program is the beginning of something big for their students.
"Dominique Tozzi and I developed the ACE program as a component of the most intense tier of gifted service offered in the middle school. We are both thrilled with the results of what we very much felt was the experimental beginning of something big for our kids. Service learning is not new, but what we specifically asked the kids to do was to hold themselves accountable to the idea that what they offer the world should be some product of strengths they already possess and are willing to grow. The result was that most of the kids pursued projects which pushed them to try things they may not have otherwise. The incidental and practical learning we witnessed was really almost as beautiful as the excitement on their faces when they would tell us how much they had been able to do to help others," Putro said.
More like this from vindy.com