Autism Society announces mini grant winners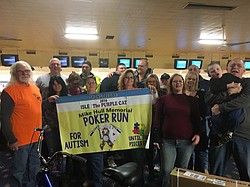 Photo
Neighbors | Submitted.The Mike Hull Memorial Family Mini Grant Committee presents its 2016 gifts to grant recipients during a pizza party at Strikers in Youngstown.  Committee members worked with the Autism Society to create the Family Mini Grant with proceeds from the Fourth Annual Mike Hull Memorial Poker Run for Autism last August.
The Autism Society of Mahoning Valley recently announced the presentation of this year's Mike Hull Memorial Family Mini Grant.
The $1000 award was divided amongst several area families, all looking to improve the opportunity for their child or young adult to improve his physical health and wellness.
Gift recipients were as follows: Brandon Revis, 19, of Warren, received an adult tricycle; Vincenzo Bartone, 15, of Niles, received a treadmill, and Edward Baatz, four, of Salem and Josiah Lampley, five, of Warren, both of whom received a mini trampolines with nets.
"We are so happy to be able to help these families improve their children's quality of life," said Melissa Kalaman, Chairperson of the Mini Grant Review Committee and sister of the memorial's namesake. "This is exactly the kind of holiday activity that my brother, Mike, would have been proud to be involved in."
Herself the mother of an adult son on the autism spectrum, Kalaman says exercise can make a big difference for these children.
"You see kids going from disengaged and non-communicative to making eye contact and being more aware of what's going on," she said.
In addition to offering an outlet to expel energy, the movement reduces anxiety and improves concentration.
In 2014, Kalaman and her family initiated the effort with the Autism Society to create the Family Mini Grant with proceeds from the annual Mike Hull Memorial Poker Run for Autism offered every Labor Day weekend. This year, more than 60 motorcyclists took part in the two-county ride in honor of Mike Hull, a beloved husband, father, brother and grandfather with a cherished granddaughter on the autism spectrum. The all-day event featured an 80-mile motorcycle ride that visited six establishments in Mahoning and Columbiana counties. It kicked off with a breakfast and bike blessing, and ended with a live concert and pasta dinner.
Throughout the day, Mahoning Valley Lanes offered free bowling for any children or adults with special needs.
Planning is underway for the next event in September 2017.
Mike Hull Mini-Grant Review Committee feels the family mini-grants are an important way to support families affected by autism who struggle with costs of therapies and treatments year round. The group offers an open application period every November so that they can assist with needs around seasonal holidays.
More like this from vindy.com