Violinist advocates for disabled through her music
BY GRAIG GRAZIOSI
ggraziosi@vindy.com
YOUNGSTOWN
Gaelynn Lea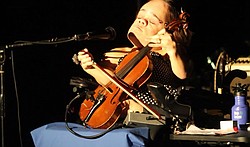 Video
Violinist and advocate for the disabled Gaelynn Lea performed in Youngstown.
Gaelynn Lea plays fiddle.
At 33, she has won National Public Radio's 2016 Tiny Desk contest for her music, has played the John F. Kennedy Center for the Performing Arts and has toured throughout Europe and the United States. Lea also has osteogenesis imperfecta, or brittle bone disease. She advocates for the disabled and speaks on overcoming challenges and the joy of her musical pursuits.
She was in Youngstown Tuesday performing for an intimate audience at Morley Theater, downtown, thanks to the efforts of The Purple Cat and Golden String Radio.
The Purple Cat and Golden String Radio are local organizations — both under the direction of Jimmy Sutman — that provide individuals with disabilities the opportunity to participate in practical vocational activities, as well as artistic and recreational pursuits. Tuesday night's performance at the West Boardman Street theater was part of a larger variety show featuring performers associated with Golden String Radio.
David Woodard, general manager of Golden String Radio — which is run by and features adults with disabilities — said radio is an ideal medium for helping to overcome many barriers facing individuals with disabilities.
"Music is the great equalizer," Woodard said. "Unless someone has a speech impediment of some kind, you can't really tell over the radio if someone has a disability or not. People can focus on the music without distraction."
Lea is a testimony to Woodard's assertion; she is well spoken, personable and her Irish-folk inspired fiddle music is flawless. She hopes to encourage more performers with disabilities to start performing.
"There's always something to be hopeful about," Lea said. "I hope that others will start to play too. When I started there weren't many people playing, and I hope my music helps people interested in music or performance to start pursuing it."
Jimmy Sutman, director of The Purple Cat and Golden String Radio, said community response to performers with disabilities is growing, but there's still a lot of work to be done before they are fully embraced by the public.
"We're chipping away at any public reservation with every performance," Sutman said. "I'm proud of the response we've gotten tonight."
Alongside Lea's performance were performances by the musicians from the Purple Cat Music Class, as well as Jenny Chaney and Ashley Harris, both performers associated with Purple Cat Productions.
More like this from vindy.com