Students give gifts during holiday season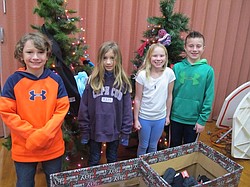 Photo
Neighbors | Alexis Bartolomucci.Third-grade students stood in front of the Giving Tree that Dobbins Elementary is having to collect donations. Pictured are, form left, Connor, Kate, Natalie and Dylan.
By ALEXIS BARTOLOMUCCI
Poland Dobbins students are getting in the giving spirit as the holidays approach with their school Giving Tree.
Dobbins does the Giving Tree every year for children in need. The students bring in winter items, such as gloves, hats and scarves, to decorate Christmas trees at school with. Some families also donated winter coats for the children.
The Giving Tree is one out of two community service projects that Dobbins Elementary participates in during the school year. This service project allows students to help out other children, some of them the same age as the students at Dobbins.
Many of the students at Dobbins said they enjoyed bringing in items to help children in need. Learning how to help others during a time of need teaches students life lessons and that it's okay to ask for help.
The Giving Tree lasted a little over two weeks and when it came to an end, students helped pack up the winter gear and load them into a van that will bring the donations to Mahoning County Children's Services. This community service project is something Dobbins will continue to do to show their support for the community.
More like this from vindy.com