Liberty police officers facing disciplinary action for escape of prisoner from cruiser
By Ed Runyan
GIRARD
Garell Williams Cruiser Escape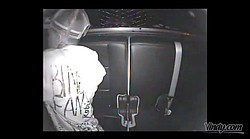 Video
A dash camera video provided by Liberty police shows Garell T. Williams struggled with his handcuffs to pull out his left hand, reached through the cruiser window, opened the door from the outside and fled.
Garell T. Williams was arraigned Wednesday in Girard Municipal Court on felony escape and numerous other charges associated with a Jan. 4 traffic stop, during which Williams escaped from a Liberty police cruiser.
Williams, 24, of Brooklyn Avenue in Youngstown, is being held in jail without eligibility to make bond until his next hearing.
The matter will result in disciplinary action for the three Liberty police officers who were handling the arrest, Liberty Police Chief Rich Tisone said.
"Because of this, we're going over our policy, and there's schooling for all three," Tisone said. "I think they learned a valuable lesson."
The officers involved are Robert Altier, Chad McGarry and Sgt. Dan Kovach.
Altier observed a car in a parking lot on Gypsy Lane at 4:08 a.m. with its headlights on, then watched it pull onto Gypsy with no license plate light, and the license plate sticker covered up by a license-plate bracket.
Williams also was driving on a suspended license.
Altier stopped the vehicle on Goleta Avenue in Youngstown and observed Williams, the driver, moving around in the car. A female was a passenger.
With the assistance of McGarry, Altier had Williams exit the vehicle, and a suspected marijuana cigarette fell from Williams' jacket, police said. Officers placed Williams in a cruiser while they prepared to have the car towed.
Police then found a loaded handgun in the car and learned that Williams has no concealed-carry permit and is a convicted felon, according to a police report.
A dash-camera video provided by Liberty police shows Altier handcuffed Williams in the cruiser. Police said Sgt. Kovach then arrived.
An officer rolled the rear cruiser window down less than halfway and questioned Williams, Tisone said.
All three officers returned to Williams' car, leaving the cruiser's window open part way. The window has bars on it. Officers recovered the firearm, a bag of suspected crack cocaine and other items in Williams' car. When they returned to the cruiser, Williams was gone.
"Nobody was keeping a good enough eye on the prisoner, and he disappeared into the night," Tisone said.
The dash-camera video, reviewed by police, shows that Williams struggled with his handcuffs for a little while and then was able to pull his left hand out. He then reached through the window, opened the door from the outside and fled.
Tisone said it was an embarrassing incident, "but it could have been a lot worse if [Williams] would have had a second firearm" concealed in his clothes and come back to confront the police officers.
Tisone said it appears Altier followed proper procedure when he handcuffed Williams, but Williams is only about 120 pounds – "the kind of guy who'd slip out of handcuffs and slip through a small space."
Williams was able to unlock the door from the outside because the cruiser's doors were not locked, Tisone said.
Just as importantly, with three officers there, "one should have watched the prisoner," the chief said.
"It happened. All we can do is learn from it," Tisone said.
A warrant for Williams' arrest was issued that morning, and he was arrested in Boardman on Monday night and taken to the Mahoning County jail. Liberty police picked him up about midnight and transferred him to the Trumbull County Jail.
According to court records, Williams is charged with four felonies from the Liberty episode: escape, carrying a concealed weapon, being a felon in possession of a firearm and drug possession.
He also is charged with five misdemeanors: marijuana possession, improperly handling firearms in a motor vehicle, driving under suspension and two charges related to the license plates.
In Boardman, he's charged with obstructing official business for not identifying himself to Boardman police in the parking lot of the Walmart store during a traffic stop in which he was a passenger. He will be arraigned on that charge today in Boardman.
Williams pleaded guilty in Mahoning County Common Pleas Court in March to heroin possession and was sentenced to eight months in prison in May.
He was in prison from May 13 to Sept. 5, according to the Ohio Department of Rehabilitation and Corrections.
More like this from vindy.com