Crawford, Canfield handle Boardman
Boardman vs Canfield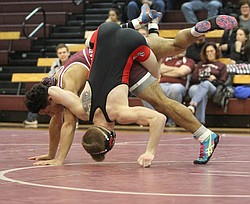 Gallery
Canfield 170-pounder hands O'Horo first defeat
By GARY HOUSTEAU
Boardman
Although the All-American Conference wrestling meet between Canfield and Boardman was trending the visiting Cardinals' entering the 170-pound match, Canfield's Dave Crawford and Boardman's Michael O'Horo still had a headline duel to settle.
Crawford, a two-time state placer, was 14-4 against rugged competition this season, O'Horo had yet to be defeated in 17 tries.
"Yeah we've known Michael for a very long time and he's very good," said Canfield head coach Dean Conley. "What's interesting about those two guys is they're good buddies. They've been friends the whole time through youth, through middle school. They've got great respect for one another."
Crawford was leading 5-1 going into the third period and went on to decision O'Horo 9-4 to put Canfield up 33-16 on its way to a 51-16 victory.
"David's been just a great mainstay in our lineup for the last several years," Conley said. "I'm proud of David but I know Michael will be training harder and harder because of this. I'm happy he's D-I and we're D-II."
Crawford, a junior, was just focused on what he needed to do to win the match.
"I was just going after him, getting to him, taking him down and scoring points," he said. "I wrestled a little slow in the beginning but then I got after it in the end. He was going more defensive, taking away my best shot."
O'Horo, a sophomore, considers the defeat a valuable learning experience.
"He's a really good opponent so I have a lot of stuff to learn from this," O'Horo said. "I knew he was pretty good on his feet so I was trying to be able to work on the mat. I got on top one time but he got out and I couldn't finish my singles."
Gone is any attempt at going through the regular season unbeaten for O'Horo.
"It's definitely a disappointment," he said. "You always want to go undefeated and losing sucks, you never want to lose. But I can use this as motivation and learn from it the rest of the year."
Boardman head coach Dom Mancini certainly didn't pull any punches.
"I think we got exploited," he said. "David Crawford is a great wrestler and O'Horo, he's headed in the right direction. But we got exposed and made some mistakes and that's why Crawford came out on top. But it's good — we'll learn from it. He'll get better."
Canfield improved to 8-2. Boardman dipped to 6-4.
"It was an exciting match. It was one we were looking forward to to see kind of where we were at," Conley said. "The scoreboard doesn't do the match justice at all. Boardman's well-coached, their kids are tough, we just got pins where we didn't know we would get pins. But I'm proud of guys, they rose up."
Conley complimented Crawford.
"I love the kid to death, he does everything right," Conley said. "He's 4.0 student, he's a gentlemen, he trains hard and this is the most important thing in his life. Wins like this are attributed to his sacrifice. When everybody else is going out on the weekend and they're having fun in the summer time, he's wrestling all over the country because this is important to him."
Crawford placed fourth last season in Columbus.
"I know he wants to win a state championship, he's certainly in the conversation," Conley said. "I think we still have to get better in some areas but we really like our guy."
More like this from vindy.com
January 12, 2017 12:10 a.m.