Riser Tavern & Grill takes casual food to a higher level ON THE RISE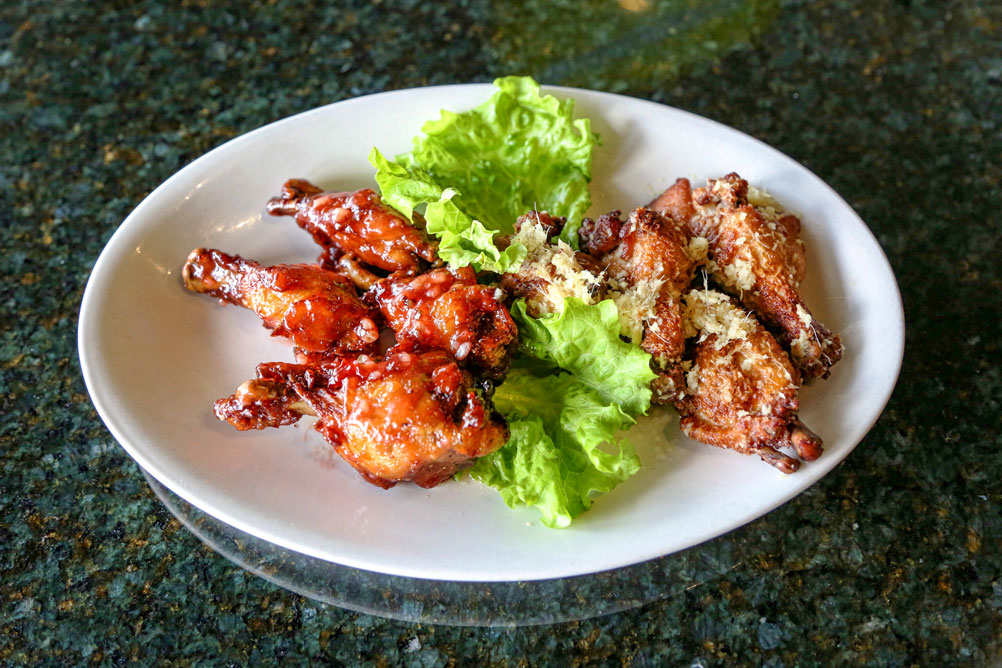 ---
If You Go...
Where: Riser Tavern & Grill
Address: 1135 W. Western Reserve Road (Sparkle Plaza), Boardman
Hours: Monday through Saturday, 11:30 a.m. to 11 p.m.; and Sunday, 11:30 a.m. to 9 p.m.
Online: risertaverngrill.com
Phone: 330-953-1277
By REBECCA S. NIEMINEN
If you're looking for a neighborhood eatery that's casual but classy with affordable yet fine cuisine, Riser Tavern & Grill has a table waiting for you.
Part sports bar, part welcoming restaurant, Riser Tavern & Grill opened about four months ago in the Sparkle Market plaza off Western Reserve Road in Boardman.
Riser is fast gaining a reputation for its delicious dishes and friendly atmosphere.
"We strive to be that friendly neighborhood place," said Lisa Lorelli, who owns Riser along with partner Mark Taylor. "Some of the items we are known for include our appetizers, our pork chops, our burgers, our steak salad and our chicken confit wings."
I admit I've never had much enthusiasm for wings, but that all changed with one taste of Riser's ginger lime chicken wings confit ($8 for eight wings).
Uniquely fresh and tangy with meat so tender it falls off the bone, the lime ginger wings were a fantastic opener to my meal.
I also sampled the raspberry chipotle wings, which were smoky and sweet and every bit as impressive.
"Chicken wings confit are slow baked in lard, and this makes them extremely tender," Lorelli explained. "Our lime ginger flavor is extremely popular," said Lorelli. "People tell us it deserves an award. We also offer a barbecue flavor, a mild cayenne, a hot sriracha, a garlic parmesan and a sweet and spicy habanero."
After the wings, I tried Riser's crab Rangoon appetizer with won ton chips ($7). This warm, creamy crab dip pairs beautifully with the crisp, salty won ton chips and makes a wonderful starter on a cold, wintry day.
The next item to grace my table was a Portobello roasted red pepper quesadilla ($6.50). Vegetarians will love this dish. The savory slices of Portobello mushroom mimic the taste and texture of meat, and the subtle flavors and pliable texture of the roasted red peppers and onions pair perfectly with the crisp quesadilla.
I was thoroughly impressed with the lovely presentation of my next dish – the grilled Margarita shrimp skewers with tomatoes and mozzarella cheese ($7.50). Each skewer features delectable shrimp, grape tomatoes and chunks of mozzarella. The creamy mozzarella, juicy tomatoes and grilled shrimp blend beautifully. A basil garlic aioli dipping sauce adds a mild zest.
Last but not least I sampled the creamy roasted red pepper chicken breast with jasmine rice and roasted garlic broccoli ($12). This dish combines both cream cheese and goat cheese for a satisfying sauce. The delicate jasmine rice and al dente broccoli are prepared to perfection.
In addition to its appetizers, soups, salads and entrees, Riser Tavern & Grill offers a premium ground angus burger ($9). Each burger is made to order with a wide selection of toppings including: blue cheese, applewood smoked bacon, avocado, fried egg, Kansas City barbecue sauce, carmelized onions and beer braised sauerkraut.
If you want a beer with your burger, Riser's full bar boasts 12 beers on tap and a craft beer selection. The menu also offers a generous selection of wines.
Fridays at Riser mean fried fish, and Saturdays mean prime rib.
"We also offer lunch specials with five different sandwiches for $5.95 and $6.95," Lorelli said.
Acoustic entertainers perform Thursdays, Fridays and Saturdays, and festivities centered on televised sporting events fill the restaurant's calendar.
Lorelli is proud of the restaurant's participation in donating to local charities.
"Every month we donate to a different local charity," she said. "For every check totaling $25 or more, we give 25 cents toward that month's cause. So far we have helped Beatitude House, Disabled Veterans, Youngstown Rescue Mission and Silver Lining Cancer Fund."
Riser Tavern & Grill earned its name from a Dierks Bentley song of the same name.
The lyrics tell the tale of an individual who rises up to beat the odds, survives the hard times and keeps on fighting when the going gets tough.
More like this from vindy.com