Mooney vs JFK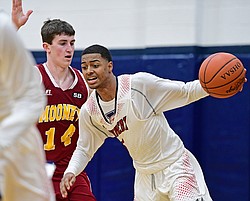 Gallery
By Gary Housteau
WARREN
Warren JFK tried to pull away from Cardinal Mooney several times Tuesday night, but the Eagles couldn't quite get the knockout blow.
But they did eventually defeat the Cardinals, 78-75.
Senior Justin Bofenkamp knocked down 14 of his team-high 23 points in the second half as JFK tried to pull away from a 43-37 halftime advantage. The Eagles led by as many as 12 points in the fourth quarter .
Junior Byron Taylor scored all 17 of his points in the first half, including a barrage of 3-point baskets. He made three in the last 1:33 of the second quarter when the Eagles were trailing by a point to close out the half. Bofenkamp hit the other 3 before the buzzer.
"He hasn't really gotten his legs back from football," said first year JFK head coach Mark Komlanc of Bofenkamp. "The other night he had 30 points and he didn't hit a single perimeter shot. So tonight it was good to see him hit some shots and get into a rhythm because that makes us that much better. But he works hit butt off. And Byron hit some shots as well."
Kennedy improved to 6-1 with the win over their parochial rival.
"It's always nice to win but it's frustrating because we didn't play to our potential and a lot of that has to do with Mooney, they're well coached," Komlanc said. "They played their butts off, non-stop, and they shot the ball pretty well. Some guys knocked down some shots that we weren't expecting."
Mooney head coach Carey Palermo knew they were facing an offensive juggernaut going into the game.
"I thought we really battled but they're a heck of a basketball team," Palermo said. "I had a couple of films on them but it's different from when you see them on film to see them in person. They really do have four guys that can really fill it up and if they don't make it they have a 6-7 guy to go clean it up underneath, who's definitely talented."
The Cardinals (3-4) closed the gap to 57-54 at the end of three quarters and only got as close as 59-56 on a Pete Haas bucket the rest of the game until Johnnie Mikos hit a three-pointer at the buzzer to cut the final deficit to three once again. Haas led the Cardinals with a game-high 25 points while Mikos chipped in with 20.
"Those two guys are only sophomores and they play big roles on the team for us," Palermo said. "But overall I liked the way we played offensively, handling their pressure, handling their traps. We did a much better job of attacking the hoop, attacking the basket tonight."
Komlanc said his team is experiencing some growing pains.
"I'm just frustrated because I think we are nowhere near playing to where we should be playing at right now," he said. "We've grown up probably too fast for us right now because here we are, 6-1 and no one would have guessed that we'd be 6-1 and yet that's where we are. So we have to understand growing pains come with it so tonight there were some ups and downs and it's frustrating at times."
Cardinal Mooney won the battle on the boards with junior Vinny Gentile grabbing 11 of Mooney's 35 caroms and senior Pat Brennan had six while senior Nate Woods had nine of JFK's 26 rebounds.
More like this from vindy.com