CROOKED TONGUE PLAYS IT STRAIGHT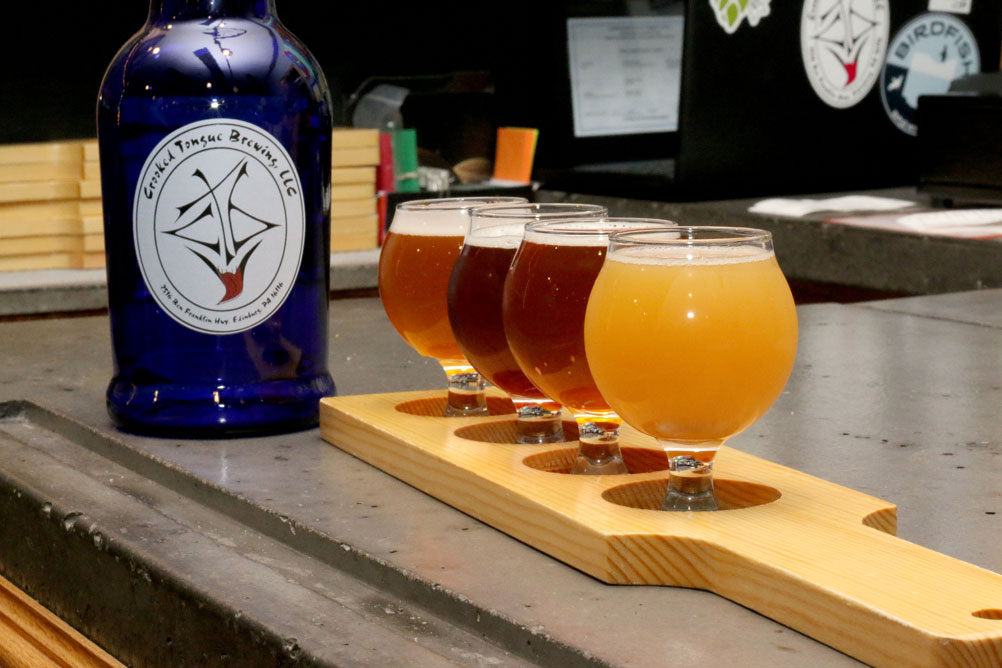 ---
If You Go...
Brewery: Crooked Tongue Brewing
Address: 2516 Benjamin Franklin Highway (U.S. route 422), Edinburg, Pa.
Website: crookedtonguebrewing.com
Hours: Wednesday and Thursday, 4 to 9 p.m.; and Friday and Saturday, 4 to 11 p.m.
Available for Purchase: Flights, pints, growlers, merchandise and food
BY JIM CYPHERT
EDINBURG, PA.
Crooked Tongue Brewing has a philosophy that's straight to the point — work hard to brew quality craft beer and people will come to drink it.
Going bigger and better, while maintaining consistency, has been owner Cody Greene's objective since he began brewing in his parents' garage in 2008.
Cody reached a point where he had too many varieties and too much beer to store. He moved operations to his own back yard, built a brew house and garage, continued studying the craft of brewing, and even grew his own hops.
More experimentation and growth led Cody to purchase property on U.S. Route 422, a few miles over the state line in Pennsylvania. He renovated the existing building and opened Crooked Tongue Brewing in March 2015.
Crooked Tongue brews on a 1.5-barrel system. The brewery acquired a seven-barrel system, which will be installed in the first quarter of 2017. The smaller system will remain so a variety of creative new brews can continue to be honed.
Crooked Tongue has brewed more than 100 varieties of craft beer since opening. The brewery always has 12 beers on tap and serves appetizers, flatbreads and sandwiches.
The Mahoning Valley Flight Crew made its trek to Edinburg in mid-December, on a night that temperatures reached single digits. Brewers Cody and Ryan Iwanejko warmly welcomed us.
Six cushioned bar stools awaited us in a colorful, friendly environment. Our flights featured four craft beers of our choice, plus two special brews. The following beers made Flight Crew members smile:
Roger Gillespie
Hey Porter! (5.5 percent ABV, 36 IBU): A bright vanilla porter with notes of chocolate and cedar. "While I really enjoyed the variety of my flight, I once again returned to one of my cold-weather favorites — a porter. The brewers at Crooked Tongue have done a masterful job with Hey Porter! Somehow, cedar was infused into this dark, robust porter, which only made it more special."
Dave Shively
Bravo Burst IPA (5.3 percent ABV, 26 IBU): A sweet-finishing IPA with lactose and floral and citrus hops. "If you enjoy IPAs, bring your favorite growler. Better yet, buy one of Crooked Tongue's personalized growlers to transport home my favorite of the night, Bravo Burst. This dry-hopped, unfiltered American style IPA, had a perfect blend of Amarillo, cascade and bravo hops for a crisp-but-not-bitter finish."
David Anderson
Crooked Cringle (6.3 percent ABV, 37 IBU): A Christmas cream ale with cinnamon. "Crooked Cringle is a welcome addition to the fine Christmas ales from the local area. This is a cream ale with subtle hints of cinnamon. It was very smooth and one of my favorites from my flight. I also tried The Poormans flatbread, a delicious white pizza with peppers that paired well with the beer."
Jason Jugenheimer
Crooked Politician (9.0 percent ABV, 44 IBU): An imperial white stout that will make you rethink what a stout should be. In 1867, the phrase, 'Don't judge a book by its cover,' appeared in the Piqua Democrat newspaper and couldn't be a more descriptive explanation of Crooked Politician. It pours like a golden ale, but drinks like a stout. It's an interesting experience that plays with your mind and your palate. This smooth drinking white stout hides the higher ABV with a great roasted-malt flavor."
Joe Sanfilippo
In Search of the Eternal Buzz (19.3 percent ABV, 230 IBU): An IPA featuring Mosaic hops that's fermented with champagne and super-high-gravity yeast. "One word describes this IPA — POWER! A very unique beer, for sure. With an ABV of 19.3 percent, I couldn't resist sampling In Search of the Eternal Buzz, and it was one of my favorites. It's a limited release, but if it's available, I'd recommend this be part of your flight next time you're at Crooked Tongue."
Jim Cyphert
Sweetside IPA (9.2 percent ABV, 203 IBU): Not the typical hop bomb, Sweetside's bitterness is balanced by Mosaic hops and honey malt. "Wow! The IBUs on this IPA are listed as 'well hidden.' So true. When I learned Sweetside had an IBU of 203, I was shocked by its smoothness. I like a bitter IPA, but I'm definitely open to a softer, more complex approach to hoppy brews. You've got to try this!"
After our samplings, Flight Crew members got a behind-the-scenes tour of brewery operations. We got a sneak peek at the bottling operation.
Crooked Tongue's first bottle release was in December with In Search of The Eternal Buzz. The brewery handled every aspect of this limited bottling, and it was a huge success. Plans call for future bottle releases and, ultimately, a wider distribution.
Crooked Tongue is one of two locations in the United States with a public Stones course, one of the oldest outdoor games ever invented. The weather was too frightful for us to hit the course.
Other beers we sampled included Mistakes Were Made Belgium Dubbel, Smoked Rye-PA, Crooked Boysenberry, Woppyjammer IPA, and the Barrel-Aged Cream Ale.
It's fortunate for Mahoning Valley craft beer lovers that Cody keeps taking his passion for craft beer to the next level.
What's the Mahoning Valley Flight Crew's counsel after a night at Crooked Tongue Brewing? Get yourself straight over there.
More like this from vindy.com