Sizzling Phantoms down Team USA
Phantoms vs USA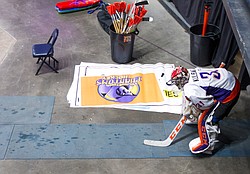 Gallery
Werbik's 11th goal of season was Youngstown's game-winner
By Greg Gulas
YOUNGSTOWN
Only the NHL's Columbus Blue Jackets are hotter than the Youngstown Phantoms.
With Saturday's 3-1 win over Team USA U-18 at the Covelli Centre, the Phantoms improved to 10-1-1 in their last dozen games. They've earned points in 12 of the past 13 contests.
The Phantoms are sizzling and hoping that success continues in 2017. Against the Nationals, Evan Wisocky, Nicolas Werbik and Coale Norris scored goals while Ivan Kulbakov rejected all but one shot.
Phantoms head coach Brad Patterson said there's really no secret as to the recent success his team has enjoyed.
"When you talk numbers, it's great to end this portion of our schedule on a run like this but the real key is that the players show up each and every day, whether it's for practice or a game and continue to work hard," Patterson said.
Werbik's team-leading 11th goal gives him 24 points, one ahead of Alex Esposito for the team lead.
"We've had a great December, there's great team spirit right now and definitely great chemistry with all of our lines," Werbik said. "We need this to carry over now into the new year."
The Phantoms (17-9-2-1, 37 points) managed just one shot on goal through the first 16 minutes, but registered a goal on their second attempt. Alec Mahalak's pass from behind the net found Wisocky, who launched a missile past the outstretched glove of Team USA goaltender Dylan St. Cyr.
Team USA (9-1-1-1, 20 points) held a 7-4 shot advantage after the first period and outshot the Phantoms 17-16 for the game.
Midway through the second period, Team USA tied the game when Evan Barratt's unassisted shot found the back of the Phantoms' net, eluding Kulbakov (13-5-2-1).
The Phantoms regained the lead in the third period when Werbik's shot sailed past St. Cyr at the 5:03 mark.
"It was a great pass from Max Ellis," Werbik said.
Patterson said, "Nicolas has been a steady contributor all season long and is a threat to score whenever he is on the ice.
"Whenever Ivan is in goal, he gives us a chance to win and based on his work ethic," Patterson said. "He has a very, very bright future."
For Kulbakov, it was his third win this year over a Team USA entry.
"I absolutely love playing behind our defensemen because they make it so easy for me," Kulbakov said. "Plus, I really appreciate our fans and love playing at the Covelli Centre because I feed off of their energy."
The game marked the return of former Phantoms head John Wroblewski, now Team USA's head coach.
"I have a lot of great memories here and it was great to see Brad before the game," Wroblewski said. "He's done a great job with the team.
"When we play our best we're a really good team," Wroblewski said. "We're average when we don't and that's an important lesson for our team to learn and our job as coaches to help get that message across."
Coale Norris' empty-net goal sealed the victory.
More like this from vindy.com