Prosecutors: Facebook taunts led to Saturday shooting
Affidavit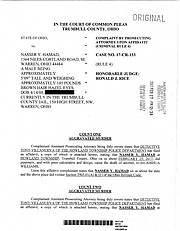 Document
Prosecutors: Facebook taunts led to Saturday shooting
WARREN
Macho gamesmanship played out between Nasser Hamad of Howland and two young men on Facebook on Saturday afternoon led to Hamad shooting and injuring both young men and a woman and fatally shooting two other young men, says a document released Monday by prosecutors.
Hamad, 47, of state Route 46, was arraigned Monday in Trumbull County Common Pleas Court on two counts of aggravated murder and three counts of attempted murder. There is the possibility that he will be indicted on death-penalty charges.
Judge Ronald Rice accepted Hamad's not-guilty plea and set bond at $5 million.
Hamad did not have to say anything during the hearing but seemed to be communicating nonverbally with news photographers, holding up his bandaged left hand, apparently to indicate the injuries he suffered in the conflict.
His attorney, Roger Bauer of the Ohio Public Defender' Office, later challenged the request of prosecutors that Hamad be held without the possibility to post bond, saying Hamad "did nothing but defend himself" and had suffered a broken arm.
But the affidavit paints a much different picture, quoting Hamad and witnesses, who both said Hamad had gone into his house after a fight between him and at least one of the five people who arrived in a minivan. It says Hamad emerged with a 9 mm handgun and fired it toward the five people until the bullets ran out.
Then, he went back into the house and got another magazine and fired even more shots, even as an off-duty emergency medical technician pulled into the driveway, thinking that he had happened upon a car-crash scene.
A police report says investigators recovered 16 shell casings at the scene.
Joshua Haber, 19, died at the scene, and Josh Williams, 20, of Woodbine Avenue, died later at the hospital. Bryce Hendrickson, 20, of Dawson Drive in Howland, and John Shively, 17, survived, along with April Trent-Vokes, 42, who police say drove the four young males to Hamad's home, including her son, Haber.
The shooting was reported at 4:25 p.m. in the driveway of Hamad's home, which is along the busy state Route 46 corridor just north of the Eastwood Mall complex.
Facebook feud
The document describes a lengthy Facebook exchange between Hamad and Hendrickson full of taunting by both sides. At some point, Hamad demanded that the young men come to his house to fight.
Hendrickson is the son of Hamad's girlfriend, Tracy Hendrickson, who had filed for divorce one day earlier from Bryce Hendrickson's father, Brian. Police say they believe the feud involving the Hendricksons and Hamad stems from Tracy Hendrickson's leaving her husband and becoming romantically involved with Hamad. Howland police were called numerous times in November for threats of violence exchanged between the Hendricksons and Hamad.
A friend of Bryce Hendrickson's, Shively, joined the Facebook exchange Saturday, asking Hamad for his address and Hamad giving it to him but calling Shively, Hendrickson and their friends too cowardly to fight. Toward the end of the exchange, Hamad sneered: "Hurry the [deleted] up, u [deleted deleted]," adding, "I'm waiting and blind open."
After the shooting, Hamad admitted to police that he was the person who taunted Hendrickson and his friends on Facebook.
The affidavit says Hendrickson and Shively arrived at Hamad's house later that day in a van with two other young males and Trent-Vokes.
Shortly after the van pulled into Hamad's driveway, a fist fight ensued between Hamad and Shively, the affidavit says, noting that the four other people "exited the van." It adds: "The fight ended, and the five individuals from the van then returned to the van," which was parked near the road.
That's when Hamad went inside and retrieved a gun from his bedroom, the affidavit says.
"I just shot them," Hamad told detectives. "I got tired of this [deleted], they been [deleted] with me for a long time, and they shouldn't have come over."
Hamad fired all of the bullets in the gun's magazine while walking from the porch to the side of the van. He put the gun in the passenger side window and fired numerous times at the occupants, the document says.
When the bullets were gone, Hamad retrieved another magazine from the kitchen table, then walked back outside and toward the van as an off-duty emergency medical technician pulled into the driveway.
The EMT pulled in to help after seeing what he thought was a car wreck, the document says. As the EMT grabbed his medical bag, he saw Hamad approaching the van and asked him, "What happened?"
"I'll show you what happened," Hamad said as he reached between his legs to prepare the gun for firing.
Then Hamad "shot into the passenger side of the van towards the female driver," the document says. The EMT, who retreated back to his truck, said he saw a male, not identified, wearing pajama pants standing face to face with Hamad in front of the sliding door to the van, saying: "You shot my mom, you [deleted]."
Hamad raised the gun, and the male turned and tried to get into the van. Hamad fired three times at him. Shively and Hendrickson then fled on foot, Hendrickson crossing the five lanes on Route 46, which was busy with traffic.
Hamad admitted that he continued firing at Hendrickson and Shively as they ran, the document says.
Affidavit
On Sunday, Howland Police Chief Nick Roberts said the mass shooting was the result of hard feelings between Hamad and the Hendricksons over Tracy Hendrickson's leaving her husband and becoming involved romantically with Hamad.
Tracy Hendrickson, 47, filed for divorce Friday against Brian Hendrickson, 48, of Dawson Drive in Howland, citing her and her husband being "mutually incompatible." Tracy Hendrickson used a Mahoning Avenue address in the filing.
The couple were married in 1997 and have two sons, Bryce Hendrickson, 20, and Dylan Hendrickson, 18, the filing says.
The affidavit released Monday, written by detective Tony Villanueva of the Howland Police Department, says in the Facebook exchanges Bryce Hendrickson told Hamad his mother talked badly about him behind his back and that "she don't love you."
Williams' uncle, Kevin Williams, told The Vindicator on Monday that Joshua Williams "didn't go there looking for trouble. He probably didn't even know the van was going to stop there. He was not part of the feud they keep talking about."
Kevin Williams said his nephew, who is related to the Hendricksons, "was a great kid, very giving." He said Joshua didn't have a driver's license. "He was in the wrong place at the wrong time," his uncle said.
"We're all shocked by this," he said, adding that the delay the family experienced in finding out any information about where the authorities had taken his body Friday compounded their anger.
Trent-Vokes was shot numerous times, including in the head, arms, chest and legs, while sitting in the driver's seat of her van, the affidavit says. Hendrickson was shot in the face and arm, and Shively was shot in the back. Villanueva said Monday he doesn't know the current conditions of the survivors.
Tracy Hendrickson was at Hamad's house when the mass shooting occurred but was not involved in the shooting, Roberts said.
Other Howland police reports suggest that the feud between the Hendricksons and Hamad reached a boiling point Nov. 6, 2016.
Brian Hendrickson called 911 that day to say that he had heard Hamad threatening to shoot him, while hearing a phone conversation Hendrickson's son was having with Tracy Hendrickson.
Hamad told Howland police that day that he believed Brian Hendrickson was responsible for damage to a car on his property and said Brian Hendrickson and his sons had been sending text messages to Tracy Hendrickson threatening to use guns on Hamad.
Other police reports suggest that the Hendrickson and Hamad families have acted out violently with family members before.
A police report from Jan. 1 resulted in domestic-violence charges being filed against Brian Hendrickson and Dylan Hendrickson for a fight involving the father and son over damage to a car. Both were both convicted Feb. 9 in Warren Municipal Court of a reduced charge of disorderly conduct.
An Aug. 23, 2009, police report says Nasser Hamad had a family dispute involving his brother that involved a gun and threats of murder. Hatem Hamad, then 52, told an officer that Hamad, then 40, had fired a handgun into the ceiling after saying he was going to kill Hatem. Nasser Hamad later was convicted in Warren Municipal Court of misdemeanor menacing and sentenced to one day in the jail and placed on one year's probation.
More like this from vindy.com