Family dispute sparked fatal Howland shooting
Howland shooting 911 calls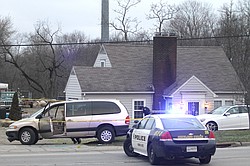 Video
911 calls from the shooting in Howland on Saturday in the front yard of a Niles-Cortland Road (state Route 46) home that left two dead and three hospitalized.
By Ed Runyan
HOWLAND
A shooting that ended in two deaths and three injuries Saturday climaxed a months-long feud between the suspected shooter and some of the victims, Howland Police Chief Nick Roberts said Sunday.
During a press conference at the Howland Police Station, Roberts said, "We have determined so far this incident stemmed from a family dispute regarding Nasser Hamad dating Bryce Hendrickson's mother, Tracey Hendrickson" and leaving her husband, Roberts said.
Hamad is expected to be charged with two counts of aggravated murder and three counts of attempted murder today in Warren Municipal Court.
Roberts also identified one of the two males killed Saturday at the house on state Route 46 as Joshua Williams, 20, and said the other male who died is 19. He has been identified as Josh Haber by 21 WFMJ-TV, The Vindicator's broadcast partner.
Another victim, April Trent, 43, underwent surgery Saturday night, as did Bryce Hendrickson, 20, for their gunshot wounds. A male, 17, was grazed by gunfire, but the chief did not identify him.
Hamad, 47, of 1564 Niles-Cortland Road SE near the Eastwood Mall, is in the Trumbull County Jail, Roberts said.
The incident began with Trent driving the five shooting victims to Hamad's home as part of an ongoing dispute involving Hamad, Bryce Hendrickson and others, the chief added.
Tracey Hendrickson was at Hamad's house at the time, the chief said, but "was not involved in the shooting."
"There's kind of a feud with mom leaving," Roberts said. "And the kid is upset with mom and upset with [Hamad] about the whole situation, and it just kind of spiraled out of control from there," Roberts said.
Roberts said Trent drove herself and the four others in a minivan to Hamad's home "to confront [Hamad] in reference to this ongoing dispute, and the situation escalated from a physical confrontation to Nasser Hamad firing shots at the van" at 4:25 p.m.
Roberts said he would not comment on whether anyone who arrived in the van had a gun. He said he didn't know the condition of any of the people who survived.
Roberts said the Howland Police Department and Trumbull County Homicide Unit were still working on the case Sunday and would like to talk to anyone who witnessed the incident who has not already spoken with a detective.
Roberts mentioned that people have been quoted in news reports and on various social media sites as having seen things, and not all of them have spoken with police yet.
Such witnesses or anyone who found a bullet hole in their vehicle after passing through that area around that time should call 330-675-2730, the 911 non-emergency line and ask to speak with a detective.
Roberts said it is unclear what the relationship was among the five people in the vehicle, but some apparently were related. Trent was driving a car with Florida license plates, but she may have moved to the area recently, Roberts said.
Roberts said a confrontation occurred in the driveway first and then a "physical confrontation" took place.
When asked whether Hamad might have had justification for firing at the group when confronted at his home, Roberts said, "If I was put in that position, and I was able to get free and go into my house, I would have locked my door and called 911."
Roberts said he could not discuss whether Hamad suffered any injuries in the physical confrontation and said he didn't know whether any additional weapons were recovered besides the one Hamad was carrying.
"When our officers pulled up, [Hamad] was walking back into the residence with a firearm on him in his hand. Our officers ordered him to drop the gun. [Hamad] continued into the house. They ordered him to come out of the house, and [Hamad] came out with his hands up and gave himself up at that point," Roberts said.
On Sunday morning at Hamad's house, a woman identifying herself as Tracey Hendrickson told a Vindicator reporter that the conflict began when about four males came out of the van and were "beating the [deleted] out of" Hamad, and a woman "had me pinned" nearby.
The woman said Josh Williams is her nephew and that her son also was among the males involved. She said the conflict involving her family and Hamad started last October and that she has known Hamad since they attended high school together in Howland.
A Nov. 6, 2016, Howland police report says Tracey Hendrickson's husband, Brian Hendrickson of Dawson Drive, which is close to Hamad's home, called 911 to say that he had heard Hamad threatening to shoot Brian Hendrickson while hearing a phone conversation Brian Hendrickson's son was having with Tracey Hendrickson.
Hamad told Howland police that day that he believed Brian Hendrickson was responsible for damage to a car on his property and said Brian Hendrickson and his sons had been sending text messages to Tracey Hendrickson threatening to use guns on Hamad.
About a dozen police reports are on file involving Hamad as either a victim or complaining party since 2005.
In March 2016, a Deforest Road man told Howland police that Hamad had threatened to assault him on a job site. The man said Hamad was a former employee of his. Police spoke with Hamad and advised him not to come in contact with the victim again.
Hamad called 911 in 2010, reporting that a female neighbor was pounding on his front door. Hamad said he told her several times to leave, but she refused. The woman left when Hamad said he was calling 911, Hamad told police, who were unable to locate her.
Roberts had been scheduled to return to work today after being on paid administrative leave, along with assistant chief Jeff Urso, because of a Feb. 7 fatal shooting in the parking lot of the Giant Eagle grocery store on East Market Street.
In that incident, Roberts and Urso shot and killed Richard N. Latimer, 39, of Mines Road in Howland after Latimer pointed a gun at them, said Sheriff Paul Monroe, who was Howland police chief until the start of 2017, when he became sheriff.
Latimer's wife, Candace Latimer, told a 911 operator she witnessed her husband shooting another man to death earlier that evening on Main Street in Mineral Ridge.
Roberts said when he learned of the shooting on Route 46, he checked with Township Administrator Darlene St. George, who gave him authorization to go back on duty.
Roberts said he got a call from the officer who was responding to the scene Saturday afternoon, who told Roberts, "We have a possible active shooter, several shots fired. We don't know exactly what's going on yet."
Roberts said that "really struck a nerve, especially in today's society with everything going on."
When officers arrived, Hamad was taken into custody quickly with no one else being hurt, but a mass shooting like ones that have happened in some other places "could happen anywhere," he said.
Though Hamad's home has a large area in back with trucks and other equipment, and the home is the address for Hamad's Construction and Excavating, a woman in the yard of the home said Hamad no longer worked for the company.
A check of local courts indicated that Hamad has a limited record with just one recent misdemeanor conviction for failing to keep his dogs confined in his yard.
A Howland police report says Hamad's next-door neighbor called 911 in October 2013 because her small dog was attacked in her front yard by two of Hamad's dogs. Hamad said he was unaware that anything had happened but admitted he had let his dogs out unleashed.
According to booking records at the jail, Hamad was born in Washington, N.C.
More like this from vindy.com