Biker Brewhouse revs up business at Harley dealership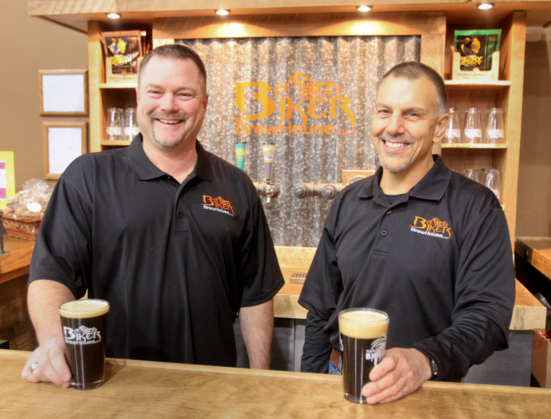 ---
Patrons of Biketown Harley-Davidson, 5700 Interstate Blvd., are accustomed to putting many of their senses to good use.
By JIM CYPHERT
news@vindy.com
AUSTINTOWN
Patrons of Biketown Harley-Davidson, 5700 Interstate Blvd., are accustomed to putting many of their senses to good use.
They hear and feel the rumble of throaty motorcycle engines, and they see beautiful paint jobs and artwork in the design of the bikes.
Now, visitors also will be using their senses of smell and taste in experiencing the beers brewed by Biker Brewhouse, newly opened right inside the dealership.
The brewery, which had a soft opening in mid-January, had its official grand opening Saturday. With four beers on tap, and a fifth on the way, plans call for an eight-beer lineup when the brewery is firing on all cylinders.
Co-owners Larry Wilson and Rick Sekely both work at Biketown Harley-Davidson; Wilson as floor manager and Sekely as a salesman.
"If the dealership is open, the brewery is open," Wilson said. "When the dealership is closed, there's an
entrance to the brewery in the back."
In a crowded craft beer market space, Wilson and Sekely knew they needed a unique angle to help their brewery stand out. They've got it. Biker Brewhouse is believed to be the only U.S. brewery operating inside a Harley-Davidson dealership.
"The fact that we're inside the dealership provides a unique experience for those looking to buy a motorcycle as well as those wanting to drink good craft beer," Wilson said. "There aren't many places you can drink a beer while shopping for a motorcycle, and craft beer lovers get a unique view of all of our Harleys when they come in for a beer."
Biketown sells between 750 and 1,000 Harley-Davidsons annually, ranging from $10,000 to $40,000 each. Wilson and Sekely say the brewery will be good for Biketown business, as it will draw even more traffic into the dealership.
"Already, we've been seeing many new faces coming into the brewery that we haven't seen in the dealership before," Wilson said. "The hope is that when they come in for a beer, they'll also take a look at our inventory."
Wilson got his start home brewing several years ago. After positive feedback about his beers, and winning a silver medal in the Canfield Fair's Home Brew Contest, he considered opening his own brewery.
"Larry used to bring many of his beers into the dealership," Sekely said. "So many people told him how good the beers were, and they encouraged him to open his own brewery. It took about a year and a half of planning, and we opened in January."
Wilson is a former construction manager. He and the Biketown team handled much of the build-out of the brewery, including the bar construction.
Care and time also went into selecting the right brewing system. Biker Brewhouse features a 2.5-barrel SysTech Stainless Works brewing system that's on the second floor of the dealership, with a great view of the two-wheeled inventory.
Wilson said selling the first beer is easy. The challenge is selling the second and third, and convincing customers to recommend the brewery to their family and friends.
"Consistency is vital in the brewery business," Wilson said. "Our equipment allows us to brew quality craft beers. We've received overwhelmingly positive responses about our beer."
The Piston Porter features maple syrup, and the Kickstand Kolsch features honey from the Wilson family farm. More beers are in the works containing family farm ingredients.
Biker Brewhouse offers a room for rental, and patrons also can take home a growler of beer. The brewery's beers will be available at Chalet Premier in North Lima and The Phoenix in Canfield some time this spring. Wilson and Sekely are considering multiple options for further distribution.
Biker Brewhouse will be open six days a week in the spring. The brewery's days of operation will mimic the dealership's days of operation.
"This has been an exciting adventure," Wilson said. "Everything is evolving. We don't know exactly what the future holds for Biker Brewhouse and our beers, but we're sure looking forward to finding out."
The Beers
Biker Brewhouse offers a mix of four beer styles – a pale ale, a Kolsch-style, a porter and a blonde ale. A fifth, an IPA, is in the final stages of engineering. Plus, two more are in the discussion phase.
Pushrod Pale Ale (5.25 percent ABV, 35 IBU): Brewed with Cascade and Citra hops to create a strong aroma and bitterness. The pale malt base provides a deep gold, almost amber, color and medium body.
Kickstand Kolsch (4.7 percent ABV, 23 IBU): A German-style ale brewed with pilsner and wheat malts and Wilson family farm honey, creating a light body.
Piston Porter (6.5 percent ABV, 28 IBU): A classic, full-bodied robust porter brewed with chocolate and coffee malts. Pure Ohio maple syrup creates a smooth, subtle sweet finish with just enough hops to balance the aromas and flavors.
Ball Bearing Blonde (5 percent ABV, 15 IBU): This light-bodied ale is brewed with traditional pale and pilsner malts, rice and corn adjuncts.
Ironhop IPA (7.5 percent ABV, 74 IBU): This hoppy ale will be introduced sometime this spring.
More like this from vindy.com