Third meeting goes all Crestview's way
Crestview vs Springfield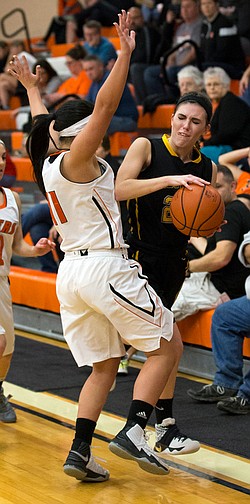 Gallery
Rebels roll Tigers;
Ursuline up next
in sectional final
By Brooke Meenachan
NEW MIDDLETOWN
The Springfield and Crestview girls basketball teams met twice this season prior to Tuesday night's Division III sectional opener.
The Rebels won the first game 49-41 on Jan. 9 and the Tigers took game two 37-36 on Jan. 30.
So it was no surprise both teams thought the third matchup also would be close.
But that wasn't the case. Crestview (12-11) rolled over Springfield 67-40 to advance to a sectional final at 1 p.m. Saturday at Ursuline.
"Tough playing a team a third time, but in our case, it was all evened up," said Crestview head coach Rick Gates. "We got them at our place and they got us here. Both two close games that came down to the last minute. Good intensity. I'm proud of our group."
But to Emily Ferris, there was a little more on the line for the Rebels.
"We prepared for a really close game and it was just happening for us," she said. "We prepared all week long and we wanted it. And them throwing us out of the ITCL, we wanted it even more."
Ferris led the Rebels with 23 points.
"Down the stretch of the season, Emily has had huge games," Gates said. "It brings so much more to our team because midseason, Alexis [Gates] was drawing triples and doubles and now, they have to respect our whole group."
Crestview hit 10 3-pointers. Ferris had six.
"It's just a mental thing," she said. "I thought it was going in the first time and it went in and it just flowed from there and sparked my other teammates."
Alexis Gates added 17 points and Sydni Bowker scored 13.
While the Rebels had no problem on the offensive end, the Tigers couldn't say the same.
Springfield (11-12) struggled to hit shots in Crestview's constantly changing zone defense.
"We mixed it up a little bit," Rick Gates said. "We run a combination of about three different zones, but we opened the game with man-to-man. I tease our group in practice that we're not good enough to stay in one defense, which isn't the truth. It's actually some strategy to mix up and cause the offense not to adjust well. That's just our tactic."
Springfield head coach Jim Schuler said his team got the shots he wanted.
"We got looks. It's not like we didn't get any looks," he said. "We just didn't hit shots. When you don't hit shots and give up easy ones on the other end, it makes it tough. Everything was going their way and we had some tough breaks."
But the Tigers had their chances as they trailed just 35-24 at the half.
"We were down 11 at halftime and I think they hit seven 3's," Schuler said. "If you take away half of them, it's a two-point game."
The Rebels started to run away with the game in the third period, holding Springfield to just four points.
"We didn't get the ball inside like we practiced," Schuler said. "I think in practice it looked good and when you get in the game situation and don't move the ball and people play it a little different, you get some tougher looks."
Marlie Applegarth led Springfield with 12 points and Haley LaMorticella added 11.
Crestview will meet second-seeded Ursuline on Saturday.
"What a challenge," Rick Gates said. "They easily could have been the top seed. They're schedule is so good. Our challenge is going to be slowing them down athletically. They have a whole roster of great athletes that get up and down the floor."
Dayshanette Harris is one of them. The sophomore averages just under 30 points.
"We're going to work on that the next two days," Rick Gates said. "That's going to be a challenge. We've already watched some film on her and she's phenomenal."
Ferris thinks the Rebels can hold their own.
"We have a lot of preparing to do — a lot of preparing," she said. "I think if we put our nose to the grindstone and study them up, shoot like we did tonight, I think we should have a shot."
More like this from vindy.com