In the swim: Boardman quartet continues program's state run
Boardman Swimmers State Bound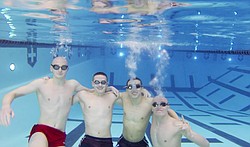 Video
Members of the Boardman HS Swim Team are headed to state. Among those competing at the state level are Callen Aulizia, Matthew DunLany, Noah Basista and Kyle Kimerer.
Boardman quartet continues
program's run of state qualifiers
By Tom Williams
YOUNGSTOWN
For the 18th straight year, the Boardman High School swim program will be represented at the state tournament in Canton.
Terry O'Halloran, Boardman's coach for 32 seasons, credits "some very naturally talented athletes" as well as his assistant coaches Carlo Cordon and Chad DeAngelo for the remarkable streak.
"In Division I girls and boys, we're considered a small club team and it's so hard to get there," O'Halloran said Wednesday at Youngstown State University's Natatorium in Beeghly Center. "We've just had the right stuff, I guess."
This weekend, Boardman has four swimmers who will compete at C.T. Branin Natatorium at Canton McKinley High School. Juniors Callen Aulizia and Kyle Kimerer are returning to their second straight state competition while freshmen Noah Basista and Matthew DunLany are making their debuts.
The quartet will swim two relay races: the 200 medley and the 400 freestyle. Aulizia, Kimerer and Basista also have qualified in individual races.
Aulizia, The Vindicator's Swimmer of the Year in 2016, will be in the 50 freestyle and the 100 freestyle. His time in the 50 was third best among the district swimmers in the state. Last year, he finished sixth in the state in the 50 freestyle and 14th in the 100 freestyle.
Kimerer will swim the 100 butterfly while Basista will compete in the 200 IM and the 100 breaststroke.
Aulizia and Kimerer say their state experience should help them Friday when the Division I preliminary races are swum.
"Last year, I was going in blind," Aulizia said. "Now I know how everything works, where I'm supposed to line up and everything.
"So I can mentally prepare, be more focused on the race," Aulizia said.
Kimerer said what helps is that they've already experienced the craziness that surrounds the state meet.
"It's really all about the environment," Kimerer said. "For my second time at state, I have more of familiarity with the pool, the swimmers.
"Definitely, I feel better going into it this time as far as knowing what to expect."
O'Halloran has high hopes for the medley relay.
"It's special because every boy, I think, is in their best stroke, which is unusual," O'Halloran said.
Basista has breaststroke, DunLany the backstroke, Kimerer the butterfly and Aulizia finishes in the freestyle.
At last weekend's district meet at Cleveland State University, the Spartans finished second to Brecksville by less than half a second. Boardman's time was 1:35.07.
"Aulizia basically took the air out of the natatorium — he went 19.99 [seconds]," O'Halloran said. "That was one of the fastest swims in the state.
"They broke the school record, the swam about a second-and-a-half faster than ever before."
Kimerer said he was expecting a fast time from Auzilia.
"But to see him touch that wall and see that 19.99, I was just in awe, I was shocked," Kimerer said. "It was all this emotion at once — that might be the fastest split in the state."
The medley relay was the meet's first event and by finishing second, the Spartans extended their state streak to 18.
Aulizia said qualifying eased pressure "for a brief moment, but it comes right back."
Even though it's been a short week at school with Monday's holiday, both are ready for Friday to get here.
"It's a rough week," Aulizia said, confessing that his hope for a lighter work load did not materialize. "The school day is definitely long, [swimming] is all I'm thinking about — it's not a good thing [for his studies], but it's just nerves taking over."
Kimerer said he's "focused on school" but swimming "is always in the back of my mind.
"It's definitely a distraction from school, but an exciting one."
Both said it's been a fun week being acknowledged by teachers and classmates.
Their families are "their biggest supporters," Kimerer said. "Teachers are very supportive and we have our Clap Out [today]" where the swimmers will walk around the school to be recognized for qualifying for state.
"That's always a huge send-off," Kimerer said. "We're very grateful."
Aulizia said the students "have been really supportive."
He said he doesn't always know who is offering best wishes, but he's appreciative of the gestures.
More like this from vindy.com