LaBrae rallies against South Range in battle of unbeatens
LaBrae vs South Range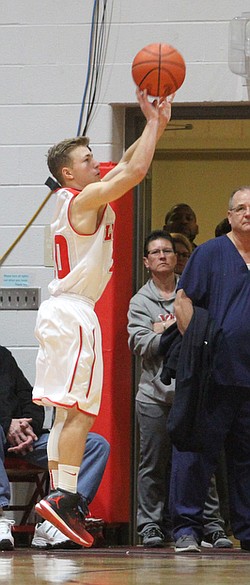 Gallery
By Brian Dzenis
LEAVITTSBURG
Anyone lucky enough to have a seat at LaBrae High School Tuesday night got to see an unprecedented sight: two undefeated boys basketball teams in a regular-season finale.
The Vikings and the visiting South Range Raiders put on a sold-out show with the hosts rallying to a 55-50 victory. It was a performance that featured a redemption story in LaBrae's response to a floundering first half and an unexpected hero in Vikings sophomore Tyler Stephens.
With the victory, the Vikings (21-0) have gone undefeated in the regular season for the second time this decade, with the last run coming in the 2011-2012 season. On Monday, LaBrae was crowned the Associated Press champion by finishing with the No. 1 ranking in Division III. South Range was ranked No. 6.
"It means a lot to us. It's so great. We never thought this would happen to us, but it did," Stephens said. "It's all the hard work in the offseason and during the season and we just got it done."
South Range (21-1) closes out the regular season with the best record in school history. The Raiders also own an overtime win against McDonald, Ohio's No. 1 team in Divison IV.
"We've never played two No. 1's in a year. We've also never had two unbeaten teams. We beat one and we thought we had a good chance to win this one," South Range coach John Cullen said. "I said to my team, 'They're a good second-half team. You're going to have to come out and be even more precise,' and then they came out and took that away from us."
South Range looked more than ready to take another top-ranked team's scalp, holding the Vikings to 20 points while forcing 11 turnovers in the first half. One of the Vikings' star players, Tariq Drake, was scoreless in the first half.
"Everybody around me — my teammates and my coaches — told me to keep my head up," Drake said. "[Shots] will start to fall and you just have to keep working hard."
South Range opened the third quarter by pushing its lead to 10 points before Drake got his first bucket of the game. A Carlton Brown 3-pointer cut the deficit in half before Drake got another bucket to complete a 7-0 run. He found his groove in the second half and finished with a double-double of 10 points and 10 rebounds.
"In that middle half of the third, we were able to get a couple turnovers, a couple offensive rebounds and we finished in transition," LaBrae coach Chad Kiser said. "We ran a couple plays offensively, which we weren't doing for much of the game. I would say it was more the defensive pressure that led to a couple turnovers for the east bucket. We weren't finishing, but we stayed with it."
While LaBrae's offense had its woes, Stephens brought consistency. He came off the bench and led his team in scoring with 16 points. Aaron Iler added 11 to the winning cause.
"It's such a terrific feeling," Stephens said.
"My teammates are the best in the world. I trust them and they trust me and we just get stuff done together."
Dan Ritter led South Range with 15 points and Taymer Graham put up 13.
LaBrae ended the third quarter with a one-point lead. A bucket from Graham made it 52-50 LaBrae with 1:42 left, but the Raiders missed four 3-pointers as the clock ran out.
There is a chance for a rematch. If both teams win district tournaments and then regional semifinals, they would meet again in a regional final at the Canton Fieldhouse with a state tournament berth on the line.
It's an opportunity Kiser would embrace.
"I'd love it. It would mean we're both playing well and one of us gets a trip to Columbus," Kiser said. "One of our local schools [going to state], that would be great for the Valley."
More like this from vindy.com