Sizzling Smolinski lifts YSU women over NKU
YSU vs Northern Kentucky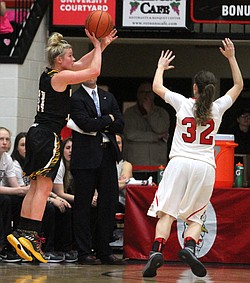 Gallery
youngstown
Youngstown State sophomore Alison Smolinski didn't get to battle Northern Kentucky last go around, but she made the most of her opportunity Thursday night at home.
Smolinski hit seven 3-pointers in a career-high 30-point performance as YSU came away with a 77-73 overtime win at Beeghly Center. It was just the Penguins' second victory in their past nine games.
The concussion suffered against Wright State on Jan. 5 left her forced to watch YSU play at Northern Kentucky from the frustration of her own home.
"I really wanted to get [this] win," Smolinski said. "I had to watch the game on TV. It was really weird."
This time, YSU head coach John Barnes immediately credited Smolinski's play after the win.
"She played off the chart," Barnes said. "She put us on her shoulders and carried us to the win."
Mary Dunn scored 18 points for YSU and Melinda Trimmer scored a career-high 14 points, going a perfect 7-for-7 from the foul line.
Northern Kentucky was led by Rebecca Lyttle and Taryn Taugher, who each had 20 points.
YSU's last game with NKU also went to overtime. And leading 59-50 with 2:43 to go after Trimmer knocked down a pair of foul shots, it appeared the Penguins were going to walk away relatively easy.
But then the Norse came charging.
NKU went on a 13-4 run over the rest of regulation to force overtime. And it appeared the momentum was going to give the Norse that edge. But Barnes said his team's demeanor helped stem the wave of momentum.
"I thought we were more calm [in overtime]," he said. "During their run we threw it right into their hands [four] times and allowed them to come back. Our posts were over-helping too and giving them wide open layups under the basket.
"They scored first in overtime and I felt like it could've went the other way, but we stayed to the task."
Smolinski credited her team's defense for the win. The Norse went an atrocious 1-for-15 from beyond the arc.
"We did everything we could to make them shoot from outside," Barnes said. "We didn't want [Kelley Wiegman] or [Kasey Uetrecht] to shoot them but we were hoping the others would shoot and either win it for them or not."
Dunn not only was a force on offense with her 18 points but led the team with eight rebounds — something Barnes said she needs to continue to do since she came into the game only averaging 3.4 boards.
"She's got to be at seven or eight rebounds per game," Barnes said.
YSU also overcame a poor shooting night from Indiya Benjamin.
The point guard shot just 3 for 12 overall and missed her five 3-pointers.
"When Indiya has an off night we normally don't have a chance," Barnes said. "But everyone else picked her up tonight."
The win is a step in the right direction as as the Penguins close out the regular season with three more home games before the Horizon League Tournament.
"This was huge," Smolinski said.
"That last road trip was pretty tough and this gives us a lot of confidence."
More like this from vindy.com