Valley Christian's India Snyder makes history
Heartland vs Valley Christian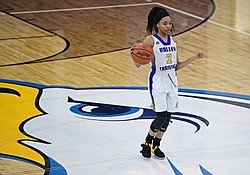 Gallery
Junior guard celebrates 1,000 points,
becomes Valley Christian's top scorer
By Greg Gulas
YOUNGSTOWN
It took India Snyder just under three seasons to become the second girls basketball player to score 1,000 career points for the Valley Christian Eagles.
She reached the milestone Wednesday when she rippled the nets for 16 points during a 60-47 loss at Cleveland Central Catholic
On Thursday, it took her less than a quarter to become the program's all-time leading scorer.
Daisjha Parks hit a game-high 24 points and pulled down 14 rebounds, Snyder scored 13 points and twin sister Imane added 16 points during a 69-25 rout of Heartland Christian.
A junior, India Snyder needed just two points during their game with the Lions in order to pass all-time leader Kara Cooper, who amassed 1,001 points from 2003-07 when the school was known as Youngstown Christian.
A free throw 37 seconds into the game tied Cooper and with 2:50 remaining in the first period, India Snyder's coast-to-coast lay-up gave her sole possession of the top spot.
"It's a special feeling to know that I'm just the second player ever to score 1,000 points for a career. To be the all-time scoring leader only happens because of the great teammates that I have had who have gotten me the ball the past three years," India said.
She added that playing alongside her twin sister Imane has also been very special.
"I love playing with my sister because we know each other really well. When we are on the court together we know exactly where the other one is while anticipating our next move," India said.
India was happy to get the scoring milestone out of the way early, noting that the Eagles are now ready for tournament play.
"I was nervous at the beginning because it's usually noisy, but tonight it was really quiet. I felt like the pressure was on me so when I got the rebound, I heard coach [Bill] Hoelzel say take it all the way and I did," she stated. "We're ready for the tournament and should do alright if we just play our game and stay focused. We cannot afford to look ahead."
Imane Snyder had 10 of her 16 points in the opening quarter while Parks added eight as the Eagles (12-10) reeled off the first nine points of the game and eventually took a 22-10 lead.
For Parks, who is averaging a double-double this season, it was her 20th such performance of the campaign.
Her 3-pointer in the final quarter was also the first of her varsity career.
"I've worked on becoming a more complete player this year, but it didn't happen without a great group of teammates that care so much about one another," Parks said. "This is an unselfish group and one that is really humble."
She said that India Snyder made her senior year very special.
"India is hard-working, talented and skilled. She has a basketball IQ that is off the charts," Parks said. "She does it all, yet remains humble and I wouldn't want to play with anyone else my senior year."
The teams will meet again Wednesday in a Division IV sectional tournament opener.
"This is a really nice win for us heading into tournament play," Hoelzel said. "We have a team that is peaking at the right, has a full head of steam and is probably the most complete team that I have had in my six seasons going into the tournament."
Last year, Valley Christian advanced to the district semifinals.
"The Snyder twins, India and Imane, have been very productive guards, not just this season but the last three seasons as well," Hoelzel said. "Daisjha has played really well and the entire team is just clicking right now. The goal is to get back to the district semifinals and then go beyond that."
Sydney Ogden had a team-high 18 points for the Lions (1-21), including four of her team's six buckets from beyond the arc.
More like this from vindy.com