Morse scores 35, but YSU men can't get it Wright
YSU vs Wright State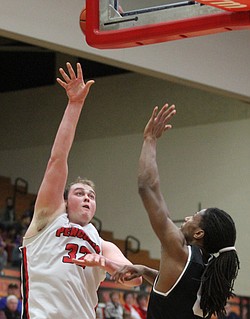 Gallery
youngstown
It was the Cameron Morse vs. Mark Alstork show Thursday night at Beeghly Center and in the end it was Alstork's Wright State Raiders who came away with a 84-81 win.
Youngs-town State's Morse led all scorers with 35 points while Alstork had 33. The two went basket for basket in the second half as it became apparent the two were going to get the ball every time down the court.
"I felt like we were going back and forth," Morse said. "I was talking to him saying 'You won't do that,' or 'You won't do this,' but he's a really good player and he answered back."
The loss drops YSU (10-18, 4-11 Horizon League) into a tie for last place in the conference.
"The last four games for us have been a matter of two or three possessions that would've given us a different outcome," YSU head coach Jerry Slocum said. "I thought we needed a stop there at the end and we didn't get it."
Morse had 28 of his 35 in the second half. Wright State head coach Scott Nagy said that was a product of putting him at the foul line and allowing him to get comfortable.
"Scorers like Morse are dangerous if you let them get going," Nagy said. "We put him on the free-throw line and then he starts seeing that ball go in and now we can't get him stopped.
"Nobody else in the league can score like him. When he gets going he can almost close his eyes and the ball is going to go in."
YSU had the deficit, which was as much as 11, cut down to two possessions for the entirety of the final 5:48, but the Penguins were never able to come through with the knockout basket.
Wright State (18-9, 9-5) was so focused on stopping Morse, it extended its defense in the final minutes nearly to halfcourt, forcing him to either take a beyond-NBA 3-pointer or dish it off to someone else.
"You have to do something to make someone else beat you at that point," Nagy said. "You've got to make him get rid of the ball. We probably don't treat anyone else in the league like him because nobody else can score like him."
Fans of defense didn't have much to like about this game. Both team shot 54 percent for the game. The teams combined for 88 second-half points.
It was another odd position for Morse looking at the stat sheet after the game. Teammate Jorden Kaufman scored 17 points but the rest of the final numbers were plagued by Matt Donlan's four points, Brett Frantz's 2-for-7 shooting night and a team 3-point percentage of 27.3 (6-for-22).
"We've got guys who are open who have to make shots," Slocum said.
Morse said he has been giving it his all but he's still not satisfied with his performances as losses mount for the Penguins, who have lost five in a row.
"I [am] giving it my all, but at the same time I feel like I don't give enough," Morse said. "I need to work on the little plays so we can get the win."
Ursuline alumnus Mark Hughes scored five points and had four assists to zero turnovers for the Raiders. But he also had the task of trying to stop Morse.
"You can't really [get a feel for him in practice] because you don't have Cam there in your practice," Hughes said. "You can have guys on your scout team simulate what he's going to do, but they don't have the shot-making ability like he does."
More like this from vindy.com