Unbeaten South Range routs Mooney
Cardinal Mooney vs South Range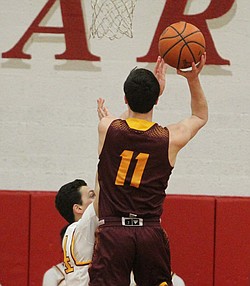 Gallery
Ritter twins power South Range over Cardinal Mooney
By Greg Gulas
YOUNGSTOWN
Each time the South Range boys basketball team hits the floor, plenty seems to be riding on the outcome.
After a 65-43 victory over Cardinal Mooney on Tuesday night, one milestone was reached while another remained in sight as the Raiders improved to 20-0 overall with two regular-season games remaining.
Dan Ritter scored a game-high 18 points, twin Anthony had 16 points and Mark Vennetti added 12 as the Raiders set the program's mark for wins in a season under fourth-year head coach John Cullen.
They eclipsed the old mark of 19 wins, which was established in 1998-99.
"This win is so very special for many reasons, mainly because we were able to set the mark for most wins in a season after winning just four games four years ago during coach Cullen's first year as head coach," Dan Ritter said.
The Raiders hit five of their seven triples in the opening session as Anthony Ritter notched 10 points, Dan added nine markers, Brandon Youngs contributed seven points and Vennetti nailed two of his three triples as they forged a 24 point lead heading to the second period.
"This was big for me because it was the first time we beat Cardinal Mooney during my time with the team," Anthony Ritter said. "It's a little more special because most of my family, including my parents and quite a few cousins are Cardinal Mooney graduates.
"The goal is to finish the regular season undefeated and get ready for the tournament, but we can only do that if we stay focused and take it one game at a time."
The Cardinals (6-13) reeled off the first nine points of the second quarter, cutting the deficit to 32-17 as Anthony Fire and Terrell Brown contributed four points apiece.
Despite scoring just four points in the period, South Range took a 36-21 lead to the locker room at intermission.
"The effort of this team has never been questioned because they play every possession and always work hard," first-year Cardinals head coach Carey Palermo said. "We worked on their ball movement and screening for the past two days, but didn't communicate like we should have in the first quarter."
Five points from Dan and four more from Anthony Ritter in the third period helped the Raiders increase their lead to 52-32 with eight minutes remaining.
Johnnie Mikos of the Cardinals scored all six of his points in the final quarter, but South Range made seven foul shots Cardinal Mooney 13-11 in the quarter.
"Our goal at the outset was to be precise offensively and we had as precise an opening quarter as any this season," Cullen said. "God bless them because they battled the entire game and never gave up. They have some excellent talent and are going to be just fine.
"I was happy with the fact that while we made some mistakes, we kept our composure."
The Raiders have outscored opponents by an average of 28.1 points per game, beating eight opponents by 38 points or more this season.
Brown finished with a team-high 11 points for Cardinal Mooney.
South Range will finish the regular season on the road, first at Springfield on Friday and then at undefeated LaBrae on Tuesday.
More like this from vindy.com