All roads lead to 3 WAY CAFE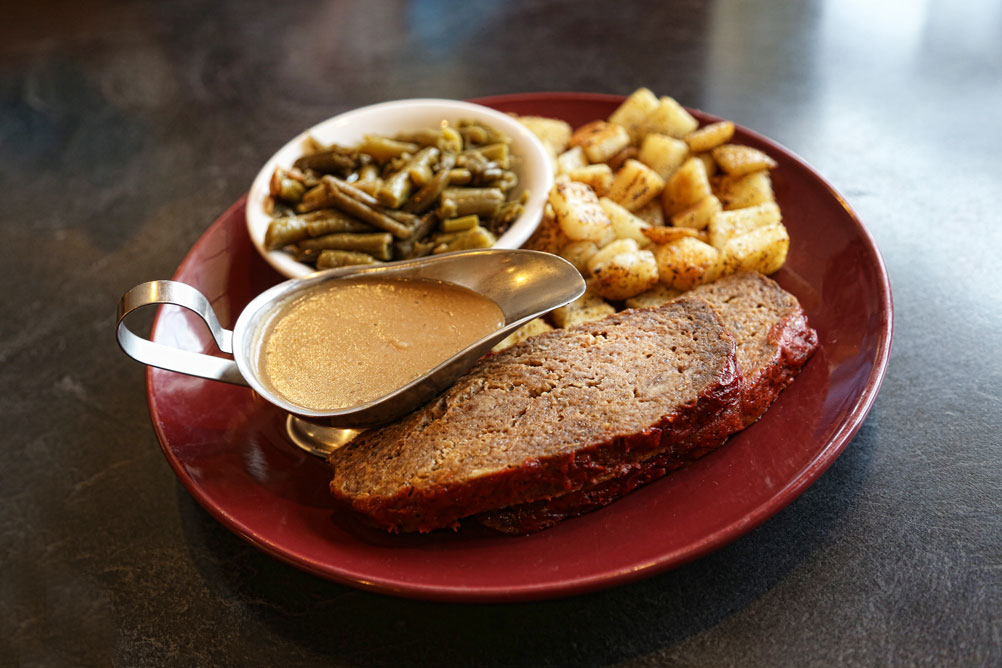 ---
If You Go...
Where: 3 Way Cafe
Address: 211 Youngstown-Kingsville Road, Cortland
Hours: Winter: daily from 6 a.m. to 8 p.m.; summer: daily from 6 a.m. to 9 p.m.
Website: 3waycafe.net
Phone: 330-924-0420
Some restaurants promise a home-cooked meal but then serve premade frozen food that's been reheated.
This is never the case at 3 Way Cafe in Johnston.
"Everything here is homemade," said owner Tracy Bedlion. "All our salad dressings, our soups and our desserts. We cook our roast beef all day long, our meatloaf is homemade, and we slow-roast our turkey. We use recipes that we ourselves have developed or that have been used in our families.
"Customers come here for delicious home cooking."
3 Way Cafe opened in October 2014 and has gained a loyal following of satisfied patrons.
Named for the three busy highways that intersect nearby (routes 193, 5 and 88), the restaurant interior is decorated with automotive memorabilia and road signs.
Homey and casual, the cafe exudes mom-and-pop diner appeal and is a place where neighbors recognize one another and nobody leaves hungry.
Bill and Nancy Greathouse of Burghill, who were seated near me during my recent visit, said they eat at the restaurant two or three times a week.
"We love the soups and the sandwiches," Nancy said.
"I love the coleslaw," Bill said, adding, "There's nothing here that isn't good."
I soon discovered Bill was right.
After sampling a variety of homemade entrees and desserts, I was thoroughly impressed.
I started with the Auto Club Melt ($9.90), which features slow-roasted turkey, bacon, white cheddar, lettuce, tomato and a special sauce. The "special sauce" is a creamy, dreamy, smoky, secret blend that can only be described as superb. I told Bedlion it should be bottled and sold in grocery stores nationwide. Seriously – it is that good.
Next I tried the meatloaf dinner ($7.90), which boasts two hearty slices of meatloaf like grandma used to make. On the side were seasoned country potatoes and green beans. Bedlion said the meatloaf dinner is one of 3 Way Cafe's top sellers.
3 Way Cafe also offers a liver and onions dinner ($7.10) that is quite popular.
"There aren't many places around here that serve liver and onions, so we have regular customers who order it again and again," Bedlion said.
Other dinners on the menu include turkey ($8.10); spaghetti and meatball ($6.90); grilled chicken breast ($7.70); and roast beef ($7.10).
Every Wednesday and Saturday the restaurant offers a steak or prime rib special.
3 Way Cafe's omelets are also in demand. There are about a dozen different omelets to choose from, as well as three specialty omelets, and all are served with toast and country potatoes.
I had the loaded tater omelet ($6.80), which is one of the specialty omelets. Stuffed with potatoes, bacon and cheese, and topped with sour cream and chives, this stick-to-your-ribs entree offers a satisfying blend of tastes. The tang of the sour cream, the hearty appeal of the bacon, potato and cheese — if you love loaded baked potatoes as well as eggs, this one's for you.
If you're going to eat an omelet, you might as well eat a pancake, too. I tried the cinnamon roll pancake ($4.40). A cinnamon-sprinkled batter gives this dinner-plate-sized pancake its sweet taste. Served with a swirl of cinnamon frosting on top, it's part cinnamon roll, part pancake and 100 percent delicious.
Other pancake flavors include blueberry, chocolate chip, pecan and gravel road, which is made with bacon or sausage mixed in the batter.
"We sell a lot of breakfast food," Bedlion said, "but we sell just as many dinners and sandwiches. Our burgers are also very popular."
Prepared with hand-pressed, seasoned, ground sirloin, 3 Way Cafe burgers are a cut above the rest.
In addition to the build-your-own-burger option, the restaurant offers five specialty burgers. The highway burger ($8.20) prepared with an onion ring, bacon and barbecue sauce; the demo derby burger ($7.60), featuring bacon, white cheddar, fried egg and hash browns; the gravel road burger ($6.90), prepared with grilled mushrooms, Swiss cheese and thousand island dressing; the mustang burger ($7.20), which comes with gouda cheese, bacon and specialty sauce; and the spark plug burger ($5.20), prepared with white cheddar, roasted red peppers, grilled onions and garlic sauce.
You cannot leave 3 Way Cafe without trying one of the homemade desserts.
Lucky me, I got to taste five of them: the German chocolate cake, the cheesecake, the pineapple cake, the coconut cream pie and the banana cream pie.
Yes, they really let me sample all those made-from-scratch desserts, and yes, you should feel a little bit jealous of my gluttonous good fortune.
With its three layers of moist chocolate cake and its creamy pecan frosting, the German chocolate cake is to die for — probably the best I've ever tasted.
The pineapple cake is unforgettable as well with a light, tangy batter and a dreamy frosting. It tasted like a sweet slice of summertime.
The cheesecake is exceptionally creamy, and both the banana cream and coconut cream pies were sublime with homemade crusts and toasted meringue.
Desserts at the cafe vary depending on the time of year. Bedlion said berry pies are popular during the summer, and you don't want to miss the carrot cake when it's available.
3 Way Cafe seats about 70 to 80, and a 40-person banquet room can be rented for parties and special occasions.
Every Tuesday evening from 6 p.m. until 7 or 8 p.m. Tug Creek Bluegrass band performs at the restaurant.
More like this from vindy.com