---
Tuesday, February 14, 2017
Poland vs Jefferson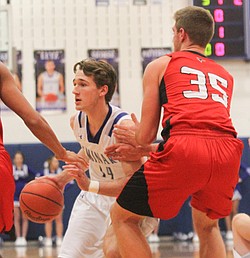 Gallery
By Tom Williams
POLAND
Before the basketball season began, Poland coach Ken Grisdale's team needed to replace seven graduated seniors. It wasn't going well.
The Bulldogs' chances of earning a No. 1 seed for the Division II tournament?
"Very slim," Grisdale said of his mindset in November. Grisdale even told his players that "the way we look right now, we'll be lucky to win three or four games."
Those Bulldogs have vanished.
"They took that [message] to heart," Grisdale said of his players after Monday's run-and-gun 82-62 victory over Jefferson. "They've tried to prove me wrong and they really have."
Sunday, the Bulldogs (14-4, 8-2 All-American Conference White Tier) were awarded the top seed for the Boardman district. Monday, they showed why.
Despite Sam Hitchcock's outstanding game (a school-record 43 points, 10 rebounds and a block), the Bulldogs cruised in the second half and are one league win away from clinching a share of the title.
"Man, is he a monster," Grisdale said of the Falcons' Hitchcock. "I don't know that we ever stopped him. It was good that we executed on offense. When he didn't get it, we were getting some rebounds and some push-outs."
Rescuing the Bulldogs were sophomores Daniel Kramer and Braeden O'Shaughnessy. After scoring 12 points in the first half, Kramer caught fire in the third quarter, scoring 11 more points to go with two rebounds and a blocked shot.
"His best performance," Grisdale said of Kramer who scored 32 points and made seven rebounds. "He's played huge for us all year. Tonight, knowing that we had to go up against Hitchcock, we [told] him we need more."
The Bulldogs staff was hoping that by ramping up the offense they might take "a little starch out of [Hitchcock].
"I thought [Kramer] did a great job," Grisdale said.
Kramer said slowing down Hitchcock is a challenge.
"He's a great player, we really had to help on defense [to] play him tight," Kramer said. "It's fun playing against him — more competition."
O'Shaughnessy, who scored 21 points, said playing the Falcons (12-7, 8-4) was a lot of fun.
"We got to get out and run," O'Shaughnessy said. "[Hitchcock] is awesome. Down low, he's just a stud. He's the best player we've played all year.
"We had trouble with him early. We got out running in the second half and we started putting some in the hoop."
For most of the first half, the game seesawed. Then the Bulldogs produced a 9-2 run at the end of the second quarter for a 36-30 halftime lead.
An 8-0 run to start the third quarter all but put the game out of reach. Kramer scored 17 points in the second half and O'Shaughnessy netted 11.
"Like Coach said, Dan put his big-boy pants on and he played really well," O'Shaughnessy said.
Grisdale was pleased the Bulldogs responded to Friday's close call, a 61-60 victory over Edgewood.
"We were up by 12 going to the fourth quarter and we just threw the ball all over the place," Grisdale said. "We panicked. In two days of practice, we showed a ton of improvement."
The Bulldogs have league games remaining against Edgewood (Feb. 21) and Niles (Feb. 24). A win over Edgewood will give them the title outright.
A win against Niles will gave them a share of the league crown.