Mikos provides offense as Mooney downs VC
Cardinal Mooney vs Valley Christian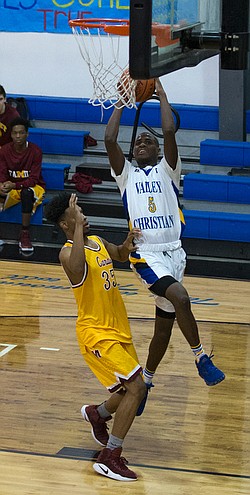 Gallery
Cardinals, Eagles combine
for just 13 points after break
By GREG GULAS
YOUNGSTOWN
What Cardinal Mooney's Johnnie Mikos did in one quarter, the Cardinals and Valley Christian failed to do collectively the entire second half.
His offensive output in the second period — he scored 14 of his team's 16 points — was all Cardinal Mooney needed in order to pull off a season sweep of their South Side rivals.
Mikos scored a game-high 16 points, Pat Pelini added 13 and a stingy Cardinals defense held Valley Christian to five second-half points as Cardinal Mooney stopped the Eagles 40-27 in boys basketball action Saturday night.
They had already defeated Valley Christian in their season opener on Dec. 9, 58-42.
"I was able to attack the basket early and just felt really good with my shot in the second quarter," Mikos said. "My teammates got me the ball when I was open and that, too, was really big."
The win also broke a three-game tailspin for Cardinal Mooney (6-12) as it won for just the second time in eight road frays.
Defensively, the Cardinals allowed Valley Christian (8-9) nine field goals despite scoring just eight points over the final two quarters of play.
"Once again we did a nice job defensively. That played a big part in ending that three-game slide," Mikos added. "We have a big game coming up with South Range on Tuesday so it's nice to be able to build a little momentum heading into that contest."
Pelini scored nine of his 13 points in the opening frame as Cardinal Mooney raced to a 16-11 after the first eight minutes of action.
"We had a great week of practice as we worked on ball pressure and jumping to the ball," Pelini added. "Plus, we were able to find the open man and make good passes."
Milan Square, who scored a team-high 13 points for the Eagles, also hooped nine points in the opening stanza.
Elijah's Anderson's first of two triples in the second period pulled Valley Christian to within 16-14 at the 5:36 mark and when Mikos canned both of his charity tosses 86 seconds later, the Cardinals extended their lead to 18-14.
After Pelini's floater in the lane, Mikos' first bucket from beyond the arc extended their lead to 23-14.
A 7-0 run by the Eagles, which included Anderson's second missile of the game, cut the deficit to 23-21 before Mikos' three consecutive triples from the left corner keyed a 9-2 run and a 32-22 lead at the intermission.
"Valley Christian has been playing really well of late, so this is a really big win for us, especially since it ended our three-game winless streak," first-year Cardinals head coach Carey Palermo noted. "We lost our leading scorer, Pete Haas due to injury so we knew that in order to win we would have to lock them up defensively."
Anthony Fire's three points in the third period helped the Cardinals open a 37-25 lead while Pelini scored all three points for the Cardinals in the final frame, limiting the Eagles to a Fred Hicks bucket and just nine fielders overall in the game.
"We simply lost communication on Mikos in the second quarter and that was the turning point in the game," Eagles head coach Dolph Carroll stated. "We lost him three times in the corner and that put us down by 10 points at the half. I was really proud of our defensive effort because we played hard the entire game and held them to just eight second half points. We just couldn't seem to throw the ball in the ocean after halftime."
The Eagles forced 19 Cardinals turnovers while Cardinal Mooney registered eight steals and blocked four Valley Christian shots on the evening.
More like this from vindy.com